We often see examples of how small changes can make a big difference – especially when it comes to sprucing up an exterior home design
Wainscoting Panels Spruce Up a Home's Exterior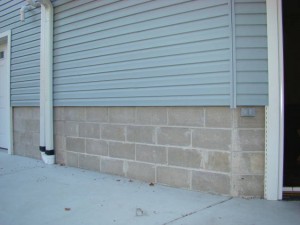 Holli's original siding was finished with bland and boring concrete blocks.
One great example was recently sent to us by customer Holli Verhovsek; who used our Wellington Dry Stack wainscoting panels to totally transform her home's exterior.
Holli's challenge was replacing the boring concrete block wainscoting of her home with something more exciting. Her first choice was stone or brick; but the cost of laying actual bricks, or using real stone, was prohibitive.
That's where our stone veneer panels came in.
Our dry stack panels are molded directly from authentic dry stack walling; and vividly rendered in durable polyurethane for a finish that's practically indistinguishable from the real thing. Using them, Holli was able to get the classic look she was looking for.
From appearance alone, the only real difference between faux and authentic is that stone veneer costs a fraction of what real brick or stone would; and can be installed in a fraction of the time.
In fact, Holli's project was the perfect canvas for using these panels. The broad, concrete wainscoting made it simple to first attach the recycled polypropylene drainage mats required by local and regional building codes, and then the interlocking faux panels themselves.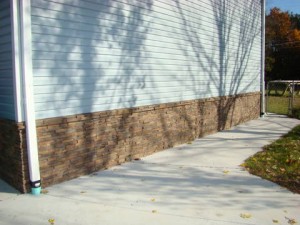 Wellington panels covered just a fraction of the exterior - but transformed it entirely
Attached to the drainage mat with regular construction adhesive; each panel is then secured through to the concrete wall with screws set at twelve-inch intervals. Each panel interlocks for a quick, seamless appearance.
Holli didn't tell us exactly how long it took them to install the stunning wainscoting panels; but customers who've completed similar projects have often boasted of finishing the project in a single weekend; or less!
And the results, as you can see from the before and after photos, are impressive.
What's really great about Holly's project was how a small change – in this case, adding stone veneer to just a small area of her home's exterior – made such a vivid difference.
Have you had similar results using our faux stone panels? If so, we'd love to see pictures. Email us at info@fauxpanels.com.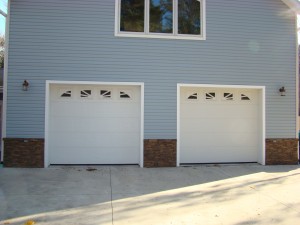 You can trim faux stone panels with a regular wood saw - making it a snap to install around fittings like garage doors.
Cutting faux stone panels to size makes them easy to install even it trick spots like doorways and corners.