When upgrading or building an outdoor kitchen, the look of stone, rock, and brick is popular, but the kind of installation, budget, and maintenance these materials require can scare many homeowners away from getting the outdoor kitchen of their dreams.
With stone veneer, you can achieve that grand stone look while reaping the many benefits of using panels instead of real stone. If you have been researching your outdoor kitchen material options, you will want to add stone veneer to the top of your list!
Advantages of Stone Veneer for Outdoor Kitchens
Stone veneer can offer your outdoor kitchen a wider variety of customization options, more durability, and can even be an easy DIY project for you as well.
Here are some of our favorite benefits to using stone veneer for your outdoor kitchen design:
Endless Customization Options
Because stone veneer is man-made, it boasts endless customization options. From stone color to shape, to size, and its stacking style and pattern – stone veneer is far more custom-friendly than real stone. It's likely if you can dream up your ideal color variation and texture, you can find it in stone veneer panels!
Affordability
Stone veneer comes at a much lower price point than real stone, which makes them the frugal choice as you select materials for your outdoor kitchen. Save your money with a cost-conscious faux stone veneer and save the splurge on that outdoor grill or beverage chiller!
Durability
Stone veneer from Barron Designs is made from tough, lightweight polyurethane which won't crack, peel or break down, even when it is exposed to heat, moisture, sunlight, wind, and other climate conditions. Polyurethane is also pest-resistant, making it the perfect panel option for your outdoor kitchen.
Easy installation
Installing stone veneer from Barron Designs is a lot easier than installing real stone, especially because of its lightweight material. Stone veneer is easy to accomplish as a DIY project, even if you have never installed stone panels before.
Maintenance-Free
Because stone veneer is made from high-density polyurethane, it can be cleaned using any standard soap and water solution or mild detergent. This keeps overall care maintenance incredibly low and simple for you. After all, you should be spending less time on home maintenance and more time enjoying and entertaining in your beautiful stone veneer outdoor kitchen.
Stone Veneer Options for Outdoor Kitchens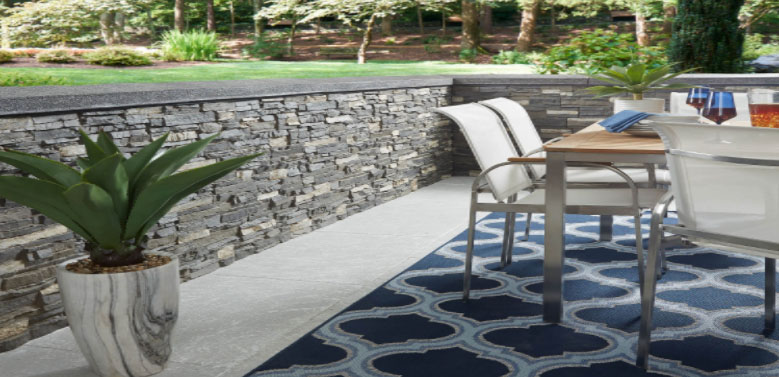 At Barron Designs, we offer a wide variety of stone veneer options if you're looking to upgrade or begin your outdoor kitchen project. A few of our most popular stone veneers include:
Fieldstone
This style of stone veneer features round edges and irregular shapes. These stones are very cottage-like and can be great features to a backyard with a garden.
Drystack
This style of stone veneer features a pattern of horizontal stones that often appear to look like stacked stones. The rectangular, horizontal stones vary in size and style, which can achieve a very elegant look.
River Rock
Similar to the fieldstone, river rock veneer is round and smaller, much like the types of rocks you would find in a river. These have a resemblance to pebbles and can bring an earthy, rustic vibe to your outdoor kitchen.
Cobblestone
Cobblestone patterns are known for their round and oval-styled stones. It is one of the most popular in outdoor spaces because it offers a classic appearance that pairs well with nature. Cobblestone does not always have to be round, though, and can take a distinctive square or rectangular look as well.
Ideas for Using Stone Veneer in Your Outdoor Kitchen
Unsure how to incorporate stone veneer in your outdoor kitchen and even into your landscaping? Not to worry! We have inspiration and design ideas to get you started!
Add a BBQ Island
A stone veneer BBQ island is a great way to enhance the functionality of your outdoor living space. BBQ islands can serve as an additional food prep area or seat your guests as you man the grill. These are becoming increasingly popular as they allow you to fully optimize your space.
Cover Your Outdoor Kitchen Sink
Adding a sink is a nice upgrade to an outdoor kitchen, but it can be an eyesore to your overall kitchen setup. Installing stone veneer serves as a shield from unsightly plumbing lines and valves, and helps you achieve a cohesive look!
Start Your Stone Veneer Outdoor Kitchen Project Today!
No longer is it time-consuming or labor-intensive to get the outdoor living space you've always dreamt of. Bring your outdoor kitchen visions to life with stone veneer from Barron Designs!
Click below to discover our different stone and stone veneer options.