Stone is a popular design component both inside and outside the home. It's beautiful to look at and is available in a wide range of colors, textures, and styles. For this reason, there's certain to be a type of stone that's perfect for your home.
But when it comes to choosing stone veneer vs. real stone, how do you know which one will work best for your home design? Read on to find out about the key differences so you can make an informed choice.
Key Differences Between Stone Veneer and Real Stone
In recent years, the technology and techniques used to make faux stone panels have advanced to create some of the most versatile and sophisticated home décor options on the market.
Compared to real stone, stone veneer is:
Less expensive to buy and ship
Faster and easier to install (can be done in a day!)
Easier to maintain and highly weather-resistant
Not limited by the geography in your region (you can get the look of the red stones of the Southwest even if you live near the East Coast!)
Ready-painted, if applicable (white stone panels come painted, saving you time and hassle)
It's true that faux stone panels don't work for structural uses – if you want to construct a load- bearing wall, you'll need to get the real thing! But for decorative flourishes, stone veneer beats real stone every time. You don't even need to hire a specialized tradesperson.
The Natural Appeal of Stone Veneer vs. Real Stone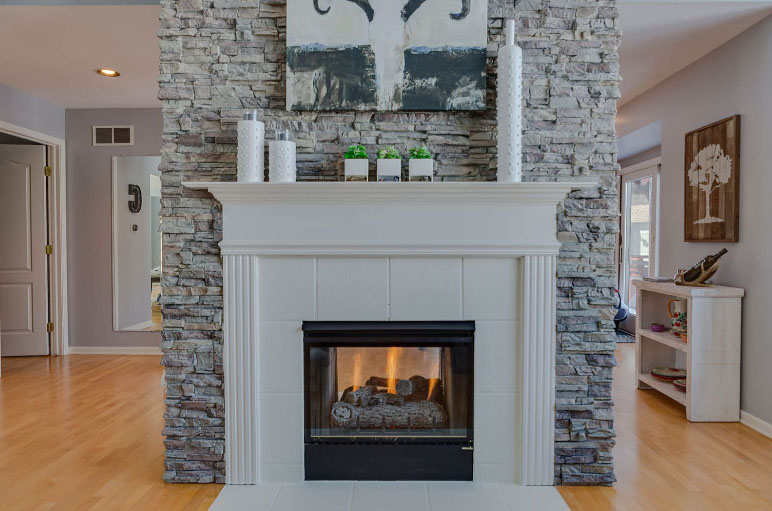 Real stone is naturally beautiful with instant appeal. It can set a comfortable but elegant tone for the room or add a dramatic touch to any space. One of the biggest misconceptions about faux stone is that it won't have this same appeal, and may look cheap and manufactured.
But it's virtually impossible to tell stone veneer from real stone after it's been installed – and this is a key reason why it's become so popular. Stone veneer even has the texture and feel of real stone.
With stone veneer, you can get the look you want regardless of where you live. By contrast, real stone is often dependent on what's available in your geography. Producers typically distribute stone regionally and don't haul it across the country.
Plus, you can choose if you want your stone veneer in reds, yellows, or whites and choose the style to match your vision. For example:
Dry Stack and stacked stone
Fieldstone
Chiseled
Cobblestone
Stone Wall Panels
If you want the texture, coloring, and shading of stone, faux stone panels are made in molds that were created directly from real stones – so they have all the details of natural stone or brick. These interior/exterior high-density polyurethane panels are manufactured by Barron Designs.
Exterior Siding
If you're looking for a convenient way to embellish the outside of your home, you might consider exterior siding. These are vinyl panels that Barron Designs sells on behalf of other manufacturers.
Stone Veneer vs. Real Stone: Cost and Installation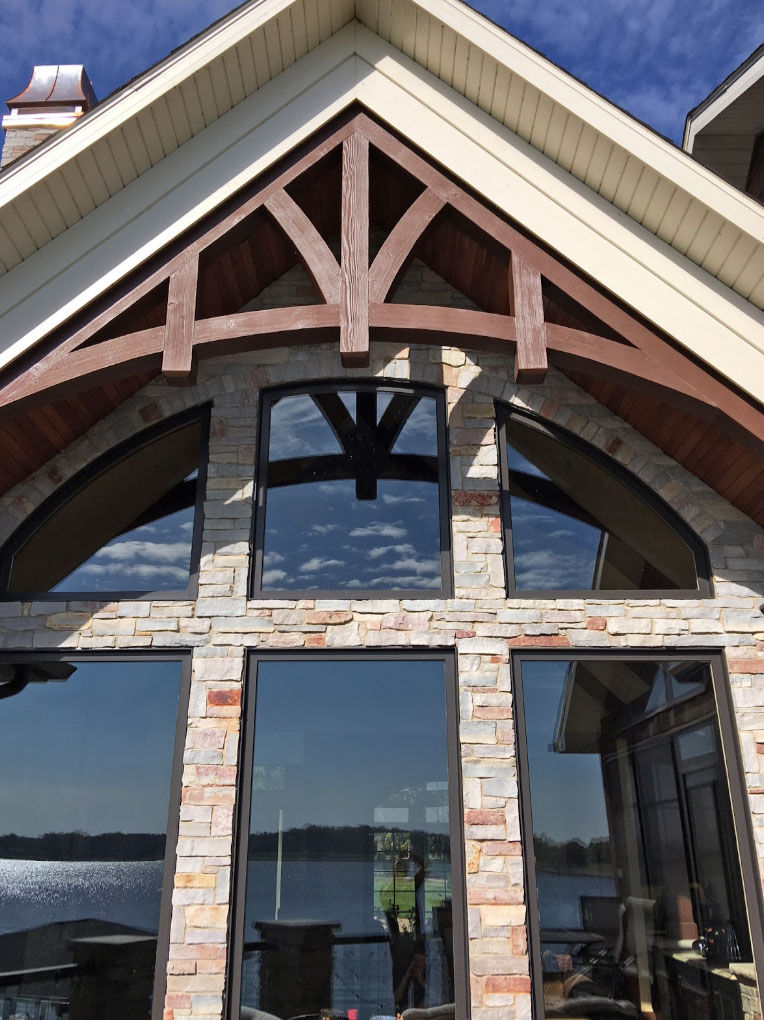 While customers love the natural look and feel of faux stone panels, that's not the only thing driving their popularity. The other factor is price. Stone veneer is significantly cheaper than real stone to buy, ship, and install.
Challenges of Real Stone
When adding stone to the exterior or interior of a home, one of the first challenges of real stone is that it requires a construction professional to do the job. You'll need to work with a company that is knowledgeable about stone and which types will work best in your environment.
The stones must be hard enough to withstand stains, moisture, and scratches – and you'll have to hire someone with proven masonry skills because real stone is difficult to cut and install properly.
In addition, quarried stone is difficult to excavate from the earth. The process can destroy the landscape, natural vegetation, and surrounding habitats. Then the stone has to be delivered to a manufacturer and transformed into a product suitable for home use. Every step adds to the expense!
So here's why manufactured stone veneer wins hands down when it comes to cost and installation:
Faux stone panels are an attractive alternative to real stone.
They create the natural look that you want at just a fraction of the cost.
Even if you're not an experienced do-it-yourselfer, the installation process is simple so you can tackle it in a single weekend.
With a little help from how-to videos, installing the panels is even easier!
Benefits of High-Density Polyurethane Panels
Faux stone panels are made from high-density polyurethane, which is a durable, non-toxic material used in many different types of products. The paint used on these high-density polyurethane panels resists peeling, fading, and cracking – so stone veneer panels wear extremely well over time.
High-density polyurethane is ideal for indoor and outdoor projects because it can endure:
Heat and cold
Moisture
Direct sunlight and wind
Do note that not all faux materials are created equally. Like everything in life, you get what you pay for! Also, be sure to check the coverage dimensions when comparing products as lower-priced panels are often smaller.
Stone Veneer Panels: Do Try This at Home!
Are you still weighing up the pros and cons of stone veneer vs. real stone? How about getting a sample of some faux stone panels so you can "try it on" and see how it looks in the space you want to renovate?
Samples let you preview the different colors and textures, then decide which pattern and finish are best for you.
You see how the stone panels work with other colors in your space, and how they look at different times of the day.
You can even attach samples to a piece of cardboard or fiberboard and move it around to different walls to get a better idea of how it looks.
Interior Uses of Faux Stone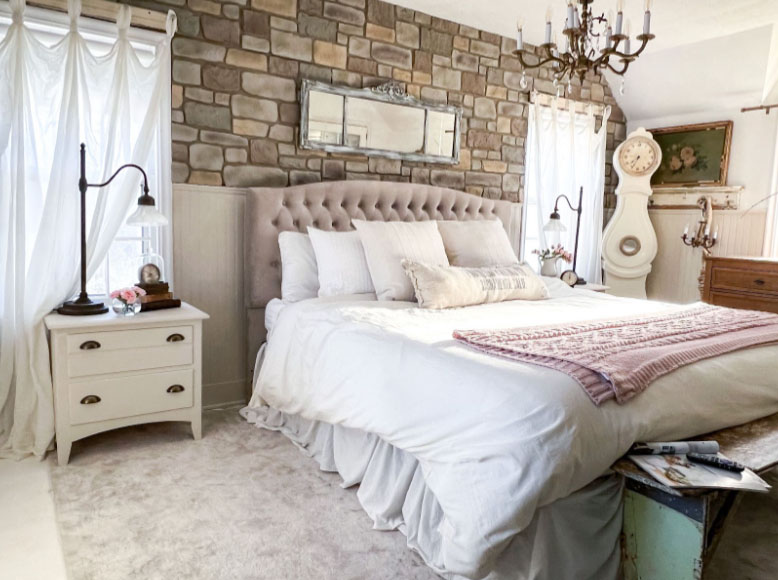 @cottageonmainst
Product & Finish : Hampton Cobblestone in Summer Tan
Inside the home, there are no limits to how you might use our faux stone panels. Whether you want a contemporary or traditional look, we've got you covered. Here are a few ways you might consider installing stone inside your home:
An accent wall to create drama
A chimney for a traditional touch
A wine cellar for a sophisticated atmosphere
A family room in the basement to make it cozy
An entranceway to make your home inviting
Exterior Uses of Faux Stone
If you're placing faux stone panels or exterior siding on the outside of your home, some materials will work better with your landscaping selection than others. You want to make sure your stone panels look natural and at home.
Think about the vegetation around your home and how it looks at different times of the year then choose stone veneer to enhance:
An exterior wall of your home
A garden shed
A patio to enhance your grill experience
Elevate Your Home Today
There are many ways you can use stone veneer to add dramatic appeal both inside and outside your home. Click below to start exploring and find the right stone veneer for your project!