On warm, sunny days, the best place to relax is poolside—and your poolside domain should be a vibrant and inviting oasis suited for entertaining and unwinding.
Ordinary poolside landscapes include plants, flowers, and outdoor furniture. But Barron Designs faux stone panels will make your poolside stand out by transforming it from the typical to the extraordinary!
Installing our faux stone panels is an easy way to create such a perfect backyard escape that you will never want to go back inside! They're an affordable, durable, and easy-to-install product that will take your outdoor space to the next level.
Continue reading to get inspiration for affordable pool landscaping design ideas!
Create a Stacked Stone Wall Around Your Pool
When used poolside, faux stone panels are extremely versatile. Durable and moisture resistant, they are the ideal product for creating a beautiful stacked stone wall around your pool.
Whether you have an above or in-ground pool, upgrade the visual appeal by installing a stacked faux stone wall along the perimeter. This is an easy way to blend your pool into its natural surroundings.
Make Your Outdoor Bar Stand Out From the Rest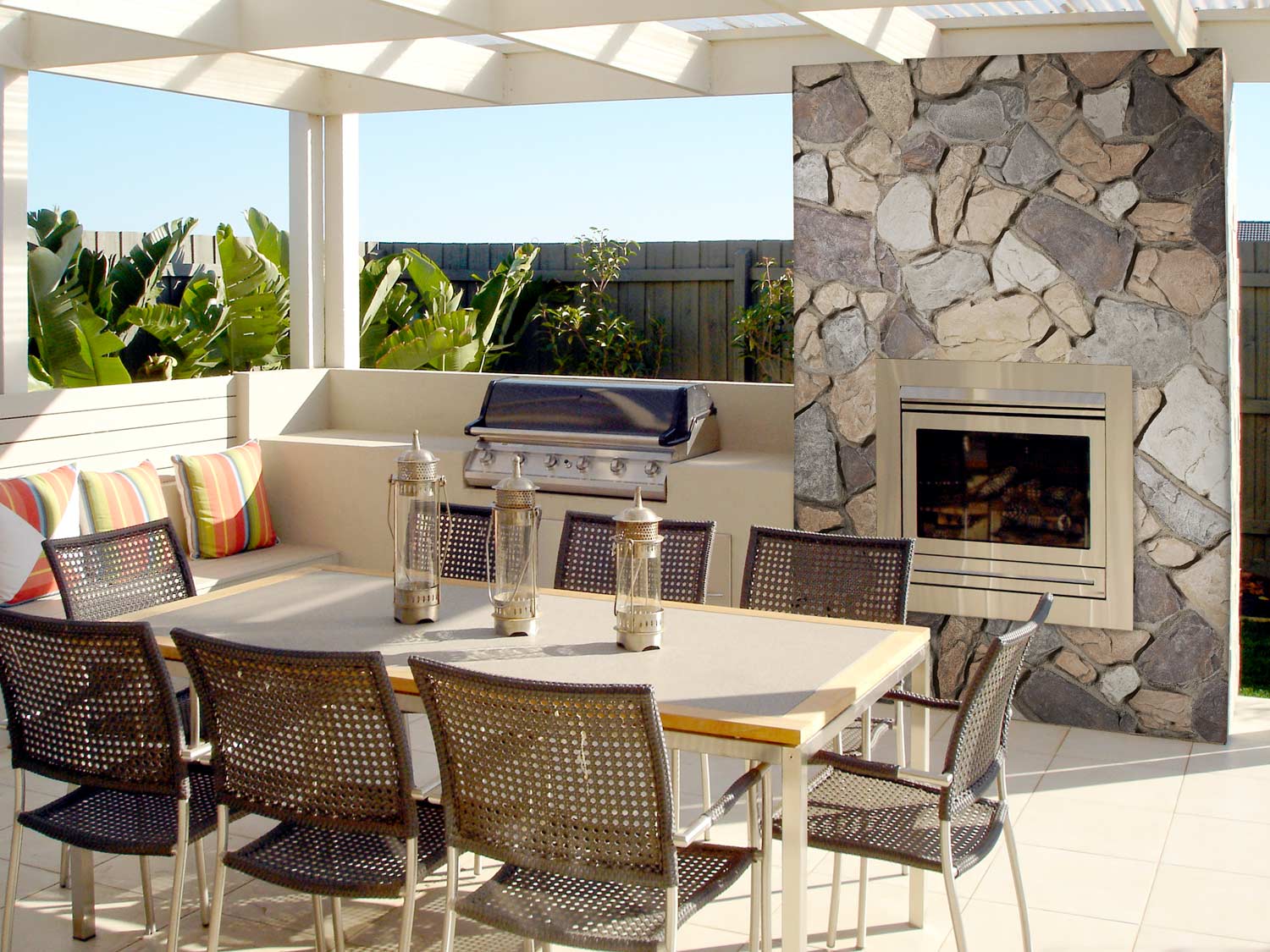 Do you love to entertain?
Faux stone panels add a "wow" factor to the front of your outdoor bar, without adding the physical weight of natural stone. Barron faux stone panels come in several varieties and colors that blend with any look you're trying to achieve. For a ruggedly beautiful and warm feel, Nevada Dry Stack Faux Stone Panels will do the trick and are available in five different colors.
Refine Your Landscape Retaining Wall
Since faux stone panels are moisture-resistant, they are the best option for improving a landscape retaining wall that surrounds your pool.
Our Anson Fieldstone wall panels are a timeless option for enhancing your retaining wall. If your panels appear dirty due to exposure to the elements, simply spray them with a hose to clean. Splashes from the pool, rainfall, and hose water will not damage or warp the panels, but the panels should not be submerged in water.
Build an Inviting Outdoor Seating Area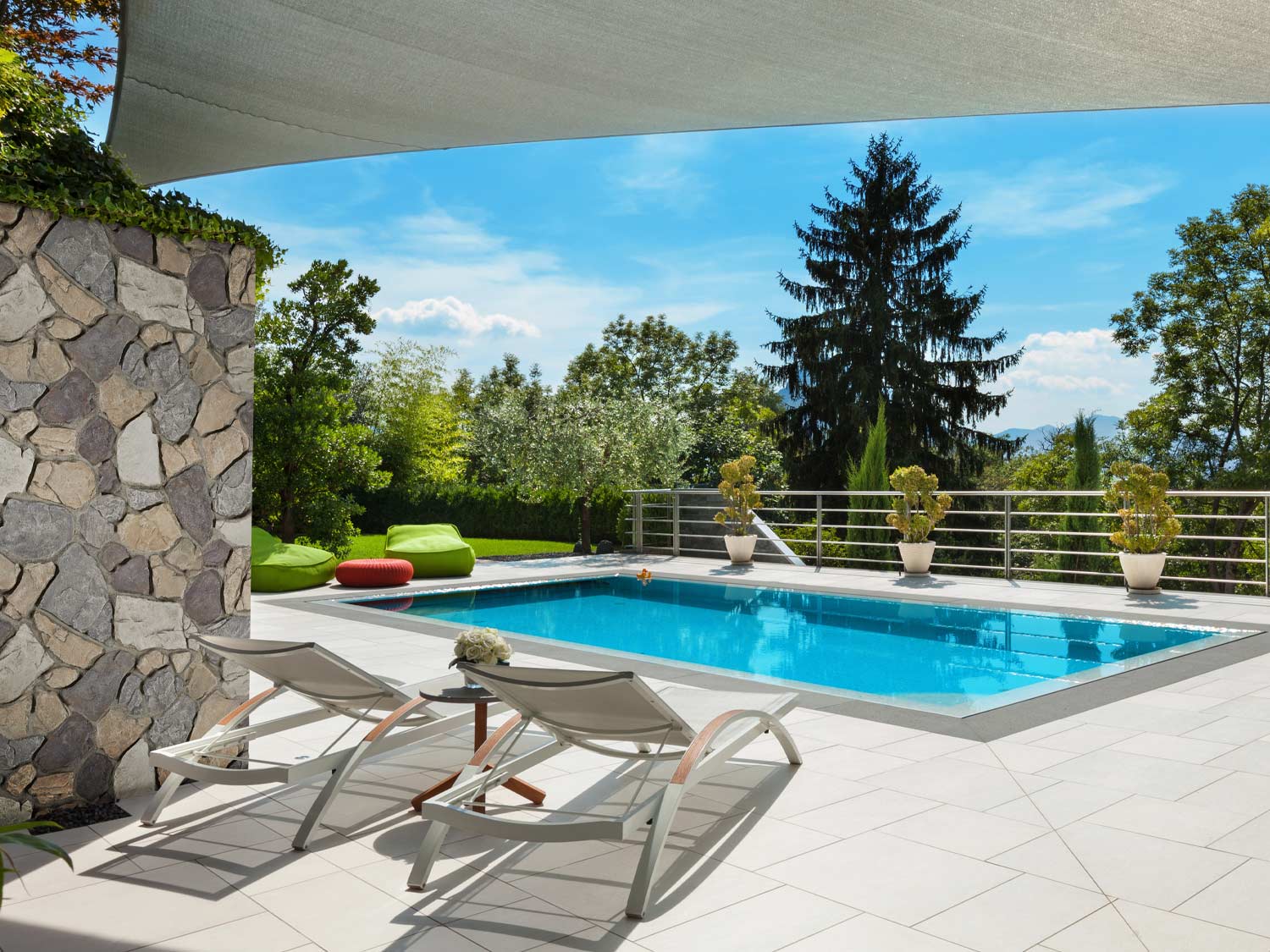 Outdoor seating and dining areas don't have to be run-of-the-mill patios and decks. To create an impressive poolside entertaining area, consider using faux stone panels on the pillars or columns of your outdoor pagoda, seating area, or deck.
Regal Chiseled Stone Wall Panels are available in several colors that all bring casual, sun-drenched warmth to your patio. Another pool landscaping idea: use faux stone panels as an accent wall behind your dining table and chairs to frame your eating area and set the stage for a welcoming and warm atmosphere.
Benefits of Faux Stone Panels for Poolside Landscape and Design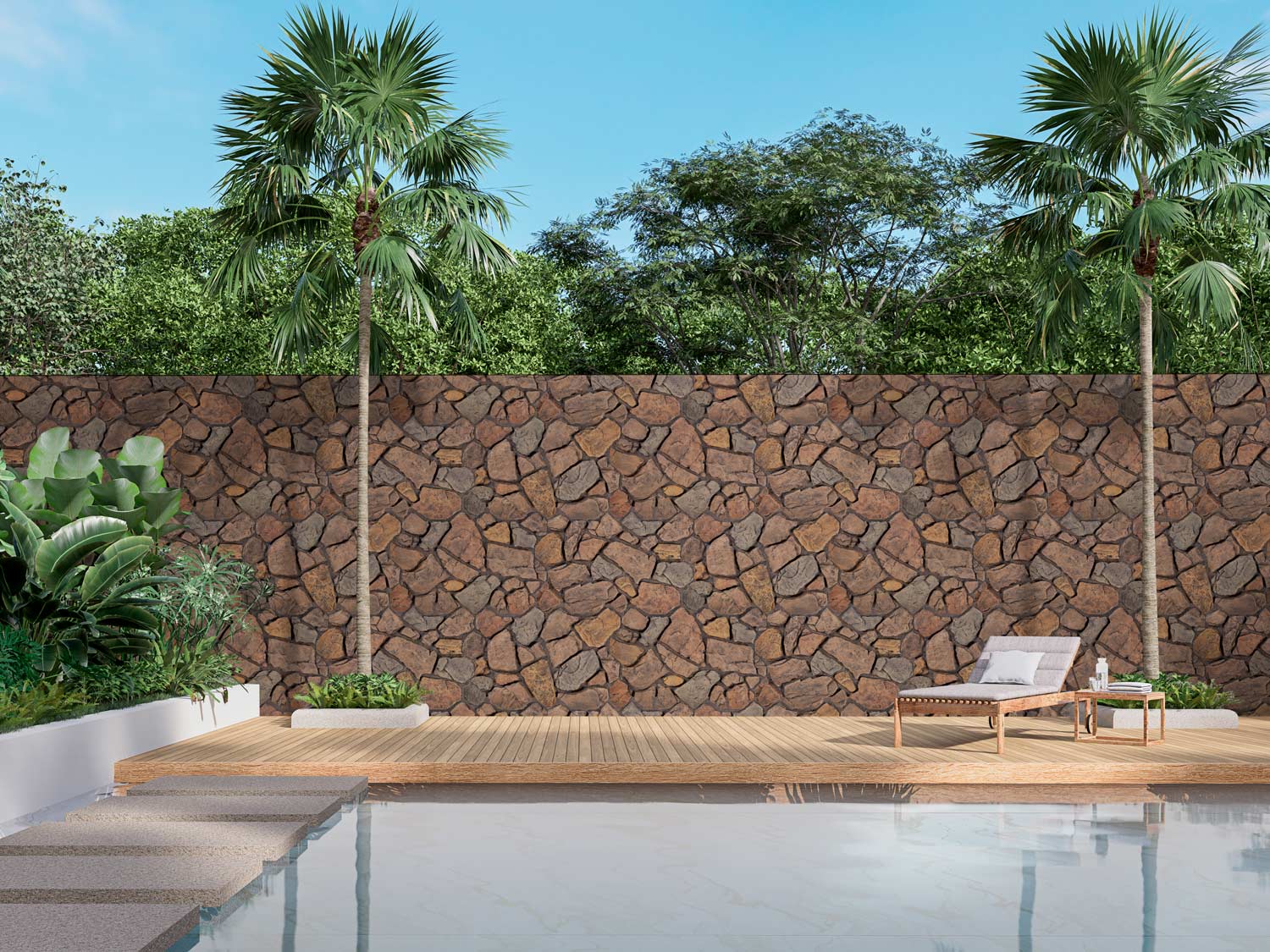 Whether you are starting from scratch or want to revamp your existing poolside retreat, there are many benefits of Barron's faux stone panels throughout the areas of your outdoor oasis.
Easy to Install
Using faux stone panels to improve your pool landscaping design is easy and inexpensive. You can install them yourself in just a few hours, without the use of mortar or expensive tools. Since there's no mortar involved, cleanup is a breeze. And by installing them yourself—instead of hiring a stonemason—you'll save thousands of dollars in labor.
Added bonus—since the panels are incredibly lightweight compared to natural stone, they will not damage your grass as you transport them across your backyard.
Looks Like Real Stone, Without the Expense
Faux stone panels give you the look and feel of natural stone, without the expense and messiness of installation.
Our panels are cast from natural stone, giving them the same texture, and they look like the real thing. Because they're made from high-density polyurethane, with a closed-cell structure, they can handle what Mother Nature throws at them.
Built to Last
Faux stone panels are moisture, sun, and pest resistant plus are designed to withstand the elements that different seasons bring. You will never have to worry about fading, cracking, or chipping. These showstopping faux panels are truly built to last.
Wide Variety of Colors and Styles
Barron Designs has a faux stone panel for all of your landscape design ideas! Our wide variety of styles blends beautifully with existing color tones or patterns within your landscaping.
For example, our Colorado Dry Stack Stone is a popular variety that provides an instant burst of sophistication that blends perfectly with any color scheme. If you are going for a timeless but rugged look, Hampton Cobblestone Stone is ideal. When placed around your outdoor fireplace or implemented as a patio accent, these offbeat panels transport you back to a charming time and place.
The Simple, Affordable Option for Poolside and Landscape Design
There's not much that faux stone panels don't offer! They're durable, outdoor-friendly, and can save you thousands of dollars with DIY installation. In just one weekend, you could transform your backyard into a relaxing refuge that you'll never want to leave.
So, what are you waiting for?