When you're considering a home renovation, your first thought is often painting the walls or replacing some furniture. For an even bigger impact and more unique look, why not consider adding ceiling beams?
Exposed ceiling beams bring height and length to the room by drawing the eye upward. They create coziness with the warm appearance of natural wood and add dramatic style to any space. For an extra boost, you can even install LED recessed lights into your ceiling beams.
Best of all, this wildly popular trend in today's home is a surprisingly simple and budget-friendly way to transform any room. Looking for inspiration? See below for our top five decorative ceiling beam ideas.
Why Should I Use Faux Beams for My Ceiling?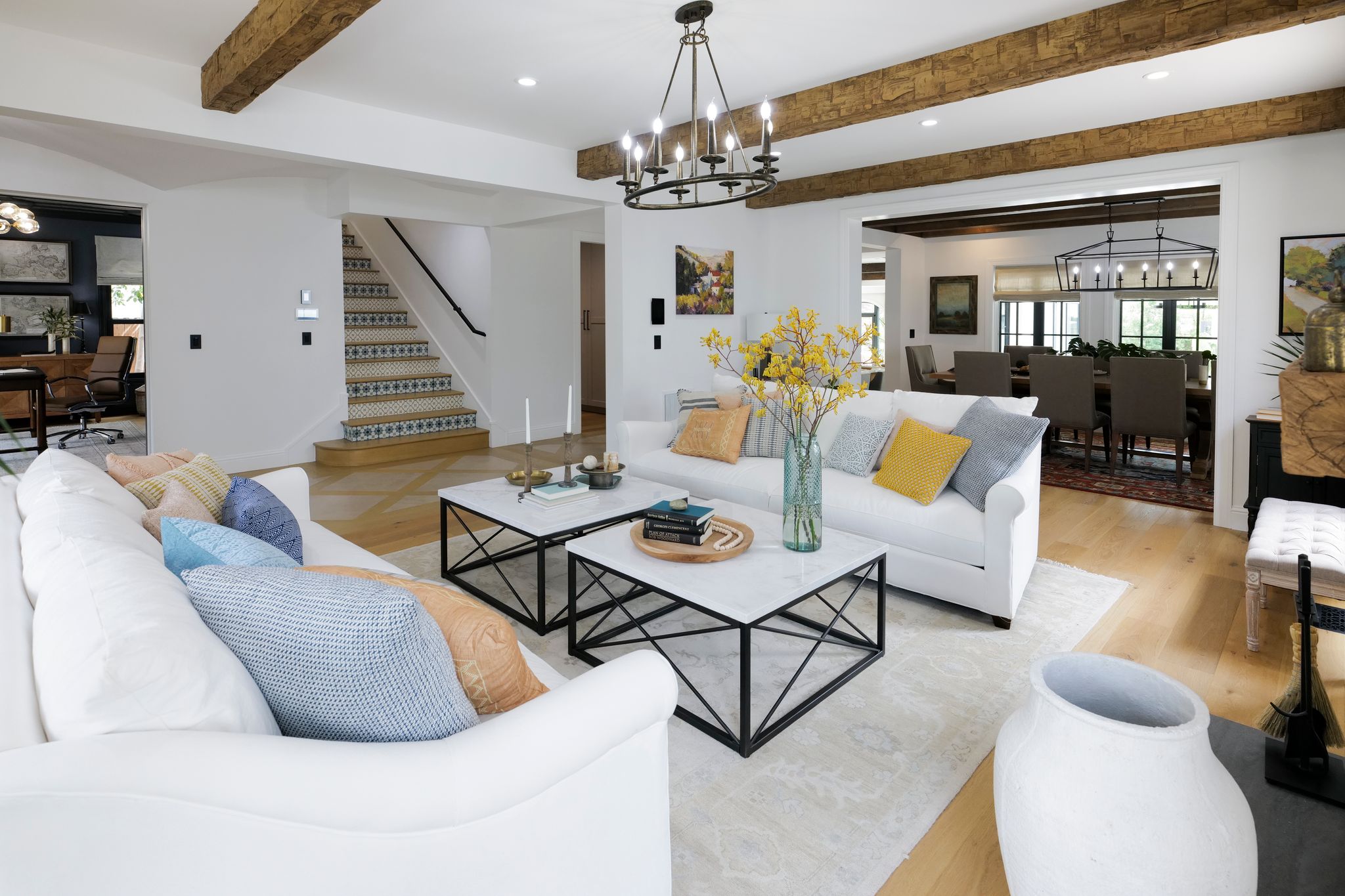 First, let's talk about why you should choose hollow box beams made from real or faux wood instead of solid wood beams. While impressive, solid ceiling beams made of real wood are extremely heavy and require structural engineering.
This means the installation of solid beams can be expensive. You need special equipment and tools and you'll need to pay for professional help if you want to make sure that the beams are safely installed.
When working with salvaged solid wood beams, you may have difficulty finding the right size for your project, especially if you want multiple beams. Then when you do find the beams you want, you might discover they are damaged from previous use.
In addition, solid beams made of real wood require upkeep to prevent damage that can be caused by aging and pests.
Faux wood beams are a smart choice when you want the look of ceiling beams that don't need the structural support of solid wood. Made from high-density polyurethane, faux wood beams are lightweight and easy to install.
Advantages of faux wood beams:
Can be customized to fit your vision and budget
Don't require maintenance
Look indistinguishable from the real thing
Less expensive to buy and ship than solid wood beams
Easier to install than solid wood beams
Box beams allow you to run cables, wires and duct work through them
Potential to add recessed lighting into the beams
Hang lighting fixtures from them (with proper support)
You can find faux beams in various styles and textures to mimic the character of almost any wood, so your new beams will look as if they were originally built into your home. There are even on-trend reclaimed ceiling beams that replicate the look of older, weathered beams with natural grain patterns.
If you'd like to get even more creative, you can use faux beams as door trim and mantels. Coordinating these with your ceiling beams will create an impressive, cohesive design.
Now, let's get to our list of ways you can incorporate faux wood beams into your renovation plans and beam ceiling design.
1. Rustic Kitchen Ceiling
If your home's design lends itself to a rustic or farmhouse style, rough-hewn faux wood beams will look incredible in your kitchen and dining area. They replicate the appearance of genuine rough-hewn beams right down to the pronounced lines, ridges, and grooves.
Paired with a white-washed wall and natural design elements, they can make your kitchen feel airy and welcoming. Hang your pots and pans on the wall to complete the farmhouse look!
2. Elegant Master Bedroom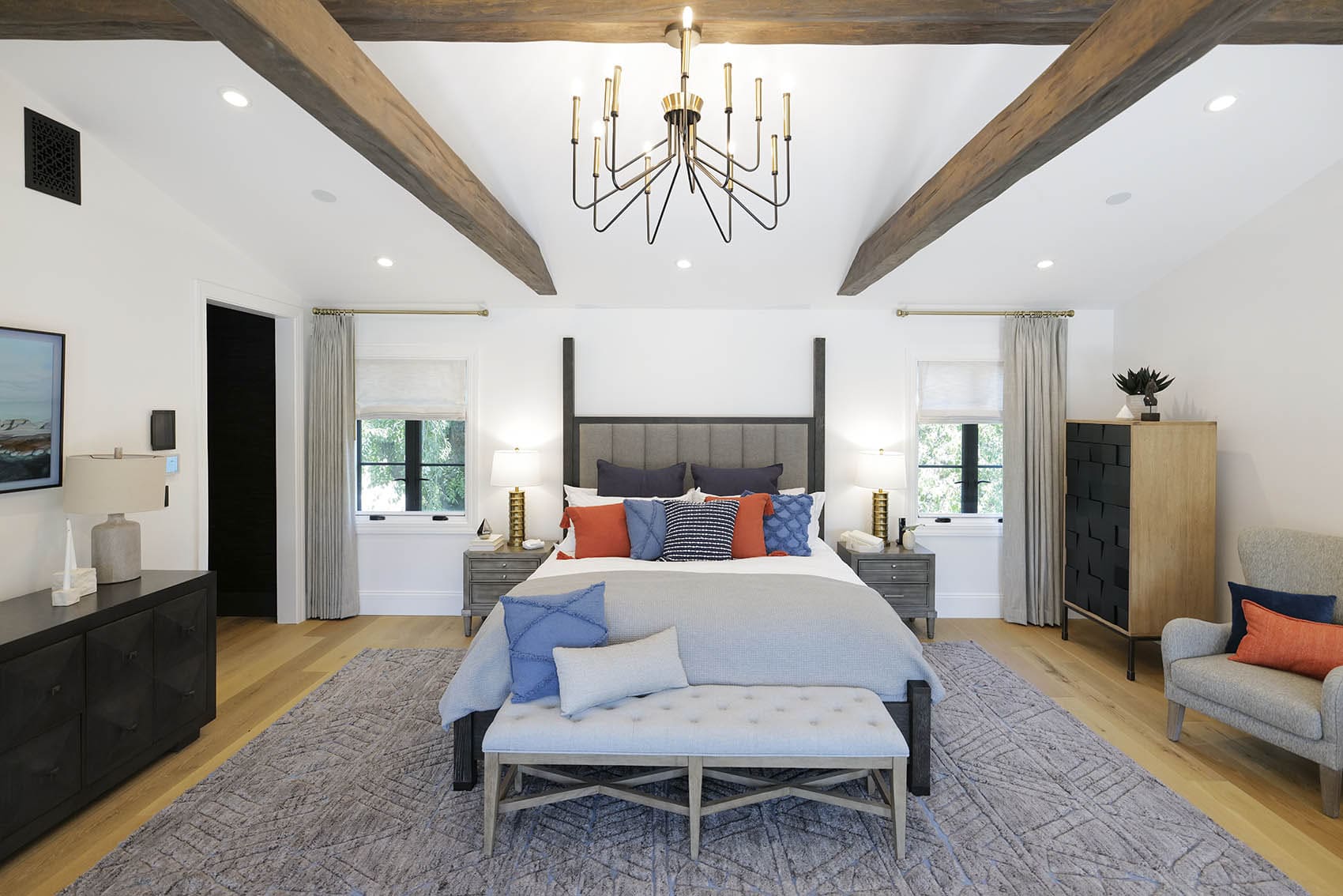 Your master bedroom should make you feel relaxed and ready for rest the moment you step through the door. Installing a heritage faux wood beam along the center of your ceiling will immediately make your room feel warm and cozy.
These beams mimic the appearance of older, weathered, or distressed beams with sweeping lines and a more jagged grain pattern. The result is the feeling of an aged-wood construction that has endured the years and elements. Outfit your bed with neutral-colored linens and pillows to finish this timeless interior design look.
Note that you can also install light fixtures on your beams, as shown above. Simply run the wires through the hollow beam, making sure there is enough structural support to support the weight of your light fixture. A common way to create support is by mounting the faux beam to a support beam or using a cable or threaded rod attached to a ceiling stud.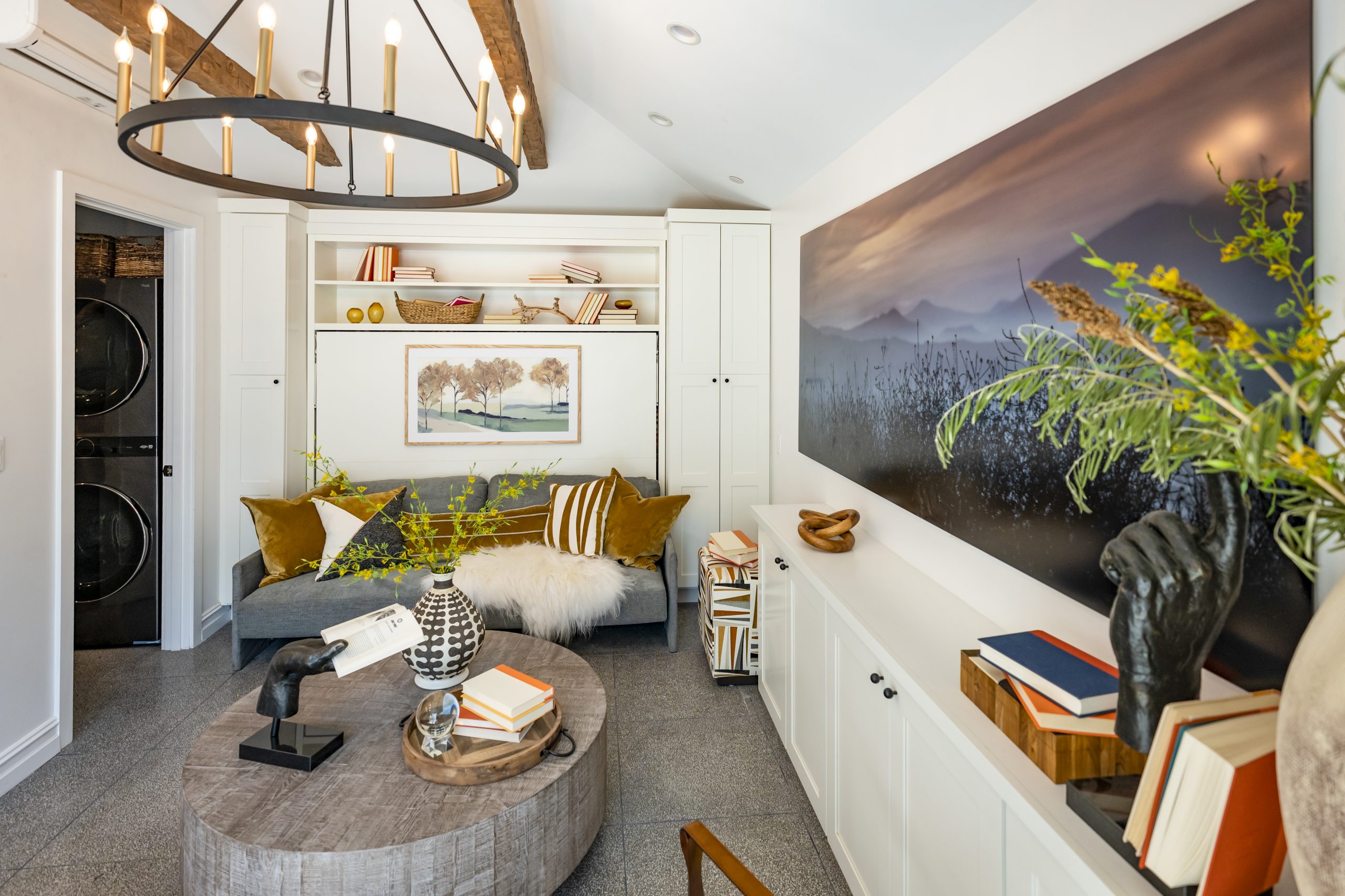 3. Farmhouse Family Room
To create a room where guests and loved ones will feel comfortable and welcome, try a rough sawn faux wood beam design. Spacing several beams along the ceiling like rafters will echo the comforting style of a classic farmhouse with exposed beams.
These beams have the look of freshly milled wood, imitating the coarse texture created by the large saw blades used at mills. Match the beams to your wooden dining table, or add a coordinating rough hewn mantel to your fireplace to bring the aesthetic together.
4. Arched Vaulted Great Room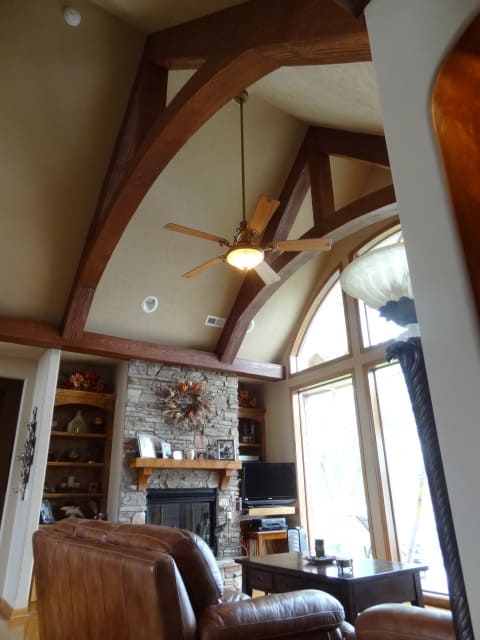 Take advantage of your home's high ceilings by installing a truss featuring arched beams in your great room, living room or dining room. The elegant curve of an arched beam will emphasize the height of your space without making it feel too cavernous. Add a pendant light to complement the natural light in your living space.
Arched beams made from solid wood are cost-prohibitive because of the extensive process required to create them. Faux wood beams bring the same grandeur of wooden ceilings for a fraction of the cost.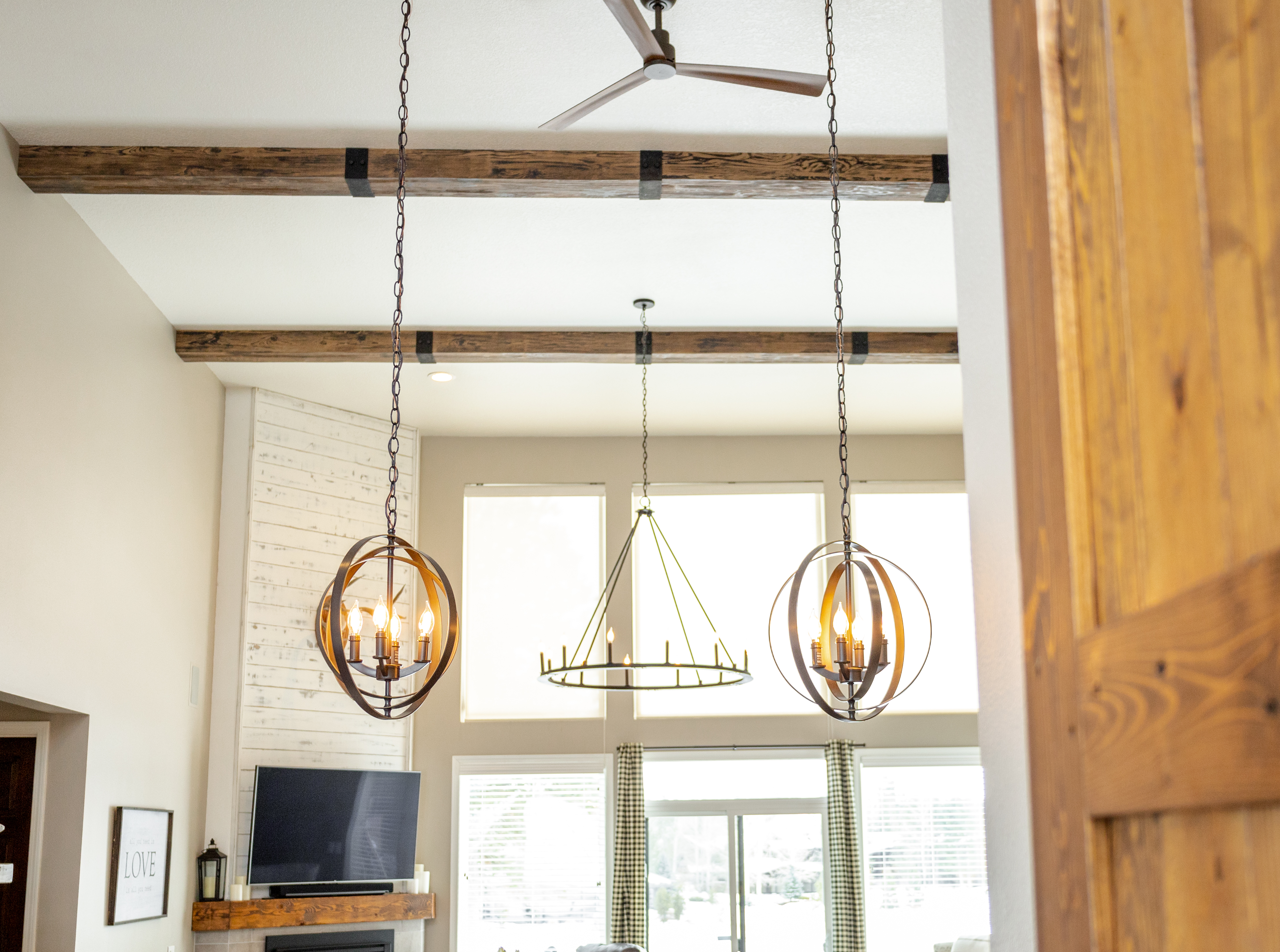 5. Timeless Entryway
The last point on our list of beam ceiling ideas is to coordinate columns inside your front door with beams from our woodland faux beam collection. This simple installation will create a beautiful entryway to your home.
Woodland beams feature a raised-grain wood texture that's lightly distressed and colored to flawlessly simulate a solid wood beam. They are available in many shades of light wood through to dark wood. Use them to add warmth to your dream home as you welcome guests.
Turn Your Ceilings Beams Dreams Into Reality
When you choose faux wood beams from Barron Designs, you are ensuring that your project will turn out exactly as planned. Our beams are easily customizable to fit your exact beam ceiling design needs.
Faux ceiling beams can be trimmed to fit using a regular hand saw — no special tools or skills required. Once installed, your maintenance-free beams won't crack over time. Click below to see our collection of faux wood beams and start bringing your ceiling beams ideas to life today!