In recent years, installing LED recessed ceiling lights has become a popular way to add a dramatic effect to any room in the house.
Whether it's part of a weekend DIY project or a complete home remodeling, adding recessed ceiling lights can help update your home's interior in many different ways. They've become as much a design tool as they are a source of light, and fit well in virtually all types of rooms.


Faux wood ceiling beams with recessed lights are one way to add lighting accents to the room without having to install the lights directly into the ceiling. This means you won't have to cut through the drywall in your ceiling and can still achieve the great look of recessed lighting in any room.
This approach is also useful if you want to install recessed lights in a room with a dropped ceiling, which can make a basement or other area with a low ceiling look and feel bigger and brighter.
The Benefits of LED Recessed Lighting
Recessed lighting works well in a variety of different spaces because it is an extremely versatile form of lighting.
It can brighten a room and, in some cases, even make a space feel bigger. That's because when there's no ceiling fixture hanging down, there's nothing to "break up" the visual appearance of the space — which immediately makes it appear larger.
LED lighting can also be used to "wash" or cast light on the walls (another technique used to make a room feel bigger) or to highlight something in a certain area of the room, such as a collection of sports memorabilia, a bookcase or a piece of art.

If you want more of a spotlight effect, such as to provide light for a dining area or work station, you can take advantage of the more focused qualities of recessed lights. Those same features also make it ideal for use in kitchen areas above islands or counters.
If you're looking for a way to provide accent lighting to a space or to upgrade the current look of a room, LED recessed ceiling lights are an excellent option.
Not only do LED bulbs come in a number of different colors to help you achieve the look that you want, but the trim and reflectors used in the fixture have a number of different color styles and options that will help create that perfect look. They can complement your color scheme or blend in completely.
For example, a metal finish on the trim of a light can pair perfectly with a dark faux wood beam and create a high-end look for the room. Or you can choose a color that seems to disappear into the beam for a more subtle look.
Faux Wood Ceiling Beams and LED Recessed Lights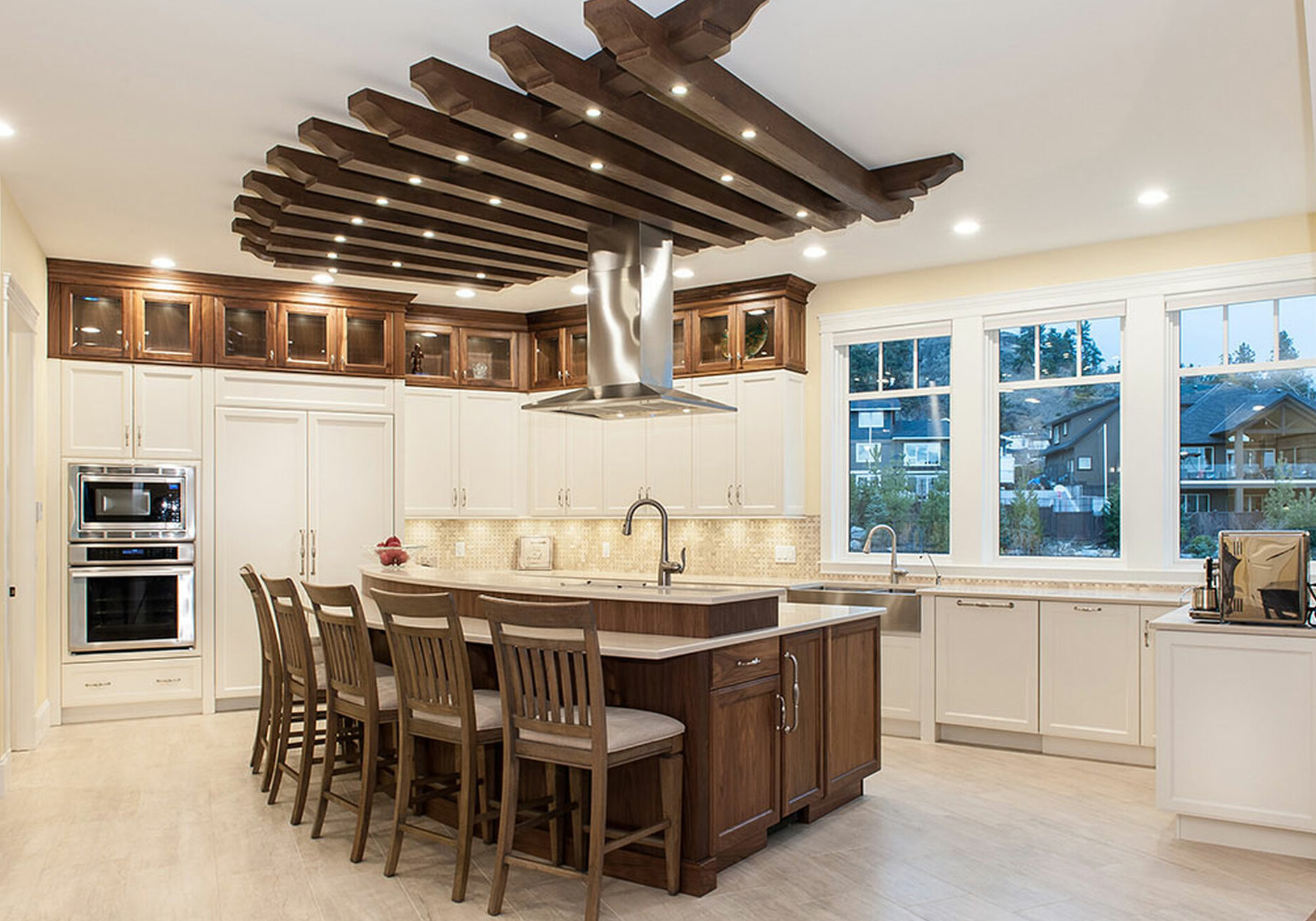 While recessed lights, in general, have plenty of appealing attributes, there are additional advantages of using LED recessed lights in a faux wood ceiling beam.
Since they are installed inside the beam, the lights are completely protected. That means in environments such as a game room or basement, the fixtures are shielded from children or things that could cause damage to a hanging light.
They're also very easy to care for, since they're shielded from dust.
Faux wood ceiling beams are an excellent way to add ceiling beams because, unlike real wood beams, polyurethane beams are lightweight and easy to work with.
Since they don't add undue weight to the ceiling, you won't have to worry about structural damage. They are also much easier to maintain than real wood.
In addition to the benefits of style and durability, since polyurethane beams are hollow inside, they're the perfect way to hide the electrical wiring required for your recessed ceiling lights.
If you have a space with a low ceiling, such as a basement, using faux wood beams with LED lights can open up the area and make it feel larger. (Hanging light fixtures can make the ceiling feel even lower and make the area seem cramped.)
In most cases, LED lights will be very easy to install and you'll be able to use your existing electricity. LED lighting is dimmable, which gives you more control over the effect that you want it to have in a room. Since LED bulbs last about 10 years, it's going to be a while before you have to change them.
Planning Your Ceiling Project
If you're looking for a way to transform your lighting and the look of a certain room without having to call in a contractor, adding ceiling beams with recessed lights is a great place to start.
Like all home improvement projects, the first thing you'll need is a solid plan to make sure that you have the beams and the lights in exactly the right place.
As you create your plan, first measure the space and determine what you want the lights to do for the room. Are they going to provide the primary source of light? Will they be accent lights? This will influence how they're positioned and the number of lights you'll use.
Once you know what your lights are going to accomplish, you should have a pretty good idea of where your beams should be mounted.
If you're ready to take on that project, see our Basic Installation Guide to walk you through it.