Stone columns look fantastic - but 'going faux' and using imitation stone columns can offer design advantages even the real things can't!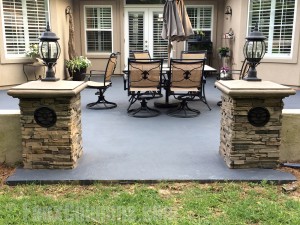 Our faux columns make it easy to add hidden speakers, and run hidden wiring. There are a lot of reasons to choose faux over the real thing. One major benefit is cost - our high density polyurethene columns are a fraction of the cost of real stone or brick. A second is practicality - you can install one of these columns in a matter of hours, instead of the days it would take to lay real brick, mortar and stone. But in addition to those benefits, there are design options available that just don't exist with the real thing. This is because of the hollow space inside the column itself. This space gives you countless options for running electrics, plumbing and other gear inside - to add recessed lighting, speakers or water features. Electrical outlets are a common favorite, as access to power in the garden or yard can be annoying and impractical, and faux columns enable you to seamlessly provide an outlet without having to run an unsightly extension cord. Recessed speakers and lights are also popular. Because the columns are made from high density molded polyurethene foam, it's easy to cut holes for speakers or lights, and that gives endless possibilities. And the best part? Even with additional electrical or mechanical enhancements, faux columns still 
look
just as good as the real thing. Short of actually reaching out and touching them, it's impossible to tell they're not real stone or brick; and at the end of the day that means they're practically better than the real thing.