Faux stone entrance columns are beautiful design elements for a DIY driveway makeover.
If you've been standing outside in the front of your house or business recently, thinking about the fall season, and ways you can perk up the appearance of your property, you might want to think of how your driveway looks.
Driveways can frequently be an overlooked part of a property, be it a home or a business. When you come home after a long day, it's always nice to finally pull in. What if there was a DIY driveway accent you could manually install that would make it feel even better to arrive home? Well, there is!
Simulated stone entrance columns are an easy way to upgrade your property's curb appeal.
Our faux stone entrance columns are an excellent way to not only enhance the beauty of your driveway, but also to upgrade the visual appeal of your whole property. Think of how nice your entrance will look as the leaves change color, and beautiful faux stone or brick columns are accentuating the end of the driveway. Whether they stand alone as accents, or are attached to a gate, passersby will slow down to admire the impressive upgrade you've given to your home or business's entry. Guests will feel more welcome, neighbors will be pleased, and you'll feel more at home.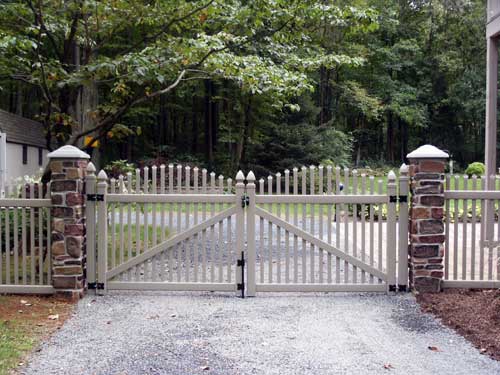 Easily install faux stone entrance columns as driveway gate posts.
Installing faux stone and brick driveway columns is a remarkably simple process that can be accomplished in a matter of hours, all on your own. Our columns are all made of lightweight, weatherproof polyurethane that's extremely durable or a similarly robust Medium Density Polyethylene. Carefully molded from real stone and brick derived from their natural places of origin, such as the Midwest and Southwest regions of of the USA, these columns all have a gorgeous look and texture that's indistinguishable from real stone.
Faux brick columns are a practical element for your DIY driveway makeover.
Thanks to their maintenance-free quality and highly realistic look, the beauty of your driveway columns and the property they'll be enhancing won't fade one bit as the years go by. Unlike real stone and brick, they'll never chip, crack, or decay.
Easily accentuate your driveway with stone veneer entrance columns.
Available in a variety of attractive color styles, it will be easy for you to find the columns that fit your preference, and your property.
Take a look at the images in this post to get an idea of the difference columns make when accenting a driveway. You'll want that difference for yours!
Create a stately entranceway with our artificial stone entrance columns.