Decks, for many people, are places where they like to wind down on a warm day or night after work, and spend time outside while feeling the relief of being home. The kinds of design elements that contribute to the comfort homeowners seek on their decks may be missing when they go out to sit on them, though. And they may not even know what those elements are.
Easy DIY Deck Design with Decorative Stone and Brick Posts
Decks look and feel great with faux stone and brick decorative posts.
As you can see in the images above and below, sent to us by our customers, the decorative posts that mimic the look of brick and stone make for a wonderful DIY deck design. As deck posts, they are fantastic ways to enhance the appeal of your outdoor living area and will deepen the relaxation offered by your backyard living area.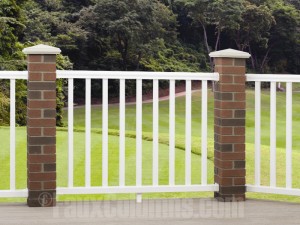 Achieve the look of professional masonry with simulated brick decorative posts.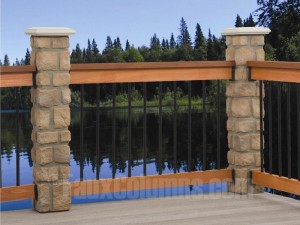 Fake stone decorative posts enhance the appeal of any deck.
Made of a strong, high-density polyurethane material, they are each crafted from a master mold made of real stone or brick. As a result, they boast all the visual and textural details of the original stonework. The beauty of these realistic qualities serves to upgrade the ambience of any deck area.
Their polyurethane makeup also gives them the strength to withstand weather conditions of all kinds. As years go by, they will look as great as they always did. Termites and other wood-damaging insects are also repelled by them, which is nice.
In addition to the appeal they add to decks, these posts are very lightweight. Thanks to this, they are extremely easy to install. For our customers, they have made for rewarding DIY outdoor remodeling projects.
Because real stone or brick columns are heavy, they require decks to be specially reinforced. This only means more work and added costs. Faux columns, on the other hand, are designed to be installed easily in a minimal amount of time, using just a few basic tools. Their hollowed core allows you to place them over existing wooden support posts. After you do that, just screw them into place, and you'll be finished.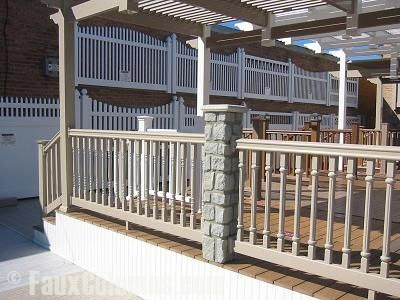 Decorative posts are an easy, budget-friendly way to upgrade your DIY deck design.