Barron Design supplied for 'Rock the Block'
Whatever size or style of the room, David Bromstad believes beams can make it better. The designer and star of HGTV's My Lottery Dream Home recently finished a six-week run as half of a design team on the network's second season of Rock the Block.
During the Rock the Block competition, Bromstad used real wood ceiling beams from Barron Designs in the living room, main bedroom and basement renovations. He says beams are one of the most impactful additions you can make to a room — and they are versatile enough to fit in virtually any room.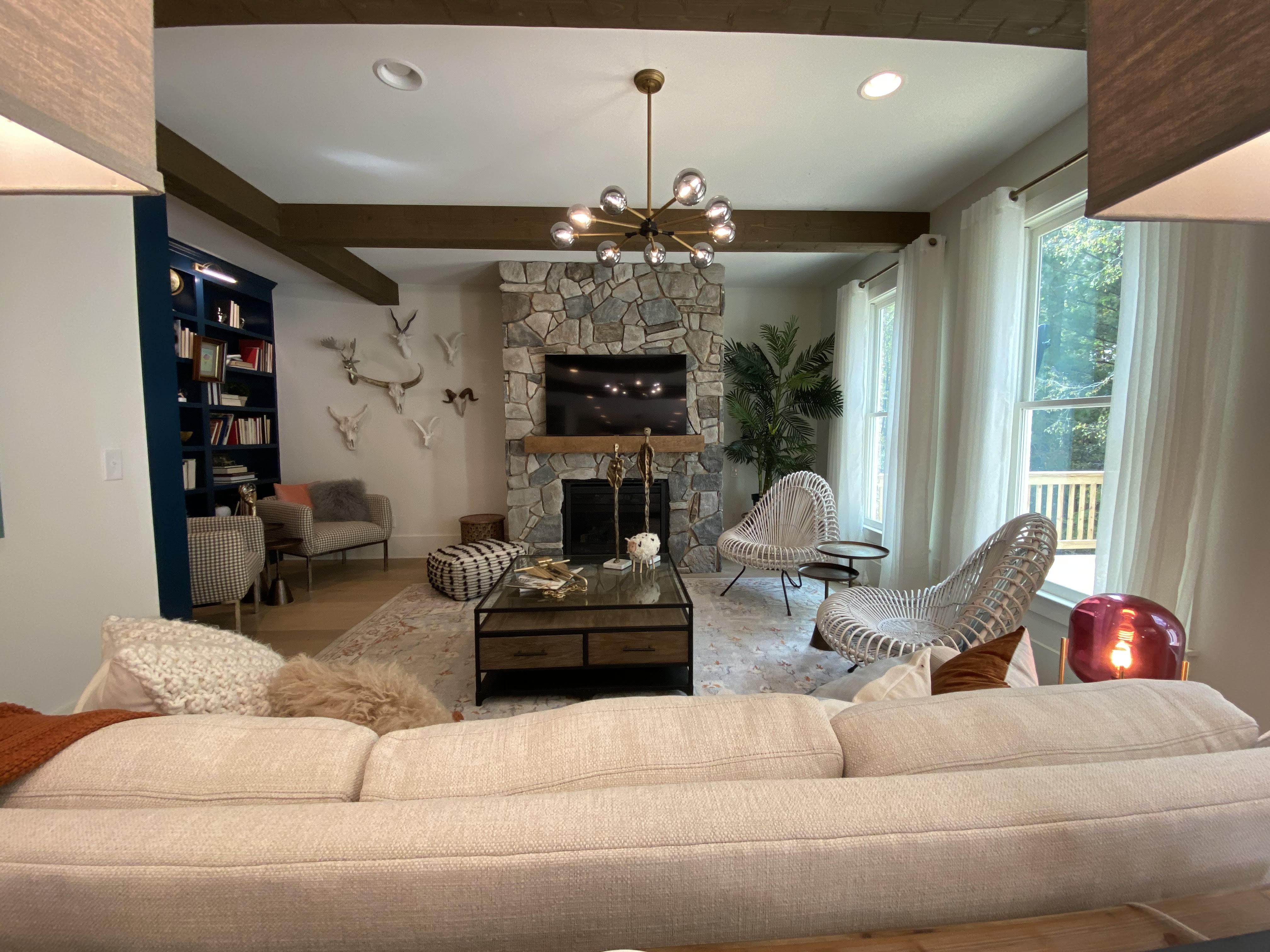 "They are easy, they're beautiful, they're cost-effective and they create an impact," he says. "You can lay them out in so many different ways: You can lay them close together, you can lay them in a criss-cross fashion, which gives you a more formal feel. There are so many things you can do that create architecture without taking up any space on the walls or the floor."
When to Use Faux Wood (And When to Get Real)
Bromstad says both real wood and faux wood beams have a place in home design: "Faux beams are incredible because they're light. They're not supporting a load like a real wood beam. Real wood beams are amazing, but faux wood beams — you can use them anywhere. You don't have to have supports to hold them, and that's the beauty of having the faux."
He says there are advantages to both, with one of the biggest considerations being where the beams are being placed and how much weight the beam will put on the structure. For example, when he used Barron's real wood Heavy Hand Hewn Wood Beams in the living room on the second episode of Rock the Block, he originally planned to use more beams, but the weight they added to the structure made him use fewer than planned.
"It really comes down to what the structure can support," he says.
Telling a Story With Beams
In addition to choosing between faux and real wood beams, Bromstad says how they're positioned can change the feel of a room. "I don't look at beams as traditional; I look at them as a base to tell a really interesting story," he says.
To tell that story, he encourages people to think outside the box and try some unconventional design approaches: "It's all how they're laid out. If they're really tight beams with a smooth finish, they can bring a more formal feel. If it's more hewn and has a lot of rough, it's more casual. But to me, if you have those rough beams with really sleek furniture, there's a nice dichotomy between the two. There are really no rules; it's all about what you want."
Bromstad's approach to beams means he eschews some common beliefs about them. "So many people say if you have eight feet and under ceilings, you should not do faux beams," Bromstad says. He disagrees. "You don't have to do big faux beams, you can do it smaller. You'll still have the essence of it."
The taller the ceiling, of course, the bigger the beams the room can accommodate. The only place he would advise against using faux beams is in rooms where the beams would make it feel so small that "you're hitting your head when you walk in or if it makes you feel a little cramped."
Rethinking Where to Use Faux Wood Beams
Bromstad is such a big fan of using beams that he is hard-pressed to find a room where they wouldn't be appropriate: "I think they should be used in bathrooms, hallways, bedrooms, dens … they could be used anywhere."
For bathroom design, he says beams work best in taller rooms because the size of the room tends to be smaller, and a ceiling that's too low can make a space feel claustrophobic.
But he also encourages homeowners not to be too concerned by what they think they "should" do. "There are no rules," he says. "Even if you have just one beam going through the bathroom, it shows interesting architecture. It tells a different story. It puts you in the mindset of, 'Oooh, how interesting. Why is this here?' It just makes you think of all of these unique things."
He says one of his favorite beam projects was when he made a coffered ceiling for the HGTV show Color Splash. "It was a lot of work, really detailed, but it elevated it to a level of sophistication. But because they were wood, it also felt casual at the same time," he says. "The more detail you have on a ceiling, the more expensive a house looks."
The biggest thing to take into consideration when adding beams is size, Bromstad says. "If you're running 8-inch beams across the room, and it goes over a windowsill, is your windowsill 8 inches off the ceiling? And are you going to hang drapes there? There's lots of things like that to think about," he says.
Locations of fire alarms, air ducts and lighting all should be taken into consideration as well when adding beams. "Planning is huge," he says. "Lay everything out and draw it out so you're avoiding your lights, your electrical … It can be a little tricky, but it's fun. It's like a puzzle."
The most valuable piece of home design advice he says he can offer is just to do what makes you happy: "Let your freak flag fly in your own home. Do whatever you want. There's no real rules to design. Your house is your space."