Learn about the Coffered Ceiling
Faux wood beams are a great way to design a stylish coffered ceiling - but what is a coffered ceiling?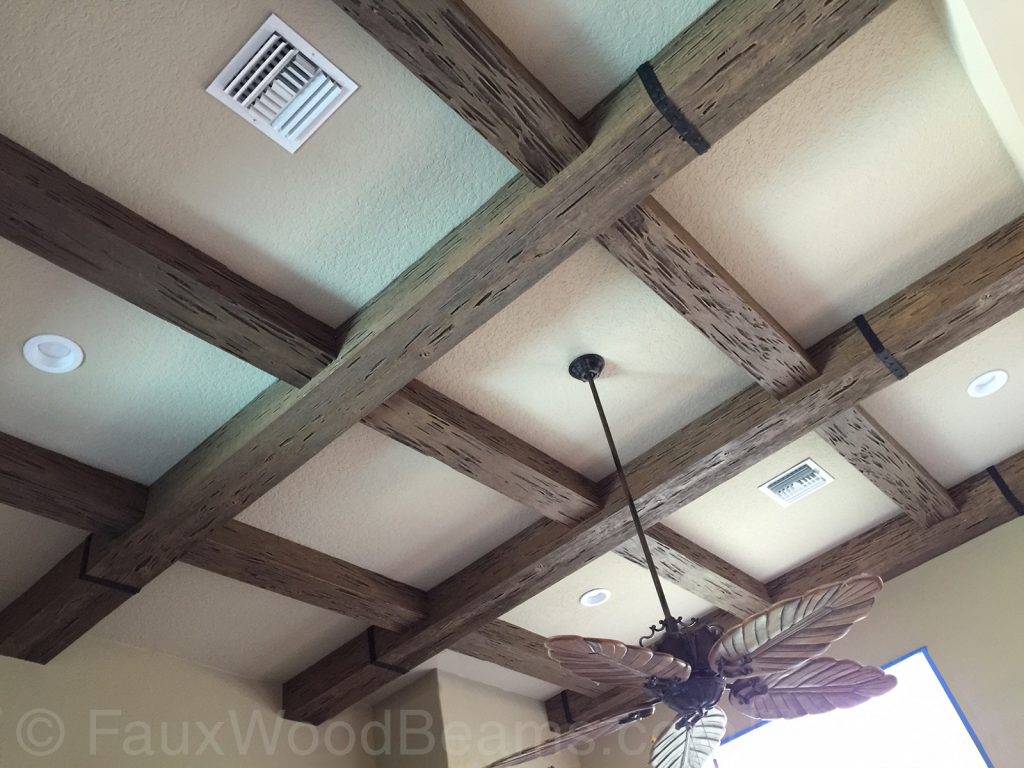 Explore a stately home in England and you'll see what "coffered" looks like. In Georgian and Victorian homes, you'll distinctive grid-shaped ceilings that are usually crafted out of fine timber beams and wood. It's a really classy and timeless look - and one that isn't easy to replicate.
Or, at least, it wasn't until the invention of products like our faux beams.
In traditional homes, a "coffered ceiling" isn't made of a grid of beams, but sunken squares - meaning that the 'true' height of the ceiling is actually where the beams hang. But obviously that's something that needs to be conceived and designed before a home gets built; because it's not possible to just rob a ceiling of six inches of space or more. This is especially true in modern homes, in which wires, cables and pipes often run through the gap between the lower ceiling and the upper floorboards.
That's where faux beams come in. With them, you can create that grid-like pattern to give the illusion of a coffered ceiling. In fact, grid-like ceiling designs are almost a genre of design in and of themselves (and we even have a page dedicated to them on our website.)
There are various routes you can take to create these looks. For example, Regal beams are non-distressed and smooth, resembling traditional molding. Using those, it's possible to quickly and easily create a design that is both fresh and modern. One FauxWoodBeams.com customer, Nicole, shared her experience with Regal beams:
"These Faux beams blow away real wood beams or constructing a coffered ceiling out of dry wall and moulding. We installed this ceiling in ONE day. We have 2 neighbors who constructed coffered ceilings the old fashioned way. One did it himself and it took over one month to complete. The other contracted someone to construct it and it cost FIVE times as much! These beams were cost effective and added unbelievable character to our basement."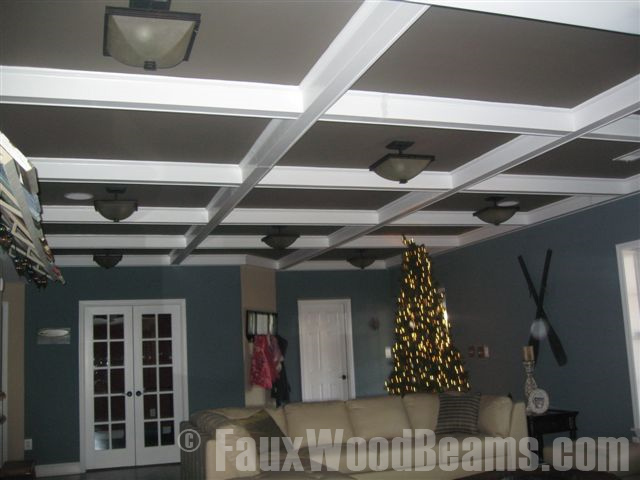 Nicole's basement ceiling
A less-traditional but more dramatic approach is to use our faux wood beams to create a timber grid on the ceiling. This looks less like a coffered ceiling than an exposed timber framework, but is still in the same family, and looks fantastic
As Steve wrote to tell us: "All my contractor friends were so impressed and all say these beams look better than the real wood beam installations they have done in the past. All for a fraction of what it would have cost me in material and installation for real wood beams."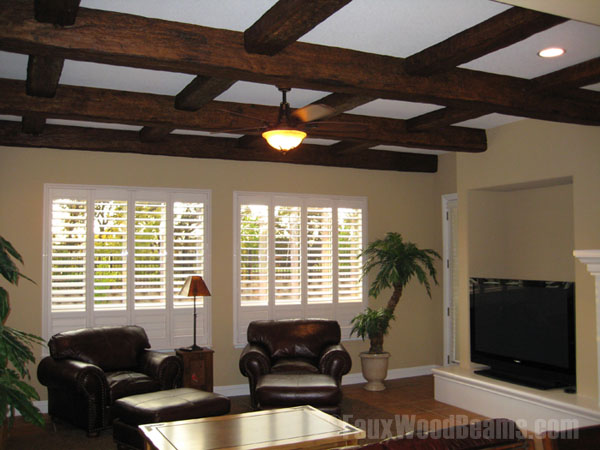 Steve used different sizes of beam to give the illusion of a supporting timber roof.
Finally, you could keep the grid, but ditch keeping it flush with the ceiling. This is less a coffered design and more of a mezzanine effect, but it's equally stunning - and with faux beams, it's easy to create and connect a suspended ceiling design that allows you to install upward-facing lighting and other tricks in the unseen, hollow side of the beam.
This grid pattern isn't technically 'coffered' but differs only in not fitting flush with the ceiling.
In any event, faux offers a versatility that 'real' wood wouldn't, and just what you can do with our products is limited largely by your imagination. Other coffered-style project pair the beams with faux wood panels or planks and the results are incredible.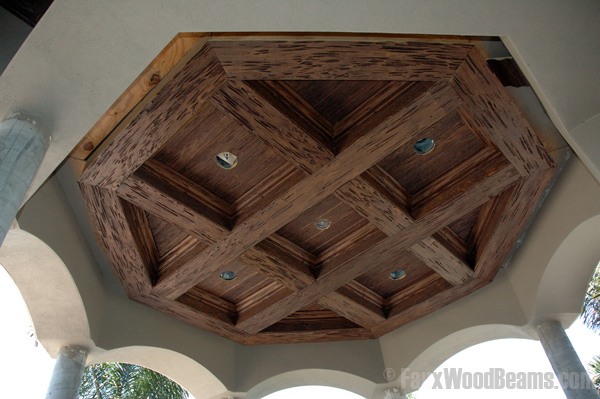 Gazebo ceiling made with Pecky Cypress beams and planks
With the option of adding recessed lighting, hidden speakers and a host of other tricks, coffered ceilings are one of the best ways to demonstrate how faux is "better than the real thing." If you've used our products to create anything similar, don't be shy - let us know about it! We'd love to feature your pictures here.