Your home's curb appeal describes its unique personality to others through thoughtful decoration, exterior accent pieces, and landscaping. The way your home presents itself from the exterior shows others how much care and attention you put into it. The more curb appeal your home has, the more value it has.
Exterior home design products like panels, corbels, rafter tails, and beams quickly transform your home into a property to marvel at. Exterior home products are versatile and can be installed to achieve a myriad of home exterior styles like Southwestern, Cottage, Tudor, and more!
By using the faux exterior home design products we offer, you can affordably make updates on your own, without hiring a professional. Read on for details about which exterior home products best suit your home!
1. Add Warmth and Beauty With Wood and Faux Wood Beams
Wood beams add charm to the exterior of your home with their inviting warmth, texture, and strong aesthetic. Real wood or faux wood beams look beautiful when installed across your porch ceiling or as an arched entryway inviting guests to your front door.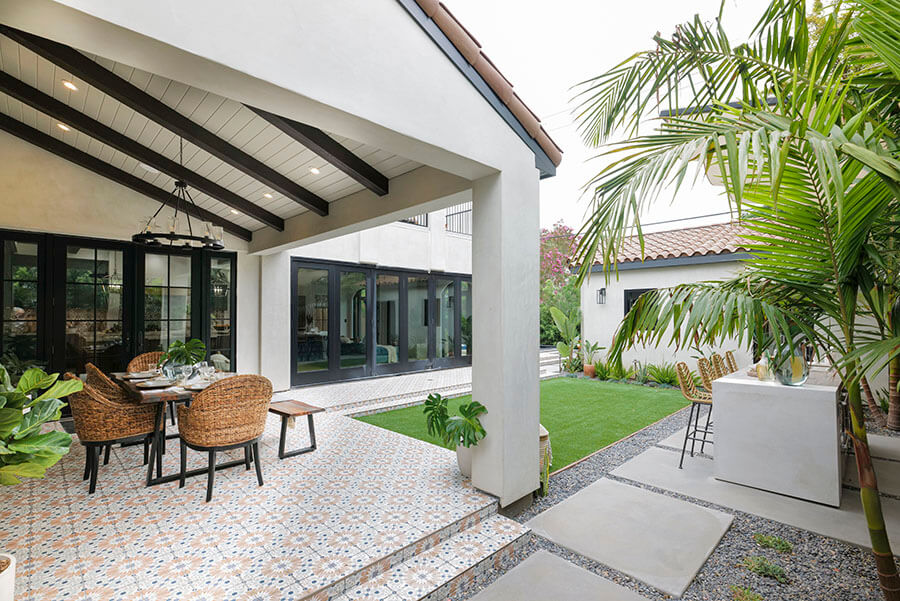 Real and faux wood beams are available in a wide variety of eye-catching colors to suit your exterior design style and complement the existing colors of your home. Beams are available in a variety of shapes and sizes including straight, arched, and gable truss designs that can accommodate any space you wish to update.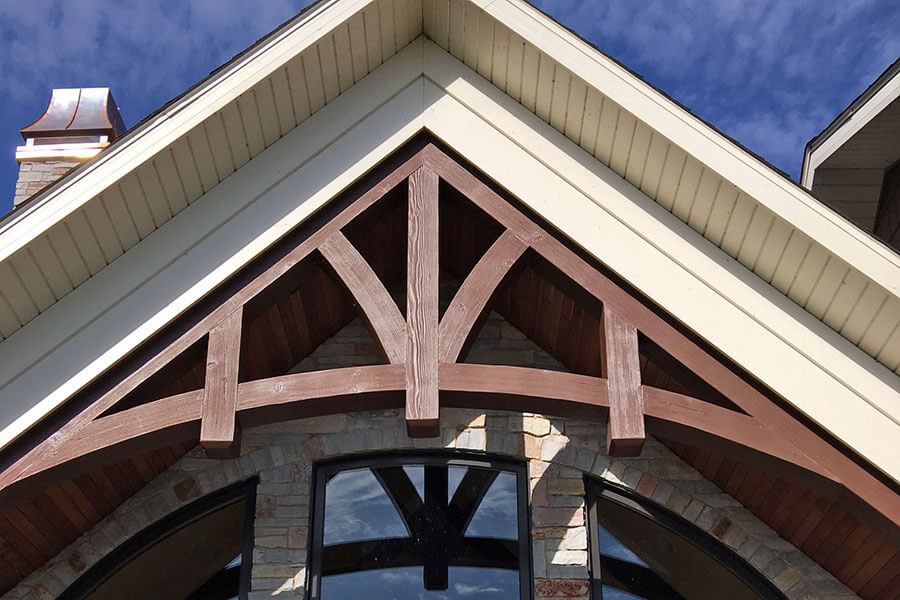 To create a rustic Tudor-style home exterior, consider pairing a gable truss accent above your doorway with wood trim pieces under your windows or surrounding your door.
Faux Wood Beams vs. Real Wood Beams
Faux beams are cast from molds made from actual wood pieces, so they have the same finish and rough-weathered look as real wood. However, unlike real wood, faux wood beams can withstand outdoor elements without chipping, fading, or warping. They are also pest resistant, making for a maintenance-free home exterior update.
Overall, faux beams are more affordable than real wood. Because they are so lightweight, you can install them yourself in just a few hours using simple tools and materials—and save money you might have spent on a contractor to do the installation.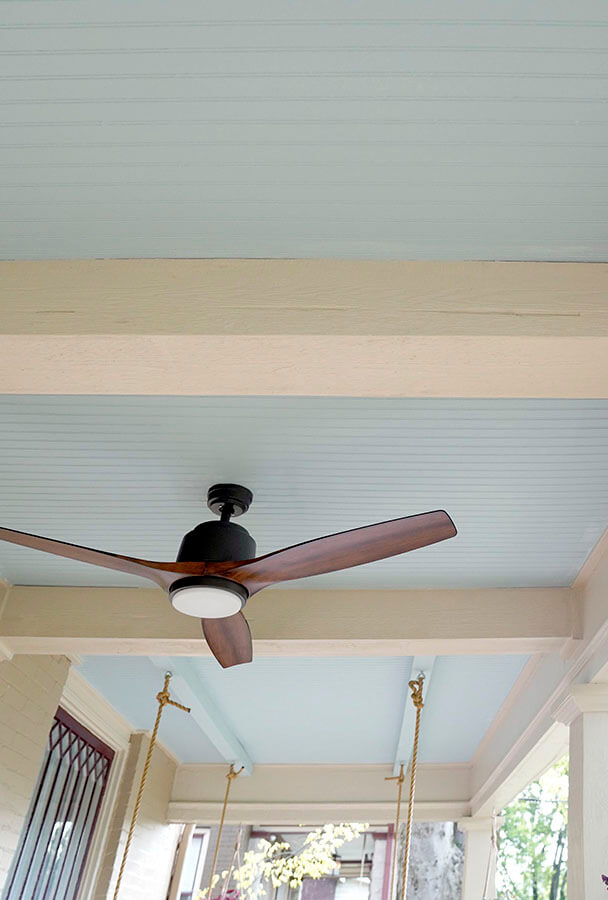 2. Install Corbels or Rafter Tails to Your Home's Exterior for a Touch of Distinction
Adding corbels or rafter tails to the exterior of your home is like adding a cherry on top of a gorgeous ice cream sundae. These decorative supports can be installed underneath window boxes, on your porch or roof overhang, under the shelving of your outdoor dining area, or under the mantle of your outdoor fireplace.
Faux rafter tails and corbels are made from durable polyurethane, making them resistant to rain, sun, and insects. Unlike real wood, they are low-maintenance and can be wiped free of dirt with a clean, damp cloth. Available in a wide variety of beautiful finishes, faux corbels or rafter tails look and feel just like real, natural wood.
You can use them to cover old rafter tails or install them to appear like real ones.
They are the final enhancement that will set your home's exterior apart from the rest. Just like faux wood beams, you can install them yourself, without the help of a professional.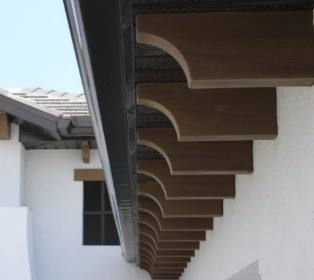 3. Achieve Bold Curb Appeal With Faux Panels and Trim
Your exterior home design isn't complete without bold, natural-looking accents that compliment the style you're striving for. You can achieve any look with our variety of wood, stone, brick, and river rock panels which have the same look and feel as the real, naturally occurring elements.
Trim pieces installed underneath or around windows and doors will set them apart from the rest of your home's exterior.
Wood, Brick, and Stone Trim
Trim your windows and doors in wood, brick, or stone for a vibrant pop of dimension against the exterior of your home. Like our other faux products, faux trim pieces are durable, weather-resistant, and lightweight so you can install the trim yourself in just a few hours.
Stone Panels
Stone paneling can be used to cover your concrete foundation blocks or perhaps wrapped around your front porch columns. They come in several varieties and colors including Anson Fieldstone, ideal for cottage-style homes, and Colorado Dry Stack, great for an instant shot of style.
Wood Panels
Wood paneling boosts your home's curb appeal by providing a warm, inviting texture to your exterior home design. Reclaimed Shiplap has the same appearance and texture as real antique barn wood but won't warp or crack. Add Chevron Panels to your outdoor porch ceiling for an elegant, contemporary accent.
Being just one-third the weight of real wood, you can install these faux panels yourself!
River Rock Panels
Multicolor River Rock panels are incredibly versatile. You can place them around your outdoor fireplace to bring the beauty of natural, smooth rock to your home's exterior. You can even adhere river rock around the bottom edge of your home for a dreamy, polished look that can be wiped clean with a damp cloth.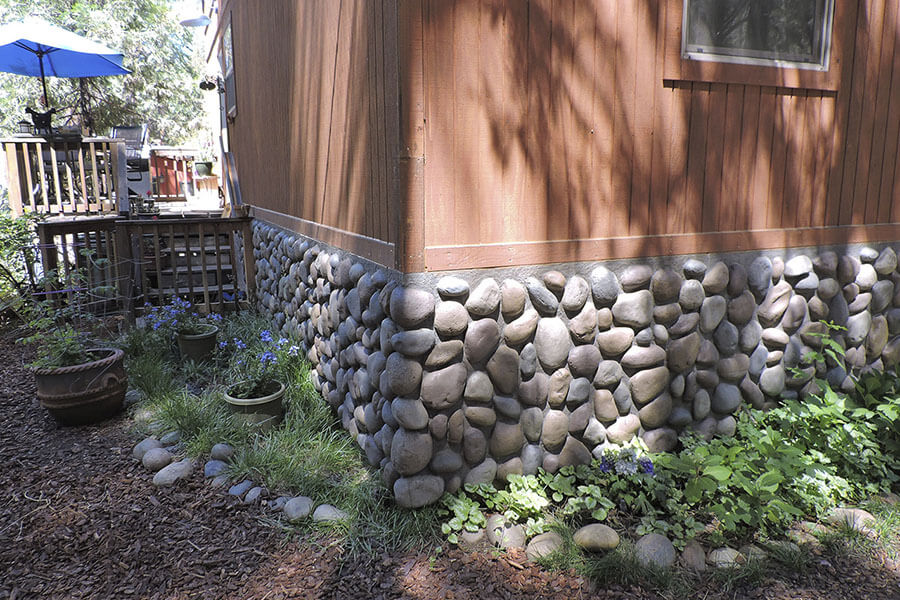 Brick Panels
Brick Paneling brings bold, rustic charm to the exterior of your home. Install faux brick panels as siding on your home for a fraction of the cost of real brick. Brick is a classic accent that makes your home stand out in the neighborhood.
Exterior Home Design Is Easy and Affordable With Natural-Looking Faux Products
Whatever style you're looking for—Cottage, Tudor, Southwestern, Modern, or something else—Barron Designs has the exterior products that will help you achieve your desired look. These products can also be used in your backyard to update patios, pool surrounds, seating areas, and outdoor kitchens.
Our faux products are made from durable polyurethane or polypropylene, making them highly resistant to damage from outdoor elements. They look and feel just like natural wood, stone, and brick—but are much lighter in weight, which gives you the freedom to install them yourself in just a few hours.
Our beams, panels, and trims can raise your home's curb appeal instantly and affordably. Let us help you create a unique aesthetic that sets your property apart from the others. For example, if you're building or renovating an outdoor kitchen, click below to see why you might consider stone veneer as a distinctive design element.