Faux wood is any manufactured product designed to look and perform similarly to a wood product. Most often, faux wood products are made from lightweight materials like high-density polyurethane, although some manufacturers are now experimenting with flax, hemp, and resins.
Due to their better finishes, more advanced materials, and greater durability, replacement wood products like faux wood beams make it easy to choose between natural and manufactured options.
Falling for Faux: Why Faux Wood Makes Sense
It may go against the grain, but faux wood products are gaining ground as a durable and cost-effective alternative to natural wood. This is especially true for beams and mantels, where ever-more realistic faux options are giving increasingly expensive and hard-to-find natural products a run for their money.
How Is It Made?
Materials for faux wood are generally produced using a molding or shaping process that transfers the natural patterns of wood onto the surface of the manufactured product. Innovative materials and advanced techniques mean faux wood products now look and feel very similar to the real thing.
What Are the Benefits?
Depending on how and where it will be used, faux wood can outperform traditional wood products. Let's take a look at some of the advantages of faux wood:
Lightweight
Pound for pound, faux wood can deliver the warmth and charm of natural wood with a lot less weight. This makes placement and installation much easier since faux beams typically do not require adding structural support.
Stable
Faux wood offers greater stability over time. Yes, real wood is a "living" product that responds to its environment, but that can also mean warping, splitting, and unpredictable color changes—flaws that faux wood simply doesn't have.
Durable
Well-manufactured faux wood products not only last a long time, but they continue to look as though they are new—even when they've been in a home for many years!
This is a key benefit, especially if the faux product is installed in a sunny, exposed, or high-wear environment. Faux is a great option for making your design finishes look newer, for longer.
Low Maintenance
Faux woods require almost no maintenance, whereas natural woods must be continuously cared for. Specifically, cheaper softwoods like pine can become a maintenance burden because they need to be tended to regularly.
Termite Resistant
Termites are a serious threat in many parts of the country and they are not going to stop their destruction at your baseboards! Just a few months of neglect can allow termites to ruin any real wood in your home. Faux wood, on the other hand, offers a worry-free alternative.
Customizable
Faux wood products are available both finished and unfinished. Unfinished products can be painted or stained just like real wood to match the exact color you desire. This is a great way to add a unique touch to a special piece in your home, like a kitchen island for example.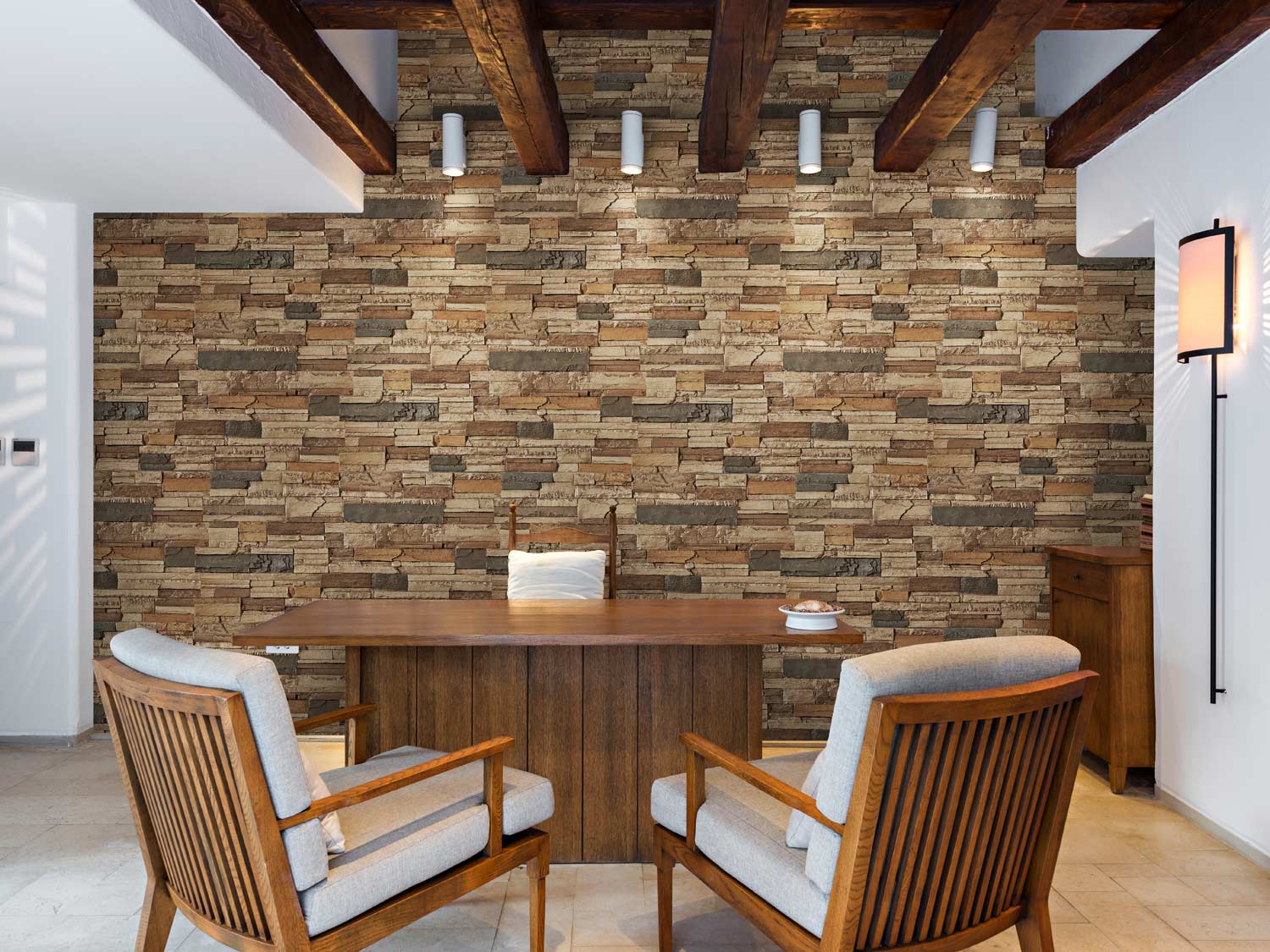 Standardized
Quality manufacturing means consistent coloring and finishes across your entire project. Grains and textures match up so that your trussed entryway and ceiling beams will all coordinate.
What's more, this makes stock easier to match should you need to replace fittings or want to extend your design theme further.
Affordable
Dollar for dollar, faux wood offers all of these advantages at a lower cost than most comparable natural wood products. Faux wood means practical, affordable beauty that will last for years.
What About Fire Safety?
Just like the real thing, faux wood is combustible and needs to be installed away from direct sources of heat or flame such as a fireplace or wood stove. You can determine what is appropriate clearance from the manufacturer or by checking local building codes.
Class A fire-rated polyurethane faux wood products are available for commercial applications. Do note that installation of class A fire-rated products still needs to follow the same codes as non-fire-rated products.
What Should I Look for in High-Quality Faux Wood?
High-quality faux wood boasts all of the grain, knots, and organic beauty of natural wood because it's molded from real wood. The paints and washes used in high-quality faux will replicate the natural sheen of wood, while cheaper products tend to be overly shiny.
Barron Designs offers a large choice of products in a variety of styles including panels, beams, mantels, arched beams, truss systems, and columns. We also offer unfinished products that you can customize to suit your needs.
We guarantee our quality and workmanship for 15 years because we know our products are made to last.
What Can I Do With Faux Wood?
Your imagination and creativity are your only limits! For a reasonable price, faux wood products will make your home look incredible while offering enduring quality and appeal—guaranteed!
We can help you find attractive, natural finishes that will work in any design situation because we offer the widest selection of faux beams and other molded faux wood products on the market.
Take a look at our easy DIY guide for replacing your fireplace mantel with either faux or real wood options to achieve a beautiful farmhouse finish. The guide compares faux to real wood so click below to learn more—you may be surprised by what you find!