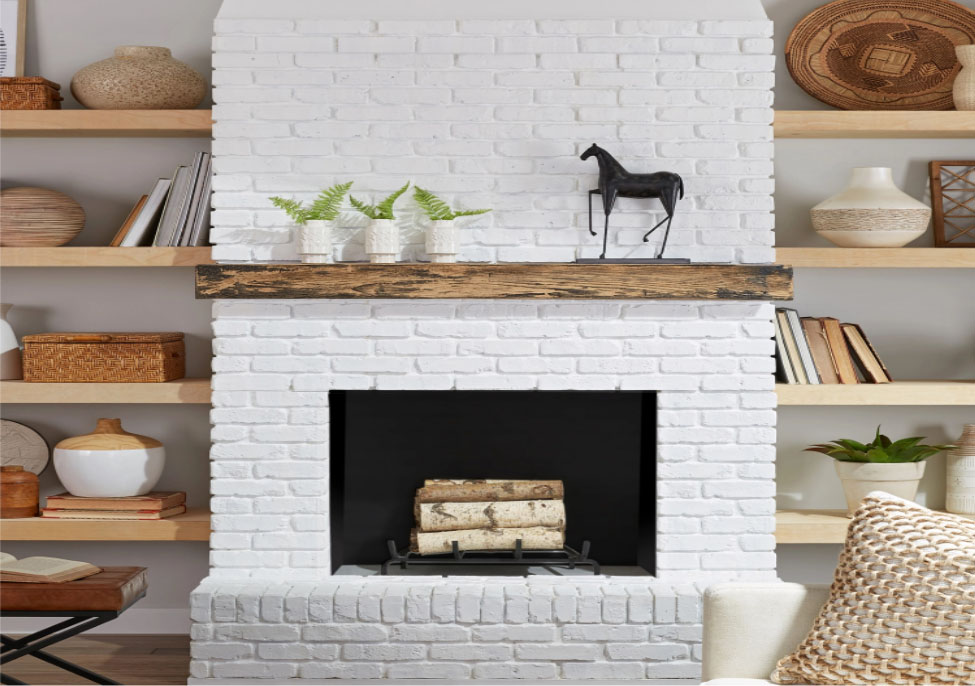 Is your fireplace mantel a sore spot in your living space? Have you been looking to update it by modernizing it with a rustic wood beam? Luckily, there's an easy DIY option for covering a mantel that is quick and easy for any homeowner.
Our how-to guide shows exactly how you can complete a fireplace makeover yourself by installing a wood beam mantel over your existing mantel. From choosing the right color wood, to what materials you may need, to how to install the beam, our how-to guide will walk you step-by-step through your DIY wood beam mantel project.
DIY Mantel Project: Real or Faux Wood?
One of the first things to decide when starting on your wood beam mantel DIY project is if you want to utilize real or faux wood. Our real wood mantels are handcrafted from cedar trees harvested in the Pacific Northwest. Each mantel then undergoes a treatment process that actually strengthens the wood while giving the mantel the look of weathered wood.
While real wood mantels are a traditional choice for farmhouse design, there are a lot of pros in using faux wood beams, too. Faux wood mantels have many benefits including:
Lightweight
More affordable
High durability
Termite resistant
Split resistant
Easily customized
The benefits of faux wood mantels are hard to ignore, so even if you have your heart set on real wood beams, browse through some of our faux wood mantel options before making your final decision. No matter which mantel you ultimately choose, your space is sure to receive a rustic makeover from the new statement piece.
What to Consider When Selecting Colors and Texture
Whether you go with real or faux wood for your wood beam mantel, you will want to finalize the right color and texture selection. With faux wood mantels, you have a lot more options to consider and can be more precise in your color matching and texture choices. With real wood mantels, you are at the mercy of how the wood naturally looks, which can vary from mantel to mantel.
When choosing the color and texture, consider all of the other design pieces in your home and space. What colors are the floor? What shade is the furniture? What does the rest of the fireplace look like besides the mantel?
Answering these questions is a great way to narrow down your wood beam mantel options while also helping to make sure this new design piece brings your home an aesthetic you love for many years to come.
Materials Needed
Once you have decided on the style of wood beam mantel for your DIY project, it is time to gather the rest of the materials you will need for installation. These include:
Measuring tape
Mechanical Fasteners
Adhesive
Wood beam mantel
How to Install Your DIY Wood Beam Mantel Step-by-Step
After you have gathered your materials, it is time to install the wood beam mantel. While this may feel like a daunting task, it truly is quite simple. No demo needed! The wood beam mantel will fit right over your current mantel and cover it with ease.
Using the measuring tape, measure the height, width, and depth of the mantel you are looking to cover. In order to obtain the outer dimensions of the mantel size to order, you will want to:

Add at least 2.5-3" to each height and width to account for the thickness of the material

Add at least 1.25' to the depth of the current mantel.

If you want to go larger for a more dramatic appearance, add more of a buffer to these measurements.

Order your wood beam mantel.
To install the wood beam mantel, you will simply slide it over the existing mantel and secure it with either mechanical fasteners or adhesive.
Now that your mantel is installed and secured, allow it to set into place for a few hours before styling it with other decor. It really is as simple as that!
Ready to browse our many colors and wood beam mantel options? Check out our collection of real and faux wood beams below. We even offer faux wood and real wood samples if you would like to see the color in person before ordering.