Learning how to stain unfinished faux wood is something that many of our customers do when they want more control over how the beams or mantels blend with their room's surrounding decor. One with beautiful dark wood furniture in their home might want to match that color, for example. So, rather than choosing one our pre-stained beams, they select the Unfinished style and stain it to a color that satisfies their design vision. As they do this, they help balance the whole look of their home's interior beautifully.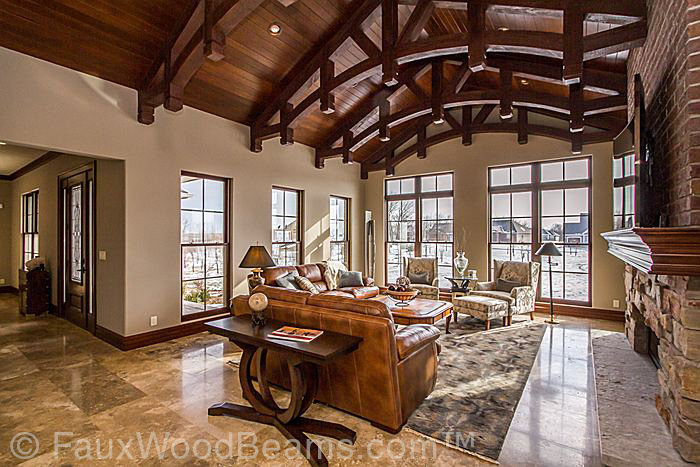 Staining Arched Rough Hewn Beams is easy to do.
While you might think that staining faux wood is difficult or time-consuming, it's actually not. In fact, it's extremely simple, and not unlike staining untreated wood.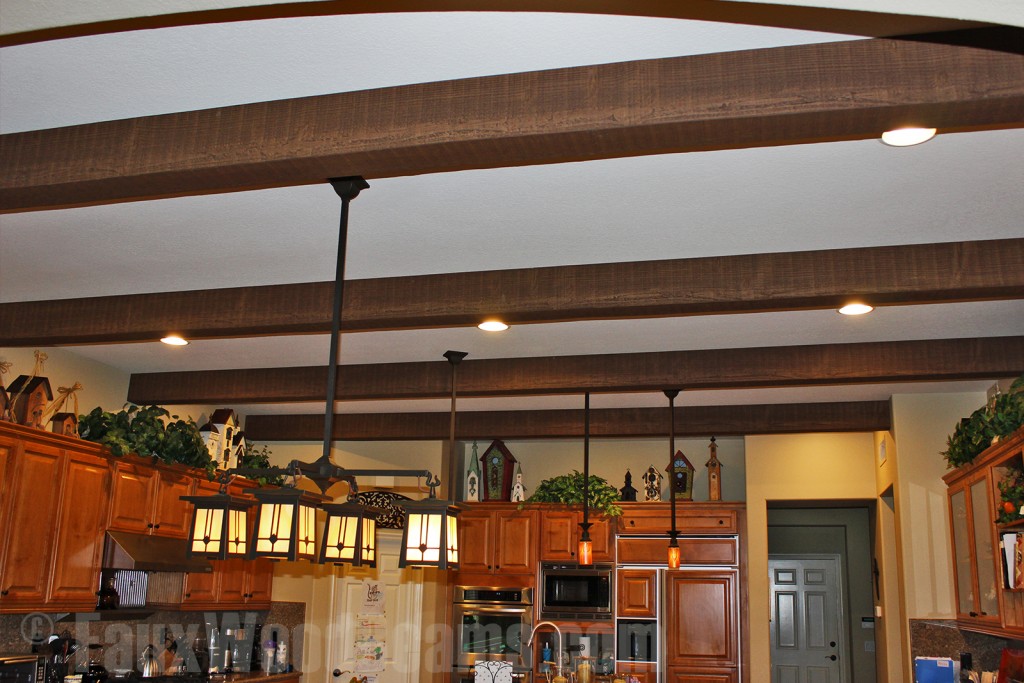 You can stain faux wood beams and create a stunning ceiling design like this one.
Unfinished beams come pre-primed so that you can stain the beams in any color you want. We recommend taking an unfinished sample to your local paint expert for specific stain/paint recommendations then practicing on the sample before adding paint/stain to your actual beams. Use only water-based paints or stains. Oil-based or solvent-based stains will not give you the results you are looking for.
Take the steps below to stain your Unfinished beams.
Fiirst, dip your paint brush into the stain and let the stain drip out of the brush.
Then, wipe off the stain that's left in the brush onto a clean cotton towel or rag.
Quickly "dry brush" the remaining stain over the desired area of your beam.
Make sure not to put the stain on top of an existing stain, as the dry stain will become darker with multiple coats.
Repeat if necessary.
There are also other tips tricks you can use, such as using a darker stain to highlight knots on a beam, or a watery kind of stain to make the grain texture stand out. For additional information about finishing Unfinished beams, take a look at this page on painting and staining.
Finished results always look fantastic, and once you've installed the beams, as you can see from the pictures on this post, the results are outstanding.
Below are a few testimonials and design images from customers who stained their beams.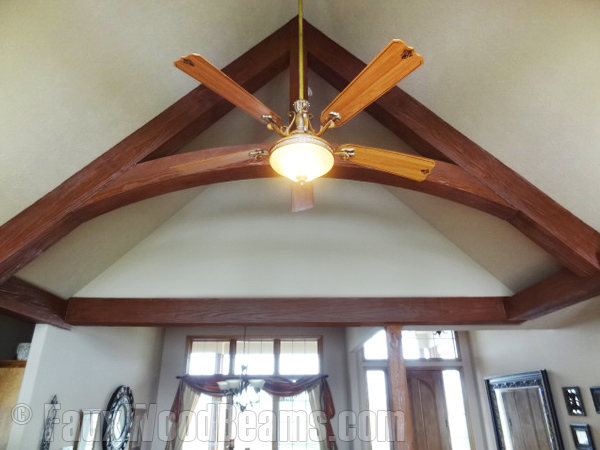 Patrick stained his faux wood Arched Woodland beams for a beautiful truss ceiling design.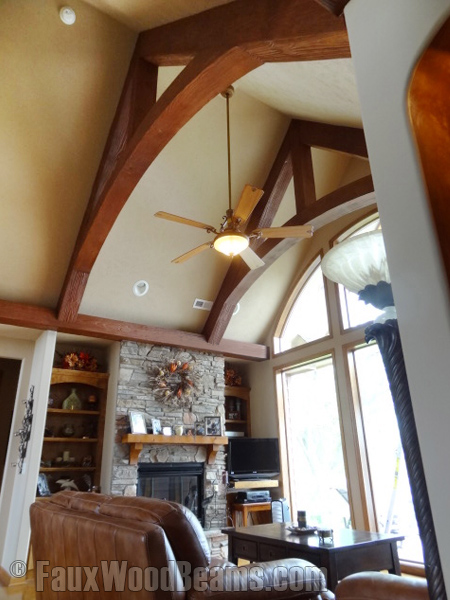 Patrick's stained Arched Woodland beams match his decor wonderfully.
These beams are very well engineered and assembled. I took my time performing all the measurements and cuts. Although I ran into a few screws while making the cuts to the arched beam, I was amazed at how well hidden the screw heads were. I had opted for the unstained version so I could customize the color. The staining process was easy and they turned out great. I previously purchased some discontinued beams on clearance with a more rustic grain. I matched the base coat of the arched beams to cover the stain on the clearance beams so the stain color would match. It worked like a champ. I followed the installation instructions provided, and everything came out great! -Patrick G., Nebraska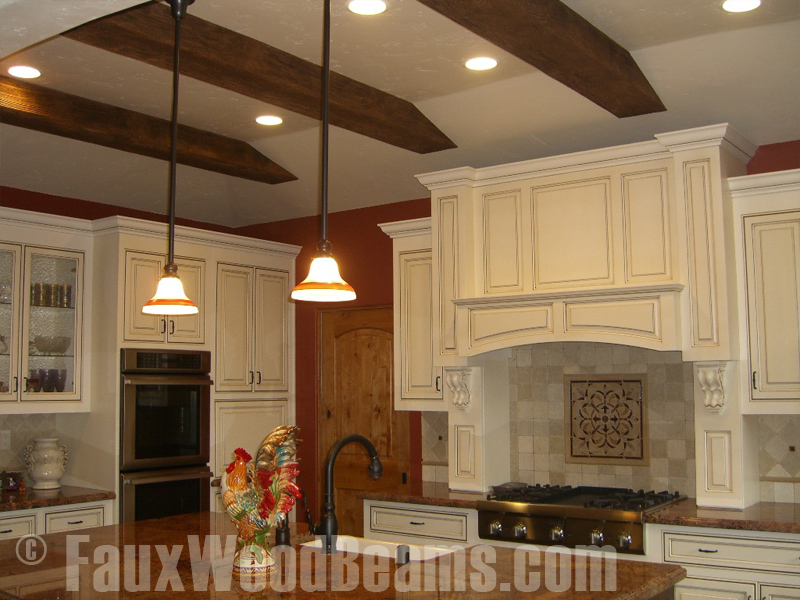 Brenda was happy that learning how to stain faux wood was easy.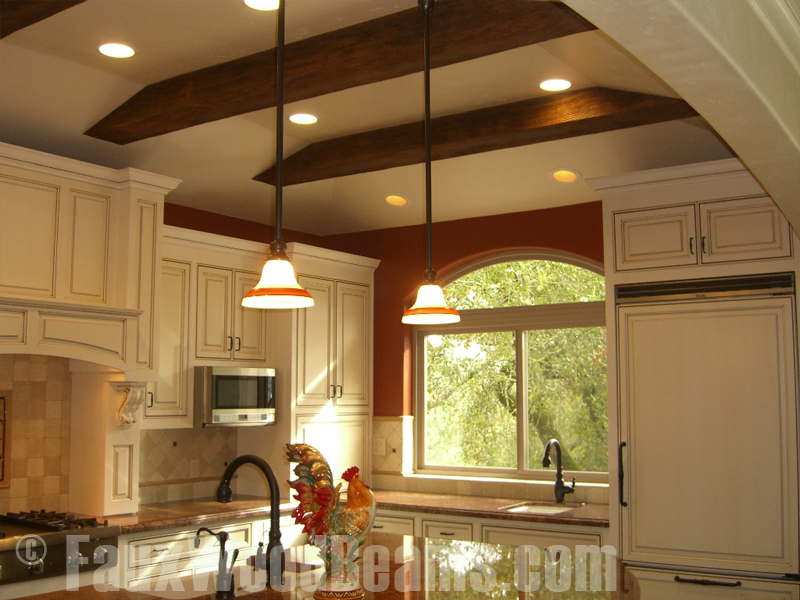 Brenda's stained Woodland beams are a great match for her kitchen decor.
The finished product looks great! We ordered the beams and we primed and stained them ourselves. It was easy and a fun project to do together. After they were installed in our kitchen, it made the whole room feel warm and cozy. I Love it! -Brenda, Santa Rosa, California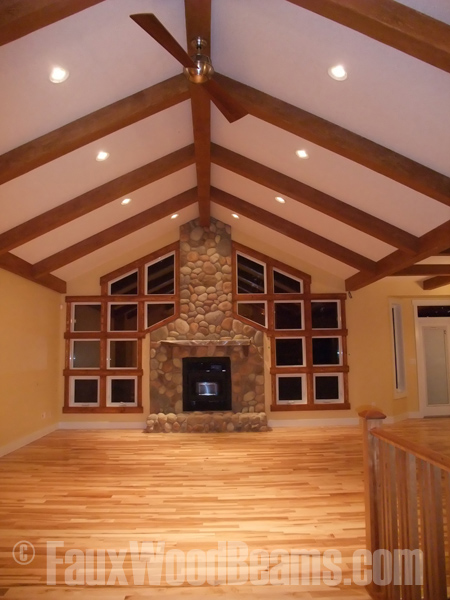 Rick was happy to know that learning how to stain faux wood beams was easy.
Your beams made a perfect finishing touch to what could have been a pretty boring roof line in this home. I have attached some photos of the finished product. We stained these unfinished beams and put them through the great room and kitchen areas of the home. Including staining and finishing it took us about 2 days and was done just 4 days before the customers took possession. Nice product and great to work with. -Rick L., Edmonton, Canada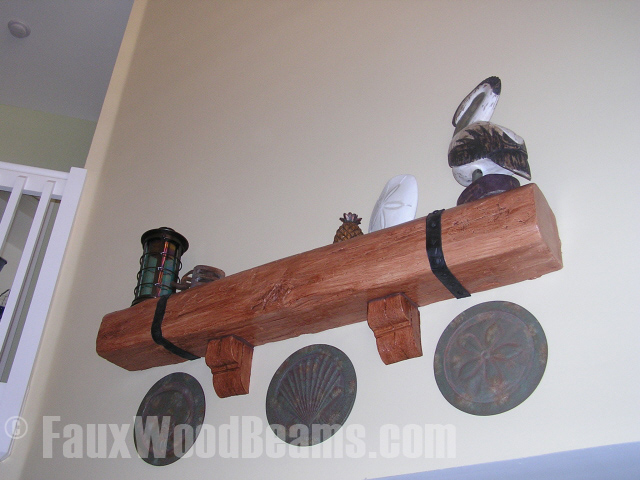 Cathy's faux wood mantel was so easy to stain, she stained the corbels afterwards.
We thought you might be interested in these pictures since they show a mantle used as a shelf on an entrance alcove wall. We love the look and were amazed at how well the mantle took the stain. Visitors can't quite believe two women installed it, as it looks so like the real thing and appears to weigh a lot. Thanks for a great product! -Cathy C., Fort Pierce, FL
Below are two other customers who were thrilled with the results of their stained faux wod beams:
They are truly a masterpiece when you add your own stains. –Nelson, Lake Worth, FL (no pic)
The faux wood mantel worked out perfectly. Very light, easy to work with and hang. Staining it was easy, I went with a gel stain. Everyone that looks at it thinks it looks real and are amazed when we tell them it's not. –Lenny
Have you stained your Unfinished faux wood beams? If so, we'd love to know how they look. Please send us pictures if you have them. We might even feature them here!