We previously featured a stunning project that demonstrated how to divide a room using suspended beams. Our readers seemed to love the concept, so we're going to show you other ways you can use faux beams to subtly separate spaces in your home. You'll also learn more about open-plan concepts and the best way to elevate them using faux wood beams.
The Rise of Open Concept
It used to make sense to separate homes into smaller individual spaces. More people tended to live under one roof, and each one needed privacy. It was also easier and more cost-effective to heat smaller rooms.
Today, family homes are larger, and modern air conditioning and heating systems make it affordable to heat and cool spaces of all sizes. The open-plan concept has become ubiquitous in interior design — for good reason. It makes homes feel much larger, facilitates social interaction and is an easy and effective way to add light (because fewer walls mean the main areas have natural light from more windows).
The Challenge of Open-Plan Concepts
The open-plan concept does present new challenges though; the first of which is how to break an open space into appropriate "zones" while still maintaining openness. For example, a home with an open-plan first floor still needs to have clearly defined kitchen, dining and living areas. These spaces shouldn't be differentiated using the kind of physical walls designers would have used in the past.
Photos from a number of faux beam projects have demonstrated how our synthetic wood beams can provide the perfect solution to this challenge. The beams offer a visible boundary between spaces without walls. They are lightweight, easy to install and easy to place wherever you need them.
Using a faux wood beam to break up an open-plan concept can bring dynamic style to your home without forcing you to sink too much time and money into extensive renovations. And the wide range of styles available means you can always find the perfect fit for your home's design. Whether your style is coastal, rustic, farmhouse or industrial, there's a faux wood beam that will complement your living space.

Designs We Love
This project is a perfect example. The homeowner used our Custom Timber Beams to separate the two halves of her open-plan room. While the beams don't provide a physical barrier between the two spaces, they very clearly divide it visually. This immense room was visually separated with a suspended beam.
Another great example came from a customer in Tennessee. He knocked down a physical wall that separated his kitchen from his living room. That opened the space up, but he still needed to create some sort of visual divider. To do that, he used one of our Rustic Beams in Walnut finish — breaking up the space with a material that looked like it could be a structural part of the home. The differing ceiling heights created a natural visual divider, but it was the use of a single beam that truly made the spaces feel separate.

Interior designer Andrea Kleiver recently used our Custom Hand Hewn Beams to frame the entrance to her daughter's reading nook in much the same way. The beam created a visible separation between spaces when no physical separation existed. This adorable reading nook was created by framing an archway with our beams. Included in this post are some more pictures that demonstrate how beams can help separate the spaces in an open-concept living area.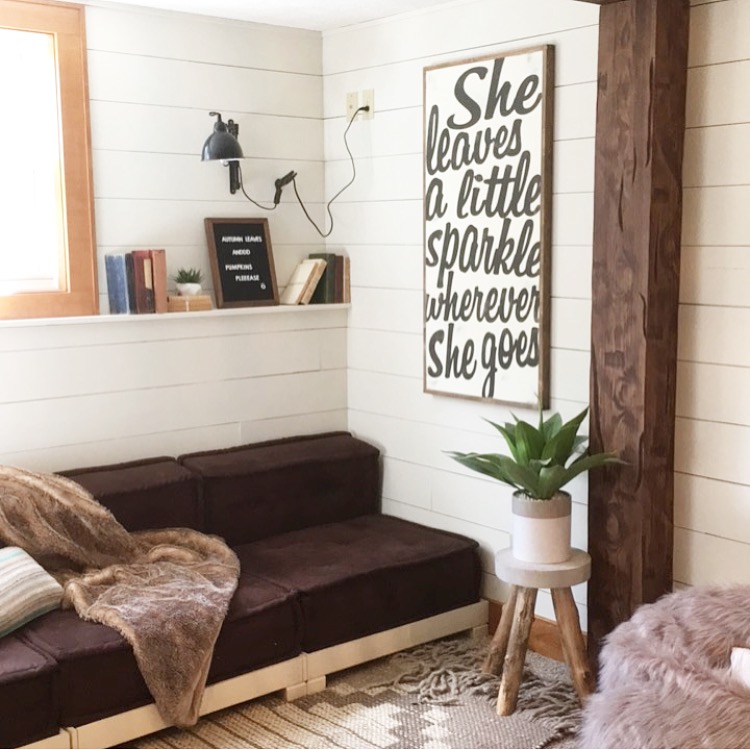 If you've done something similar with faux beams, we'd love to add your photos to our gallery! Send them to info@barrondesigns.com.
The Benefits of Faux Wood Beams
Faux wood, stone and brick products are perfect choices for any home DIY project. Faux wood beams are typically made from high-density polyurethane, which results in an impressive natural appearance without the weight, hassle or maintenance of real wood. They're easy to install — no special skills or tools are needed — so you can elevate the look of your home in as little as a weekend. Many faux products are designed to be both DIY-friendly and durable enough for commercial use.