It's the first thing you see when you wake up and the last thing before heading off to dreamland. So it would be safe to assume that you would want your bedroom ceiling to be a particularly eye-pleasing area of your home.
Sleep Well Under Bedroom Ceiling Beams
When we think of bedroom decor, it's often in the realm of things like furniture, bedding, lighting and wall color. But don't forget to look up when pondering your design – the ceiling occupies a lot of square space and shouldn't be overlooked.
Over the years, some customers have taken advantage of our faux ceiling beams to turn their bedrooms into the sanctuaries they're meant to be. From simple installations to those a little more intricate, here are a few examples of the ones we love.
Lighting the Way
Jay Y. of Wauwatosa, WI took this great upward shot of his finished project. Using three sided Heavy Sandblasted Beams, Jay placed indirect lighting inside each beam to give the room a soft, comforting glow.
Eyesore No More
Dave's bedroom had a 10 foot vaulted ceiling with badly done drywall, including a seam between the vault and the flat part of the ceiling that was continually cracking.
To cover up this bothersome eyesore, Dave paired Resawn beams with tongue and groove pine planking, hanging all of the beams himself – even the 16 footer.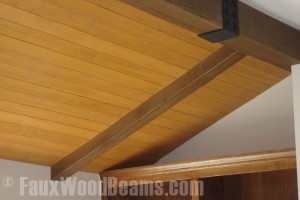 The material is easy to work with… Great product! I am getting lots of compliments. :)
From OK to OMG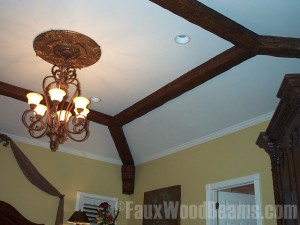 Dayton and Dusty R of Somerville, TN had a 18x24 master bedroom with a coffered ceiling that they thought was nice, but needed a little something extra. After doing their due diligence on the web, they came across the Timber style beams on our site and liked what they saw.
We were shocked when we opened the first box. "Oh, my God! Look at these! I can't believe how beautiful they look!'" They really are beautiful, and look like stained, hewn beams. They don't look like something fake at all, they actually look real…The texture, the color, all the inconsistencies of actual wood, knots, grain, light and dark colors. Just absolutely gorgeous!
After taking careful measurements and cutting the beams to fit, Dusty and Dayton completed the job in about 12 hours total (including cleanup) with the help of our installation videos.
We just finished installing the beams in our master bedroom, and we can't stop looking at them: they are astoundingly gorgeous and make the room "pop"!
What are your dreams for your bedroom? Contact our friendly and knowledgeable design support team and see if they can help make them come true.