Want to add a value-boosting upgrade to your home's exterior but don't want a major renovation project? Brick or stone siding panels are an increasingly popular alternative for good reason.
Read on to learn more about the alternatives to dusty, time-consuming masonry projects. We'll consider the increasing popularity of "natural finish" exterior brick veneers as a way to add a unique, natural touch to a property.
And, we'll also dive into how an ever-growing range of quality faux brick and stone products provide an even more convenient and affordable way to set your home apart from the crowd.
New Ways to Lay on the Charm
Looking for a simple way to add value to your home? Good quality exterior veneer brick or stonework siding provides a quick and convenient upgrade to the outside of almost any property.
Stone and brick veneers for exterior walls often take the form of pre-manufactured panels. The molded brick or manufactured stone in these panels is thinner than the "original" product, so they are lighter and easier to handle, delivering an authentic look.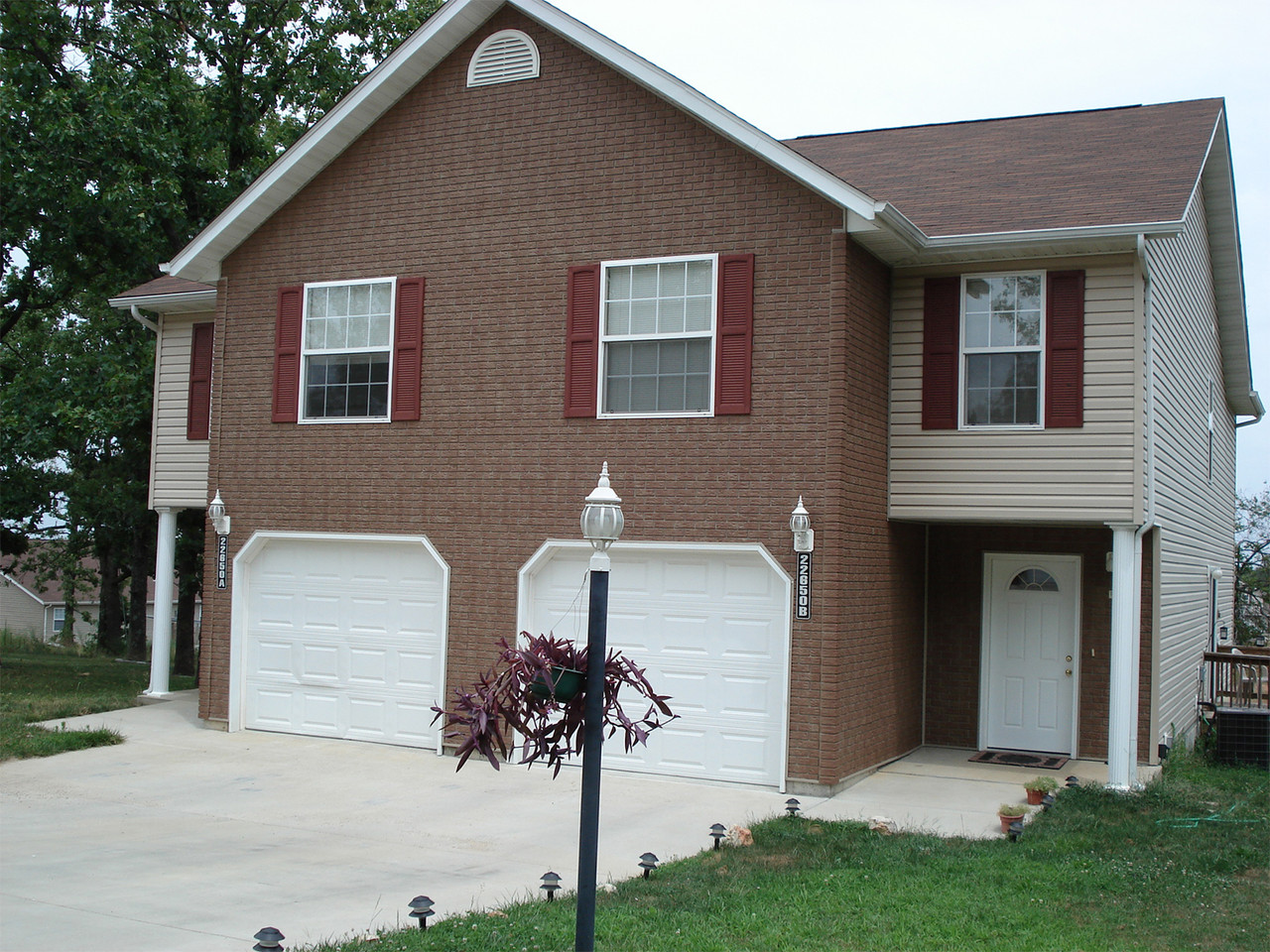 Take a peek around almost any American neighborhood these days, and you'll see how savvy homeowners are choosing to set their properties apart with exterior thin brick veneers and similar stone products that are almost indistinguishable from authentic brick and stone masonry.
Want More Bang for Your Home Value Buck? Go Faux!
That said, even thin brick or stone veneers do carry some weight and require basic masonry skills to attach the material to your walls. If you'd rather skip the hassle of masonry altogether, consider thinking outside the box.
Today, high-quality exterior faux brick and stone panel products from leading manufacturers are available in a range of quality and styles. You'll get a durable product that offers the beauty and property-boosting value of genuine stone products with much less hassle and expense.
You'll also get a lightweight, low-maintenance exterior faux brick or stone panel that goes on like regular siding but looks just like real masonry or stonework — with no cutting, bracing, or mortar slinging required.
Faux brick or stone wall panels also offer many of the advantages of traditional veneer brick exterior siding at a lower cost, including:
Lower maintenance: Hard wearing and does not require painting
Versatility: A wide range of styles, colors, and textures to choose from
Curb appeal: Eye-catching details to make your property stand out
Cost: Quality exterior siding at a fraction of the cost of a full-fledged brickwork upgrade
If you're considering stone or brick siding for exterior walls on your property, it's never been easier to add charm and value while keeping your budget on the level.
How Do Costs Compare?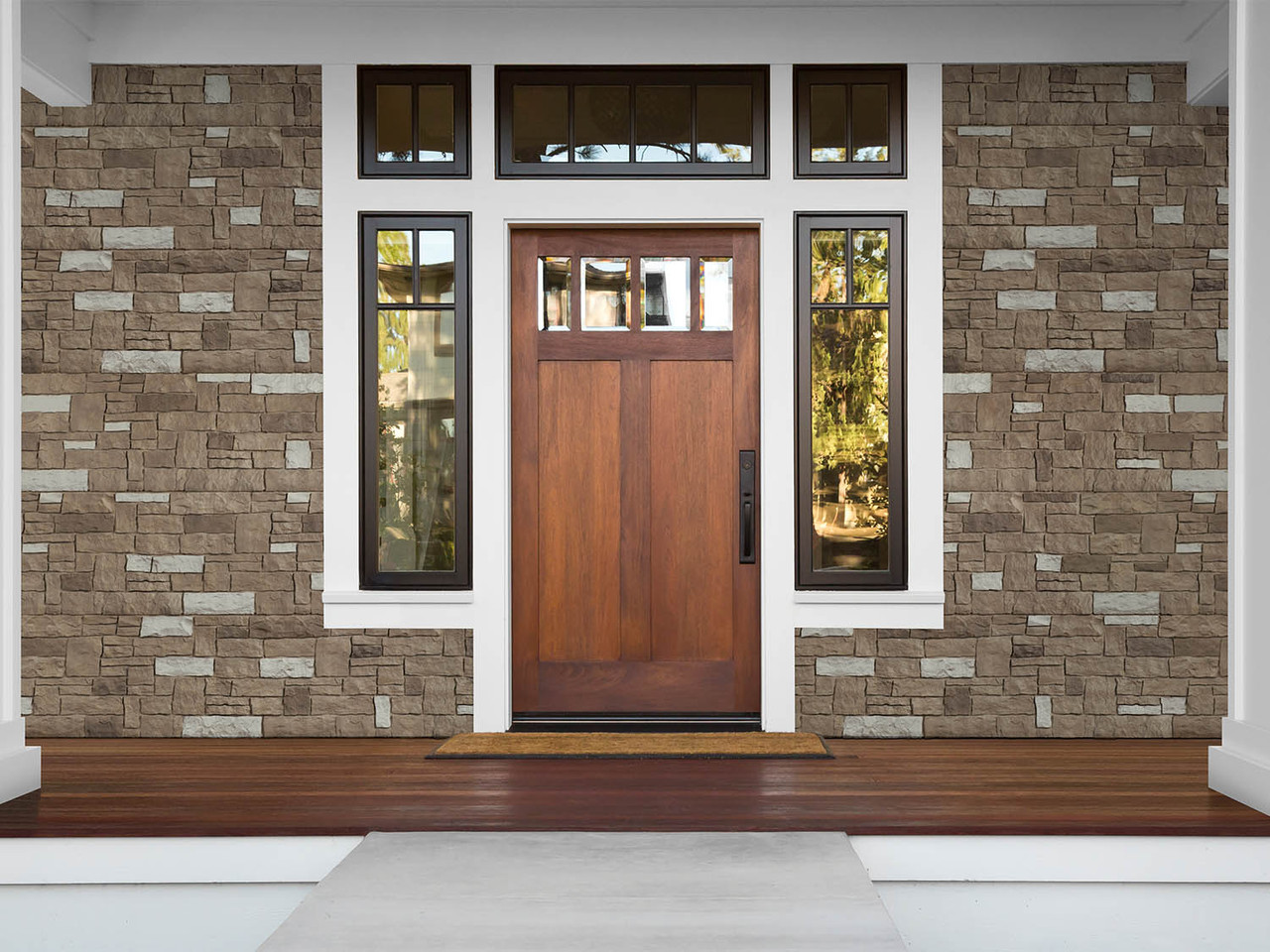 Adding stone or brick siding to the front of your home is consistently rated as one of the most affordable and dependable ways to add value to your home that will pay off at sale time.
The most recent edition of Remodeling Magazine's annual Cost vs. Value Report for home upgrades estimates a 102.3% return on resale value above job cost for adding a manufactured stone veneer to a home!
With that in mind, let's take a look at the retailers offering a variety of brick and stone siding options.
Where to Buy Exterior Veneer
Good quality genuine thin brick panels and stone veneer products are available from many retailers. Choose a company with a good selection and enough inventory to offer good prices, but also check out their warranties and after-sales service.
Because genuine stone and brick veneer siding is made from original materials, the quality and durability should be relatively consistent. If you prefer a faux brick or stone, it pays to go with an established, reputable provider to ensure a great selection of matching, durable products.
Popular choices for stone and brick veneer panels include:
Home Depot
This well-known nationwide home improvement chain offers an extensive brick and stone veneer selection, along with:
Online tutorials and regular DIY workshops to help with installation
Bulk "contractor" pricing for larger orders of some products
Stores in almost every U.S. community
Lowes
An equally recognizable "big box" home improvement retailer that also stocks a good variety of brick and stone veneers. Lowe's is also known for:
Offering installation services and in-store consultations
Competitive pricing and regular promotions
Menards
This regional retailer offers a good choice of materials and styles to match your home's character. Menards also offers:
A comprehensive buying guide for stone and brick siding
Great selection and across-the-board selection
Strong presence throughout the Midwest
Barron Designs
For high-quality faux brick and stone veneer siding panels, Barron Designs is the go-to choice. The North Carolina-based company is known for high-quality, durable products, including:
A rich history as an innovator in the business remodeling and home improvement industry since 1972
A comprehensive, online selection of faux wall panels and exterior siding as well as faux columns
A multitude of creative designs and samples are available
15-year warranty on many products
Inspiration and design ideas to jumpstart your next project
Quality Siding That Puts You Out Front
Choosing Barron Designs' quality faux brick or stone panels allows you to add real value to your home at a fraction of the cost of real brick or stone.
You'll earn the admiration of your neighbors and the attention of would-be homebuyers with the visual warmth and appeal of natural-looking brick or stone without the dust, noise, or expense of a construction project.
Best of all, Barron's high-quality faux building products allow you to get creative with:
Quality veneers for both brick and stone siding as well as columns
A wide selection of products to complement any home
Designs, ideas, and inspiration for any style or aesthetic
15-year warranty on many products
Click below to learn more about how Barron Designs' selection of exterior faux building products can make it easy to add the timeless charm of brick and stone to your home.