Cabana Design - The Easy Way
Going 'faux' added the functionality needed to make this cabana design look great and worry-free.
When FauxWoodBeams.com customer Patrick O'Neill decided to build a cabana off the side of his family home, he had one concern; he wanted the character and richness of using real timber, but he was concerned about it warping from exposure to the elements.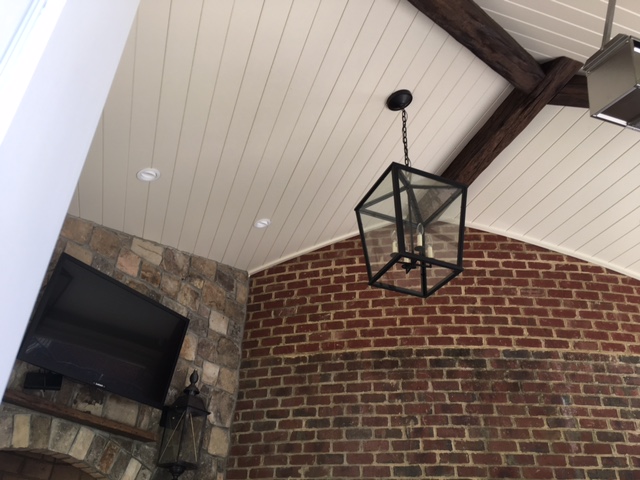 It's a valid concern. While wood is obviously a tough and durable building material, it's vulnerable to damp, rot and the effects of the sun. This is why most of the historic wood buildings in America have been rebuilt and repaired so many times that there's very little of the original wood still left!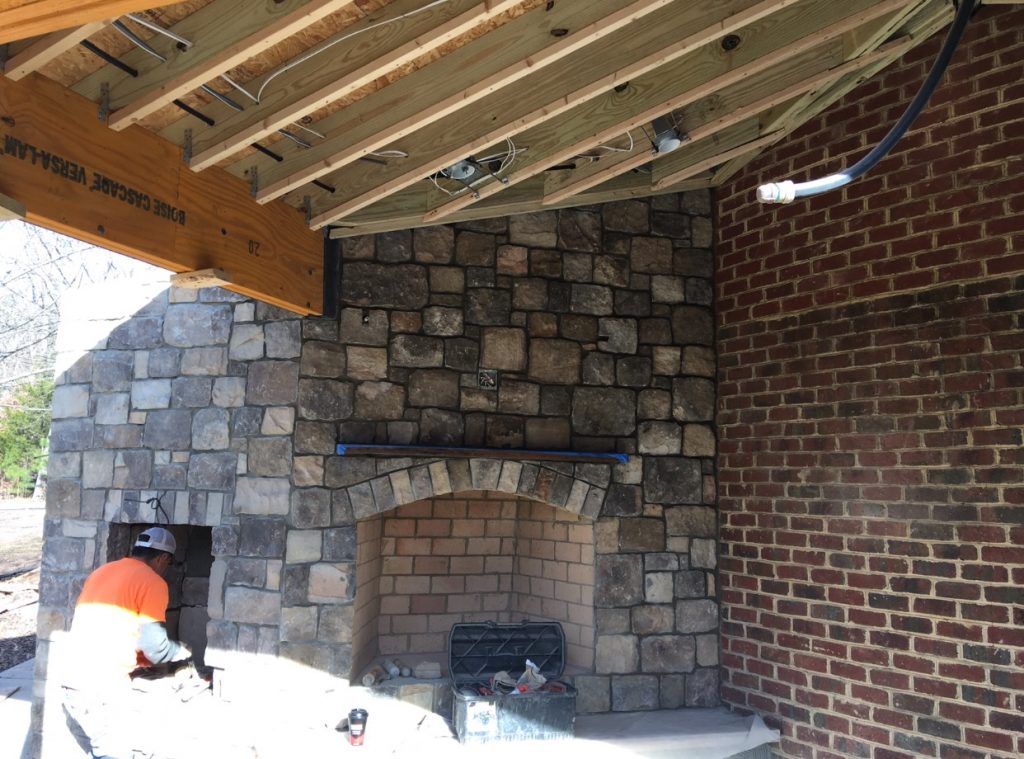 Fortunately, FauxWoodBeams.com offered Patrick a solution to his problem. We produce stunningly realistic beams made from high density polyurethane foam; so while they look just like the real thing, they're totally impervious to the elements, and won't crack or warp like real wood can.
Patrick chose Quick Ship Timber beams in Rich Walnut. In addition to having the real wood look that Patrick wanted, the advantage of these products is that they ship fast -- within 2-10 days of the order date.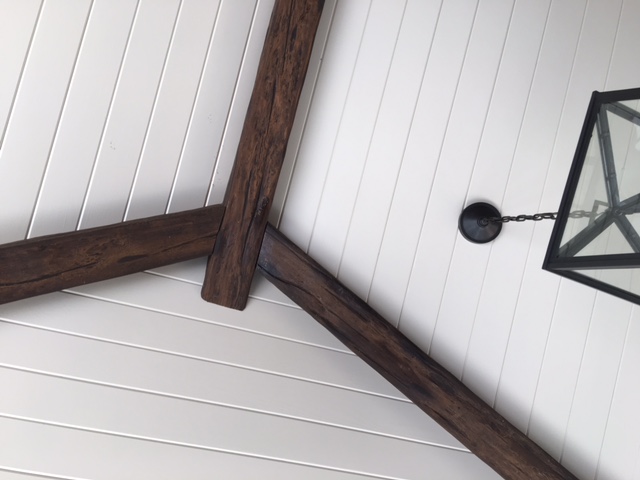 Patrick mapped out a ceiling design that would make the beams look like authentic, structural timber.
Patrick wanted to install the beams in a way that would resemble real structural supports. To that end, he first mapped out the layout, then carefully measured them all to fit.
Another advantage of faux wood is that it can be effortlessly cut to size with a regular wood saw. And because the beams are made to standard lengths and widths, they fit together even more seamlessly than real wood might. As a result, once installed the beams look like an actual load-bearing ceiling structure.
With the contrasting white planks, the ceiling looks incredible.
As for installation itself, the advantages of 'going faux' speak for themselves. The beams are light enough for one person to lift, with a hollow u-shaped design that slots easily over wooden mounting blocks, then secured with regular screws.
Patrick chose to contrast the dark wood look of the beams with white planks, and the result looks stunning. The beams look incredible and they're impossible to tell from the 'real thing' aside from by climbing on up to the ceiling and touching them.
And while they might look 'as good as the real thing' these beams actually have a number of advantages over real wood. Aside from the cost savings and ease of installation, they are manufactured from a closed-cell polymer which is impervious to moisture, harsh temperatures and insects; meaning they will never crack, warp or bend.
And in that respect, they provided exactly what Patrick needed; making him a very happy customer.
"The beams are great!" He wrote, in the email accompanying the pictures he sent in. "They look so "real" and since this is an outdoor project/cabana, I'm really happy I know they won't warp."
We think Patrick's cabana looks brilliant - and couldn't be prouder that our beams played such an important role.