Customized Wood Staining Tricks
These 5 wood staining tricks will make your finishing your beam a breeze.
Realism is the name of the game at FauxWoodBeams™. All our faux products are made from molds of authentic timber, so every grain, knot and imperfection is rendered in vivid detail. Our beams are also available in a variety of realistic wood hues - for a beautiful finish that's practically indistinguishable from real wood.
But some homeowners and designers want more - and if you're planning on ordering your beams unfinished, here is a great 5-step process to achieve a beautiful, natural look.
First - Time to Prime.
Some of our unfinished products come pre-primed. Others you have to prime yourself. In any event, making your your beam is primed properly will help ensure a stunning finished product.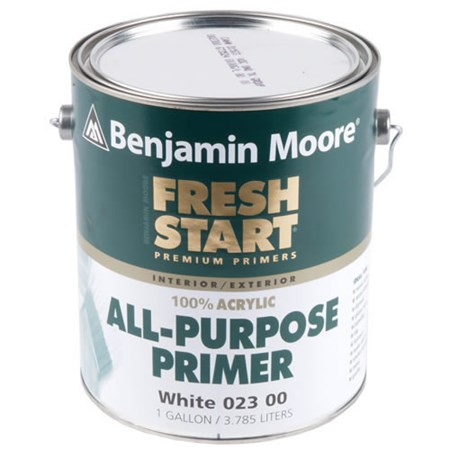 We recommend Benjamin Moore's "Fresh Start" All Purpose Primer, and you can start off in White or an off white color like tan. This can have a big impact on the finished product, so decide beforehand which you want to use.
Prime the beams and allow them to dry.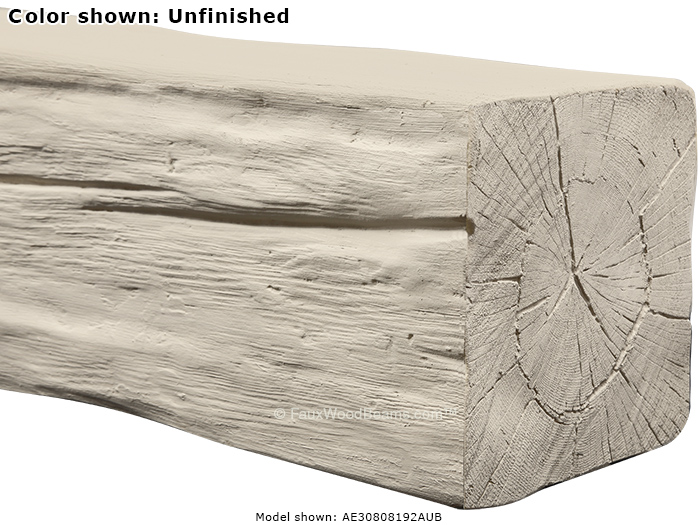 Second - Get Knotty
Real wood isn't all one color - and often the knots of a beam will be noticeably darker than the rest of the wood. You can mimic this effect by pre-painting knots into the wood before you stain it.
To do that, pick a wood stain a shade darker than the one you'll actually use for the remainder of the beam. Don't go too dark - you want this to be a subtle effect.
We recommend Benjamin Moore's semi-transparent deck stain "Arborcoat" for final staining, so you'll need two types. A small can of the darker shade, and a larger amount of the main shade.
Paint the knots like little eye-shaped patterns on the primed beam. Sometimes the texture of beam will actually guide you as to where to paint, to make the placement look authentic.
Paint the knot, and then allow it to dry completely before moving forward.
The pattern of the beam will indicate where the best place to paint knots is.
Third - Stain the Beam
This is the simple part. Using the lighter shade of Benjamin Moore's semi-transparent deck stain "Arborcoat" that you bought, paint the entire primed and knotted beam.
You can use a brush or roller depending on your preference, although a brush will get the stain into every nook and cranny of the beam. Remember that 'less is more' when it comes to stain; especially as each layer of semi-transparent stain will make your finished beam darker, and reapplying fresh stain to dried stain might reactivate the dried product.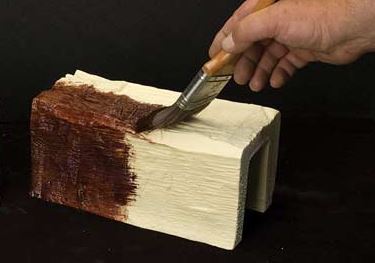 PHOTO: oldhouseonline.com
Fourth - Washing the Beams
After applying the stain, you've got a finished beam. This is where most people stop, installing the beam and remaining extremely happy with the finish.
However, if you want to take it to the next level, an advanced technique is called 'washing.' This accentuates the texture of the beam to a great degree, and makes it look even more weathered and historic than staining alone.
The concept of 'washing' is to bathe the beams in a very-watered-down stain or paint, in a shade darker than the main stain. If you added knots earlier, the darker shade you used for that could be a good option.
Water down the stain, and then loosely brush it on the dried beam. The watered-down stain will sink into the grains, knots and imperfections of the wood, but wash over the raised sections; emphasizing the texture dramatically.
Once 'washed' you just leave the beam to dry.
Fifth - Drybrushing
A final method for emphasizing the beams' texture is a technique called 'drybrushing'.
It's often used for adding the final detail to miniatures and other textured art, but is also highly effective for our products. The concept is simple - you get a 'dry' paint and lightly brush it across the surface of your beam, and the paint only remains on the raised, upper-most part of the texture.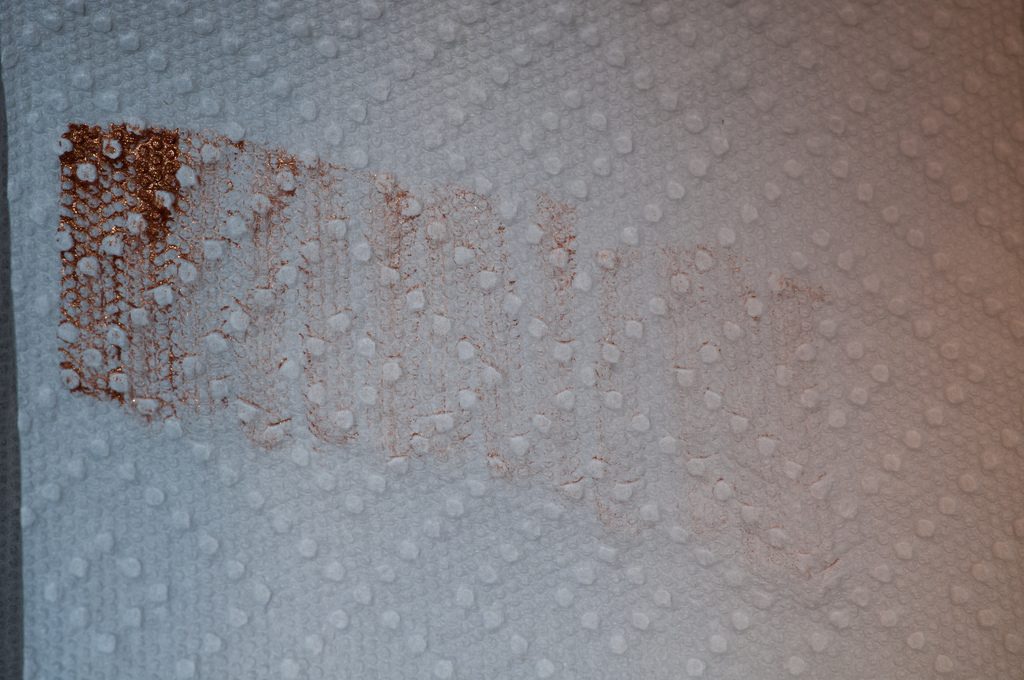 When your 'dry brush' leaves paint on only the raised spots of your paper towel, it's ready to apply.
It's basically like adding highlights to your beam - and really helps showcase the grains, knots and patterns.
Drybrushing is a powerful technique and you definitely want to prescribe to the philosophy of 'less is more' when you do it. First off, you want to find a paint - not a stain - that is just a shade or two lighter than your actual beam color.
Then you want to dip the brush in your paint, before taking paper towels and wiping almost all of the paint off.
You really have to imagine that you're trying to clean the brush using nothing but paper towels - as the name suggests, you have to keep things 'dry.' When you've got the brush as clean as you can get it, there'll still be enough paint on it to color the raised surfaces of the paper towel; and that's when you're ready to start drybrushing.
Make a single, light pass with a brush over the surface of your beam, and you'll see the paint left only on the edges of the raised surfaces of the beam. If you managed to pick a subtle enough shade, and made sure your brush was as wiped-off as you could make it, the result will be an almost imperceptible highlight that will really make your beams 'pop' when they're installed.
Conclusion:
Painting and staining unfinished beams has the potential to be as simple or as complex as you want to make it. While our pre-finished beams already look authentic, many homeowners and builders choose to finish beams themselves for a number of reasons. Often it's to match the existing wood in the home - which might not quite match up against any of our pre-finished colors. But another valid reason is that it's nice to personalize beams.
There is definitely something to be said for taking the time to make your faux products 'your own' and stain them yourself. Going the extra step and adding dry-brushing and dark washes makes them feel even more personalized; and it's great to be able to look at the installed product and think to yourself that nothing else quite like it exists.
We hope this guide to finishing and staining beams has been useful - and if you have any additional tips or tricks, make sure to let us know in the comments section below!