Modern building techniques have made it quicker, easier and cheaper to build a house - but in doing so, we've abandoned many of the traditional design elements that make old homes so full of character. One way to offset that is by using our products; just as these contractors did by adding real wood rafter tails to a new build in California.
Real Wood Rafter Tails: A Classic Touch for a Modern Home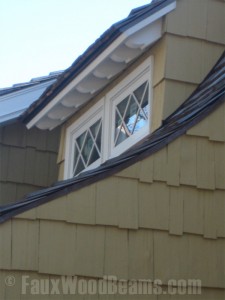 Once installed, our real woof rafter tails are impossible to tell from the real thing.
"Rafter tails" are the ends of the wooden beams that were used in the roofing of traditionally-constructed houses.
Modern framing techniques and building design means that those sort of beams are no longer necessary - but many homeowners miss the look of the traditional beam ends hanging out from beneath their roof.
Fortunately, FauxWoodBeams.com™ has a product specifically designed to deliver that look; even in modern homes that don't use traditional wood beam construction.
Our real wood rafter tails are additions that can be nailed, screwed or glued onto the stubs of modern roofing framework, to instantly give the appearance of real timber beams sticking out.
The actual roofing overhang fits seamlessly on top; and once they're painted and finished, they're impossible to tell from the real thing.
And what's great about our rafter tails is that they're made from real wood - molded kiln-dried wood fiber that is pre-primed in white and ready to be painted or stained to perfectly match the rest of the wood used on the exterior of your home.
As a result, they provide the classic look of traditional timber, but at a fraction of the price of building with full length wood roofing beams.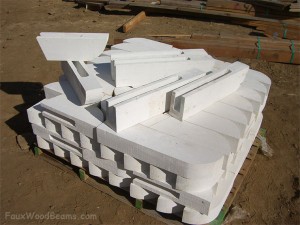 Our real wood rafter tails come pre-primed in white, ready to be painted or stained to match the rest of the wood on your home exterior.
Installing our rafter tails is easy. The pre-formed groove slots directly over the stubs of wooden framing, and can be secured with construction adhesive, nails or screws.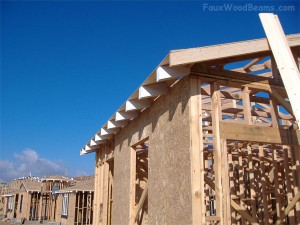 Once installed, our rafter tails fit flush with the actual roofing material; just like real timber beams would have done.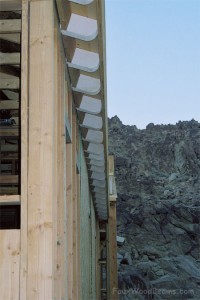 The finished product; ready for painting and finishing.