Faux Panels customer Brian was skeptical of synthetic stone panels - until he tried them for himself.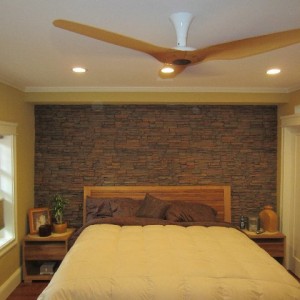 AFTER: Brian's bedroom looks fantastic, featuring our Norwich Stacked Stone Panels
Winning Over Skeptics of Faux Stone Panels
"I was very skeptical of your faux products at first," writes Brian H., a FauxPanels.com customer from Boston, MA.
"I was planning an interior wall project with real stone veneer," he said in his email to us, which included step-by-step photos from his home redesign project, "and came across the Faux Panel website. I ordered a bunch of samples and pleasantly surprised of the real look and feel."
Molded directly from real stone walls, our products always impress when people see them for themselves.
Molded in high density polyurethane foam, and then intricately detailed to make the color and hue of real stone, the panels are practically indistinguishable from the real thing - which often astonishes skeptics like Brian until they see them for themselves.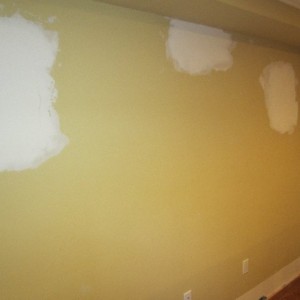 BEFORE: Our panels attached directly to the drywall with regular construction adhesive and screws.
"I chose the Norwich Stacked Stone panels, and ordered all the supplies for install right from the web site. The folks there are very knowledgeable and friendly (especially Jessica, who was very helpful with how much material needed etc...)."
Our customer service team is renowned for their friendly, knowledgeable advice - always taking the time to ensure that our customers receive the products they need, so they can get their projects undertaken smoothly and simply.
Even when he had the panels in-hand, Brian admits he was still skeptical.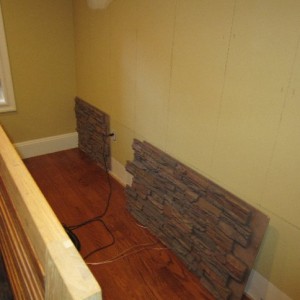 Our panels interlock - making it easy to get a totally seamless appearance even where one panel meets another.
"I was concerned with how the joints would look where the panels interlock," he admits. "But you can see from the pics you can't even tell where they are!" Fortunately, he soon discovered that our panels slot together just like a jigsaw puzzle, and effortlessly form a completely seamless join.
"Once I received them, the wall was up in a half day - and has exceeded expectations," Brian says. "No mess, easy to cut, lightweight and much easier that using real stone. I am a fan and definitely use this product again."
We think the results he achieved look great. What do you think? Let us know in the comments section below.