At FauxWoodBeams.com, we're always excited to see before and after pictures of customers putting our artificial timber beams to good use – but we've rarely seen a project quite as ambitious as that of faux beams customer Chuck C. of Gladwyne, Pa. Check out one of the many rooms in his home he transformed using our products!
Home Makeover with Faux Wood Ceiling Beams
BEFORE: An already beautiful corridor had scope for a more structured ceiling.
As you can see from the "before" picture, it's clear that FauxWoodBeams.com customer Chuck C. knows a thing or two about DIY home improvement and design. His beautiful Pennsylvania home is the epitome of good taste – with luxurious hardwood floors, warm colors and clever use of accessories.
But when it came to adding the finishing touches, Chuck turned to us.
Over the next few posts, we'll highlight each room in turn – but his entrance corridor is a great place to start. A long, broad passageway, Chuck added scope and depth in his ceiling makeover by creating a narrow false beam framework all the way from one end to the other.
Chuck demonstrated the three most important aspects to good use of our faux wood ceiling beams – research, planning and measurement.
In the research stage, he reviewed how real timber beams are used in older homes as structural features; and designed his faux timber roof fittings to resemble the authentic article.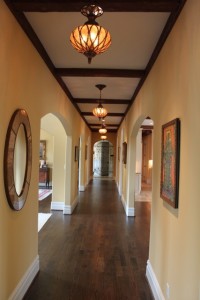 AFTER: Understated, yet impressive, Chuck's faux timber framework adds a dynamic new element.
In the planning stage, he developed a visual impression of what the finished ceiling makeover would look like; which allowed Chuck to adjust the design depending on his aesthetic preferences. In this example – because our faux wood beams merely resembled structural features – he could build his framework around the existing light fixtures.
Finally, Chuck measured – calculating the exact length and width of his corridor and planning out a false beam framework that would be perfectly symmetrical once installed. The result is incredible; simple in its elegance, and beautiful to look at.
There are other rooms in Chuck's beautiful home that use our faux wood beams, and we'll be covering those in later blog posts – but if you're looking for inspiration for transforming a corridor or hallway of your own, we can't think of a better place to start.