Grill Island on an Elevated Deck for Lesser Weight
FauxPanels.com customer Michael Nidoh had a weighty problem. He was building a grill island on his elevated deck, and wanted to add some stone style. Fortunately Norwich Stacked Stone panels in were light enough to make his vision a reality.
Michael has a backyard worthy of Homes & Garden magazine, and the highlight of it is a lofty 10-feet tall deck with an awning and full grill island with bar seating. It's an incredible entertainment space with style worthy of any rooftop restaurant or bar.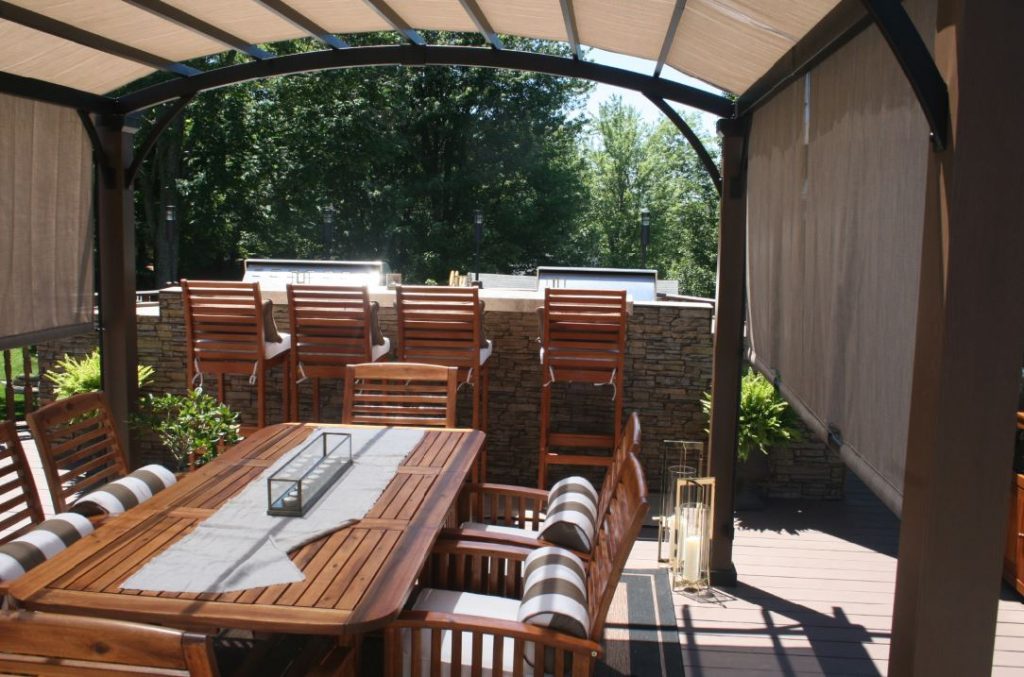 Michael's elevated deck is worthy of a magazine feature.
Getting that stylish look presented a few challenges, though - which is why Michael turned to us.
"We wanted the look of natural stone for our outdoor kitchen island," he wrote, "but obviously with a 10-feet deck, weight was an issue." Although the timber deck was more than strong enough to support a multitude of guests, the idea of supporting a stone island - which weighs a lot - was obviously out of the question.
Luckily, Michael discovered a better-than-the-real thing solution when he visited FauxPanels.com - and ordered our Norwich Stacked Stone panels in Taffy Beige to cover the exterior of his framework island - providing the vividly realistic look of stone in a lightweight, affordable and easy-to-install material.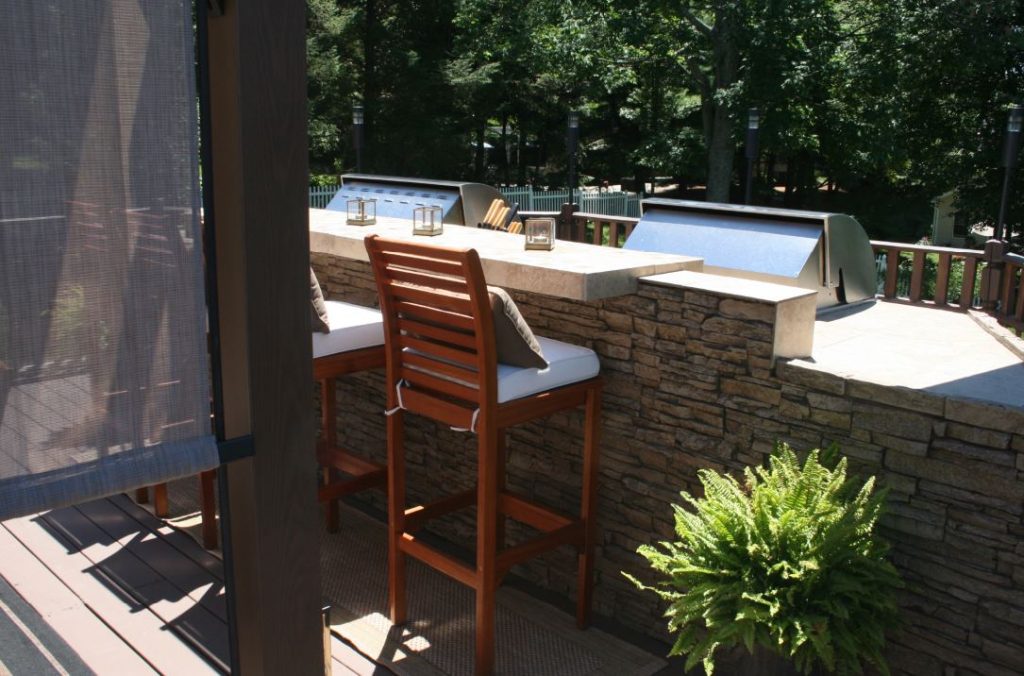 The 10-ft elevation means Michael needed an alternative to real or cultured stone.
"Your product was perfect," Michael wrote. "We even had a landscaper look at it, and he could believe our island wasn't made out of cultured stone."
That's the incredible versatility of our synthetic stone. The texture is made with innovative injection molding process that captures every detail of the natural stone in a lightweight, yet durable polyurethane material. We use a high-end painting process to add a realistic color, and the interlocking panels install directly to a flat surface with construction adhesive and screws. The panels are easy to trim to size with regular woodworking tools, and the finished result looks so realistic you'd have to reach out and touch them to know for sure if they are real stone or not.
Michael's landscaper thought the panels were real cultured stone.
And you don't need to take our word for it - you can see for yourself in Michael's pictures. His elevated deck looks incredible, and thanks to his choice in using our panels, he gets the look of stone where using the 'real thing' would be impossible.
We're really proud that our product was a part of this project. Thanks for sharing the pictures, Michael - and we hope you have many happy evenings enjoying your incredible outdoor space!