Two of the highlights of Ryan and Janice Dearden's beautiful Connecticut home were the framed chimneys on either end of their roof. They had the potential to add symmetry and traditional style to their home – but only if the chimney design was finished correctly.
Resolving Weight Issues for a Chimney Facade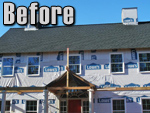 Although perfectly located, there was something missing from these framed chimneys
But while traditional stonework was the obvious choice for enclosing the two chimneys, Ryan immediately identified some of the issues that choice would raise.
"One of my biggest concerns with using real stone was placing that much weight on our roof trusses," he explained, when sending pictures of his home transformation to FauxPanels.com. "We didn't want to go through the expense and aggravation of involving engineers and architects."
Ryan quickly realized that he and Janice could get the visual appeal they were hoping for another way – with the use of stone veneer paneling to create the chimney surrounds. "The low weight would allow us to use them on the roof."
Ryan and Janice did some thorough research before investing in panels for their chimney design – and grew increasingly optimistic as they learned more.
Faux stone veneer panels gave the chimneys a timeless facade, without the impractical installation
"The FauxPanel.com website has a tremendous level of detail that sets it apart from any other product we've used during a major addition or renovation. After reviewing your site, there simply weren't many questions left unanswered."
Ryan and Janice selected our Nailon Stone Wall Granite Grey Panel for use on their chimneys. This wasn't just because they look great, but also because they come Fire Rated Category C – important when mounted on framed chimneys.
"The panels were straightforward to install," Ryan writes, "and we are very pleased with the realistic result." So much so, in fact, that they're now thinking about using them for others parts of their home.
"We're considering using the same panels on the front exterior of the house, under the porch shown in the pictures. The panels are just thin enough to slide behind the trim flange on the windows, which would be difficult if not impossible with most other products."
Nailon Siding gives the vivid illusion of real stone construction to these chimneys
It's that kind of comment which reveals something we've heard time and time again about our panels – they have enormous potential for innovation and invention; far more so than real stone.
That potential's demonstrated by the impressive chimneys on Ryan and Janice's home – and we're hopeful they'll send over pictures of their porch next!