Waterproof Panels that Survived the Hurricanes
Pond Eddy, on the border of New York and Pennsylvania, is one of the most beautiful places in America's northeast. But living so close to the Delaware River can have its downsides - as one FauxPanels.com customer discovered.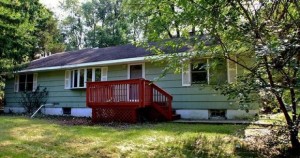 Dave's ranch in Pond Eddy is right on the water.
Ever since he was in his twenties, Dave wanted to move upstate.
"I was born and brought up on Long Island," he told us, "and I loved the idea of the open space, and the forests of upstate New York."
Twenty years of running his own business eventually gave Dave that opportunity, and he and his wife bought a ranch on the banks of the Delaware river in Pond Eddy, New York.
"We loved the place," Dave explained, "and spent a lot of money fixing it up. We put laminate flooring throughout, and I turned the den into a man-cave style 'pub' with some faux wood panels on the wall.
But all that invested money gave Dave and his wife a heartache during Hurricane Sandy - when the Delaware river swelled and their beautiful new house ended up with six inches of water on the ground floor.
"In thirty years of living there, the previous owner had NEVER been flooded out," Dave lamented. "It was just bad luck it happened our first autumn in the place." Even worse luck was that the flood ruined the newly-installed laminate flooring.
Our Woodland panels are totally resistant to water.
"Because it's made from wood composite," Dave explained, "the moisture warped and wrecked it. The whole ground floor had to be ripped up and reinstalled."
Surprisingly for Dave though, the panels in his man cave were waterproof and survived the flood totally unscathed.
"I was amazed, because that had never been a consideration when we bought them," he admitted. "We installed them right onto the concrete and drywall, and they looked just as good as new after the house had dried out."
The difference between our panels and Dave's laminate flooring is that ours are made from high density polyurethane foam, as opposed to wood composite - which means they are totally impervious to moisture. As a result, despite being underwater for several days, the panels emerged with no warping or moisture damage.
"It's definitely something to think about, when you're installing wood paneling," Dave admitted. "My wife had pressured me to use real wood, but I chose to go faux because of the cost. It turns out, that decision saved me a lot more money than I'd expected."
In fact, more and more home remodelers are choosing our products for the same reason. Molded from real timber, and hand-finished for an incredibly realistic look, they truly are indistinguishable from the real thing - yet actually offer a number of advantages real wood wouldn't.
As Dave put it: "I bought your panels because I thought they were as good as the real thing. As it turns out, in some respects, they're better."