Get Tropical Decor with Wall covering and more...
Artificial bamboo is a stylish design element that evokes the laid back spirit of island life in the South Pacific as well as the real thing. When used for wall coverings, it creates a sensation of warmth and ease, helping to reduce the stress of a long day.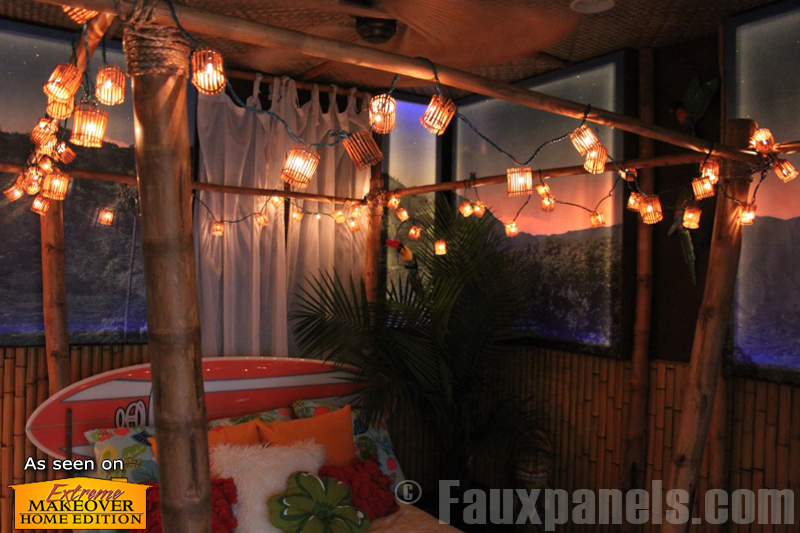 Artificial bamboo panels used on Extreme Makeover: Home Edition
The panels can be used both indoors and outside. Wherever the space, the mood created by bamboo is similar. Easygoing and casual. Whether it's found on a tiki bar, in a restaurant, a backyard patio or a bedroom, the feeling created is always a welcoming one.
Take a look at the images below, and imagine how the aura of each space is influenced by the presence of the bamboo. Then imagine what the same spaces would feel like without it. What do you think?
The image below is a before-after picture sent to us by a customer who used our bamboo panels to build a tiki bar on their patio. Notice the difference. In the after image, it's easy to imagine a group of friends gathered around the bar, wearing leis and having cocktails.
Artificial bamboo adds island character to this outdoor bar
The next image is of an outdoor bar that includes pillar supports decorated with faux bamboo. You'll see how they add a relaxing touch.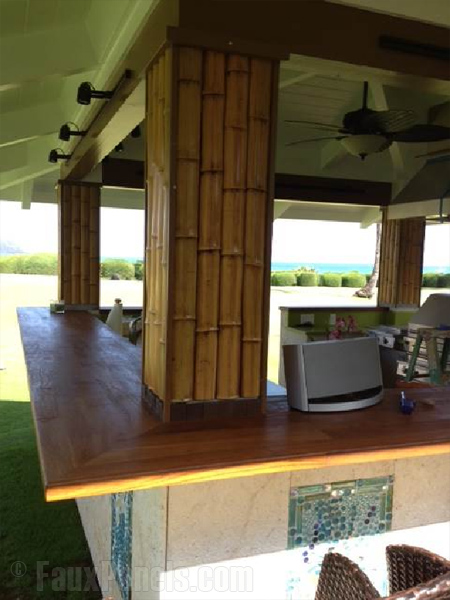 Supporting pillars on this outdoor bar get the bamboo treatment
The bedrooms in the images below are given a tropical feel with the panels used as wainscoting. No matter what the season, this style adds an easygoing sensation for indoor designs that lasts year round.
Bamboo wainscoting completes the look of this tropical-themed bedroom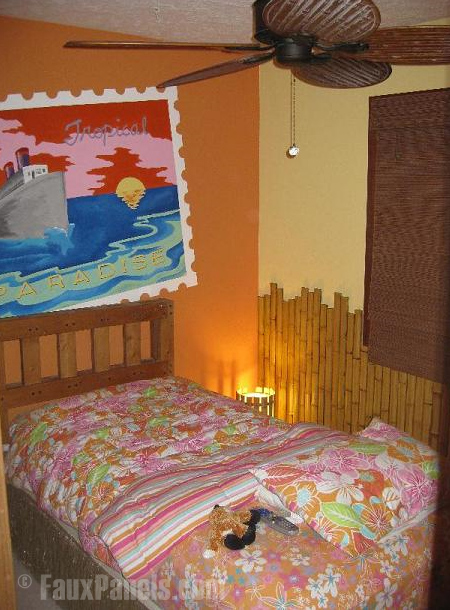 This child's bedroom gets an extra touch of whimsy with a bamboo style wall.
Below is a hut used for storage purposes. The panels give it the look of a small island shelter, which adds a cozy feel to the patio it's on.
Bamboo gives a storage outbuilding the look of a tropical island hut
Here you can see how this patio ceiling's look of bamboo blends in beautifully with the surrounding palm trees. The great thing about these panels is that they don't require tropical vegetation to create a relaxed atmosphere.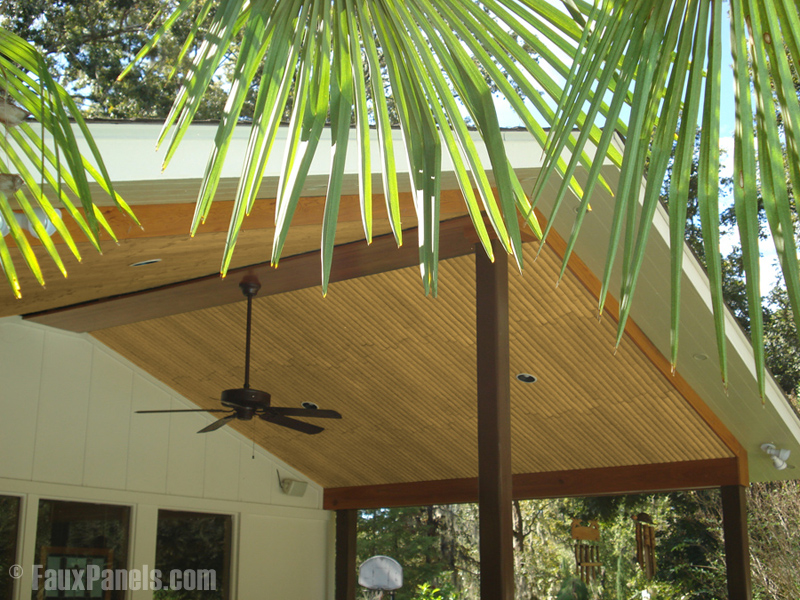 Bamboo gives this overhang's ceiling a cool, breezy appearance
TV show sets have also used the panels for a tropical look. Below is a picture from the set of Animal Planet Report. So, in addition to providing a new look for home designs, these panels also serve to create a fitting look for set designs.
Artificial bamboo panels used on the set of Animal Plant Report
While real bamboo is well known for its elasticity and strength, faux bamboo is even more resilient than the real thing, thanks to its durable polyurethane composition. It withstands all kinds of wear and tear, indoors and out. Extreme heat, cold, moisture and dry conditions won't harm it. Even termites will leave it alone.
They're easy to install, too.
Here's what a customer from Colorado says about them:
Our new bamboo panels look fantastic in our garden! The whole experience was a breeze from start to finish. We were thrilled at how easy it was to install them and now we can enjoy our zen sanctuary!
Jim M., Boulder, CO
Can you think of designs you'd use these panels for? Let us know!