Once FauxPanels.com™ customers Adrian and Lisa Simmons made the decision to remodel their bathroom with a walk-in shower design, they transformed it into a captivating sanctuary with our Norwich Stacked Stone veneer panels.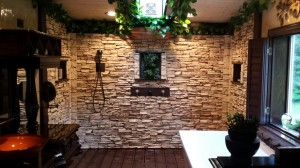 AFTER: Artificial stone paneling gives this walk-in shower a fabulous look.
Walk-In Shower Design with Stone Veneer Panels
Our bathrooms can sometimes end up being one of the more uninspiring rooms in our homes. Using them for their main purposes can cause us to forget that they have every reason, and the potential, to be a place where we can find respite and peace as we start our days, and also conclude them.
BEFORE: Their uninspiring bathroom needed a transformation.
Remodeling a bathroom need not be a costly undertaking, though. New tiles, wood, or fiberglass can be expensive. They can take longer to redecorate with than most people would like, too. Additionally, the whole process can often mean hiring a professional to install them.
Our customers show that remodeling a bathroom doesn't have to wipe out your bank account. In fact, renovating any room can be done cost-effectively. Two recent customers of ours, in particular, demonstrate how they affordably transformed their bathroom into a spa-like sanctuary, thanks to our Norwich Stacked Stone panels.
Before Adrian Simmons and his wife, Lisa, decided to remodel their bathroom, it was an unattractive, ordinary, and otherwise bland room that looked no different than most bathrooms do. Below is a picture of what their bathroom looked like before they remodeled it.
DURING: Our stacked stone veneer panels attach right to the existing wall.
Once they went ahead with their remodeling, they decided they wanted to turn the bathroom into something that looked, and felt, vastly better than it did before. They put in a new floor, elegant wooden furniture, a stylish sink, and a bathtub replacement. The best part would be the walk-in shower taking up the back section of the room.
As they got started on the shower, however, they realized that decorating it with tiles would be out of their price range. Now at a loss as to what to do about the situation, they knew they needed to find a solution.
Then one day while watching a DIY program, they noticed an ad for fauxpanels.com. Shortly thereafter, they realized that a bathroom renovation project was within their reach. Before too long, they both decided to order our Norwich Stack Stone Tall Panels to bring their custom shower to life.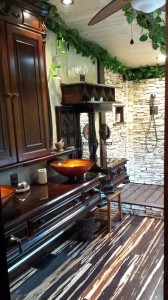 In the comment he sent us below, Adrian describes his experience using the fake stone panels in his walk-in shower project:
"Wife and I spent weeks looking at tile for our custom walk-in shower 8 ft by 3.5. We could not agree or afford the look we both wanted. Then we saw the ad for faux panels.com on a DIY show. Was not convinced of the look or application. So we order some Norwich Rusty Tan samples and, yes you have to pay for them, but you're reimbursed after your order is placed. We were amazed at the realistic look and how light the panels are! So, we both liked the product, but what about the price? Turns out, these Norwich Rusty Tan panels are a little over $13.00 a square foot...Wow, can't buy any decent tile for that price!! LOVE the product...easy to install and cut...great looking...fair price...what else could anyone want!!! I'm a medical supply salesman and my wife is a PA and we installed all this in a day. So, if we can do it...you can too!! "
-Adrian Simmons
What do you think Adrian and Lisa's walk-in shower? Let us know in the space for comments below!