Faux Panels is incredibly proud to introduce an exciting new line of products – our vividly realistic Vinyl Log Siding.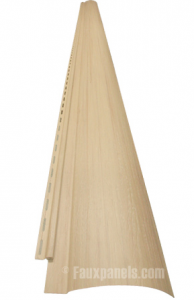 Our insulated vinyl log siding looks as good as the real thing.
Vinyl Insulated Log Siding Can Give a Cabin Feel for a Fraction of the Price
Inspired by classic log cabin construction, these beautiful panels perfectly recreate the look of log walls, but at a fraction of the cost. Even better, unlike real wood they're 100% weatherproof, resistant to mold, mildew, termites and rot and will maintain their beautiful color through years rain, snow, sleet and hail.
They're the perfect home siding option for those looking for something a little different – and can instantly turn even a modern building into something timeless and classic.
But why choose this style? Perhaps it's because few buildings epitomize American architecture like the log cabin.
A classic design, first used by the pioneers of pre-colonial times, log cabins are still popular today in ski and sports destinations throughout the country. Their wooden construction is practical and versatile in more remote areas; while the design aesthetic is increasingly popular with high-end home designers.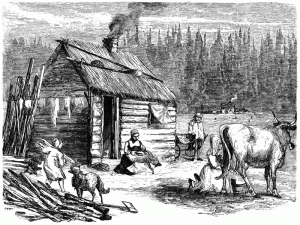 America was founded on the groundstone of log cabins. Recreate that look with this siding
These siding panels let you exploit that aesthetic on your existing home; in a way that's easier and more affordable than you might imagine.
The siding is incredibly easy to install. For instructions, check out this installation guide and find all the accessories you'll need to by clicking on the accessories tab.
In just a few hours, you can quickly cover an entire exterior wall with the insulated siding. Over the course of a weekend, you can transform a whole brick or board home into something that wouldn't look out of place in the Adirondacks.
With four vividly rendered color choices to pick from, the design options are limited only by your imagination.
If you place an order, please be sure to send before and after pictures of your project to info@fauxpanels.com. We can't wait to see what you come up with!
Log cabins are a familiar site in snowy locals - and our insulated vinyl panels are a great way to get that look on your own property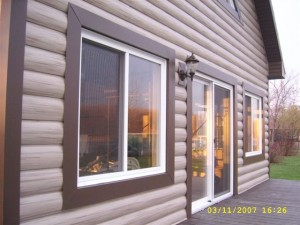 The siding is vividly textured, as you can see from this close-up