A faux panels customer creates a stunning "wall of wine" with some of our faux stone panels.
Wine Gets a Vintage Look with Faux Stone Panels
BEFORE: The plain wall does nothing to showcase Julie's impressive wine collection.
Julie Rabe, from Michigan, was featured just a few weeks ago on our blog after she sent in pictures of the terrific faux panel fireplace project she completed in her family room.
Now she's back with pictures from another stunning design inspiration:
"Attached are the before and after pictures of our other project," she emailed us. "Let me know what you think!"
Julie's project was to breathe new life into a stunning "wall of wine" - her collection of impressive vintages that lined one wall of her beautiful home.
Although stored on beautiful wooden shelves, Julie felt the wall space behind the shelving was a bit bland - and wanted something to showcase her taste in wine.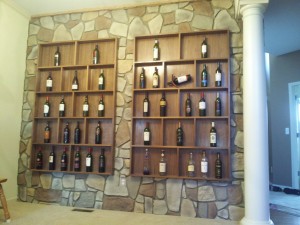 AFTER: Now Julie's wine looks like it's being displayed in a wall taken straight from a chateau wine cellar.
The answer was found in our Carlton Fieldstone faux stone panels. Molded from authentic fieldstone walls, these vividly textured panels perfectly recreate classic, hand-hewn stonework and were the perfect backdrop to her wine collection.
Instead of being framed by a regular household wall, Julia's "wall of wine" now looks like its part of a classical French wine cellar.
Installation was a breeze. Because our panels are molded from durable polyurethane, Julie was able to cut them to size with a regular wood saw - meaning she could install the panels seamlessly without pulling down the existing shelving.
Attaching them to the wall required nothing more complicated than regular construction adhesive and screws - and because the panels interlock, the finished product looks like a single accent wall of stone.
You don't need to take our word for it - you can tell by the "before" and "after" photos how impressive the transformation is. Julie, as you can imagine, is thrilled.
"We are pretty proud of your product - and ourselves!"
She has every right to be.
This is Julie's second faux panel project - and it turned out just as great as the first. Have you used our stone veneer panels in more than one home redesign project? We'd love to see both of them - and learn which one you think was more successful. Email pictures and details to info@fauxpanels.com.
Can't wait to read them!