We're huge fans of Vanessa DeLeon, one of New York's top interior designers and lifestyle experts, and a contestant of NBC's American Dream Builders. And the nice thing? She's apparently a fan of ours, too!
Vanessa DeLeon Gives FauxWoodBeams.com a Shoutout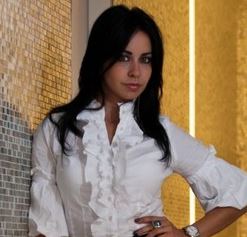 Vanessa DeLeon, from NBC's America's Dream Builder.
In fact, in the lead-up to our Faux Wood Beams appearing on American Dream Builders, Vanessa hit Twitter and shared a picture of our beams in action; as part of one of her stunning ceiling designs.
American Dream Builders is a new show created by decorator Nate Berkus. Each week two homes of a similar style that are in desperate need of redecorating are handed over the design teams for renovation. Nate and his fellow judges evaluate each finished home along with community leaders to determine which project turned out the best. As with all reality competition shows, a member of the losing team is sent home.
The episode that featured our beams focused on two Spanish-style homes. The families in each house wanted to entertain more but were too embarrassed by the look of their homes to do so. Both homes retained elements of classic Spanish interior design while making them modern and cozy.
Simple and stylish - a trademark of Vanessa's designs - our beams served as subtle framework for this towering ceiling design; and helped add a classy, dark wood contrast to the bright natural light and clean, fresh paintwork that Vanessa used to really open up the ceiling space.
We appreciate the shout out, Vanessa - and encourage all our readers to check out America's Dream Builder on Sunday nights, 7pm Eastern, 6pm Central.
Also, don't forget to follow her on Twitter, and the Faux Wood Beams Twitter account as well!
Project designed by @VDADesigns from @NBCDreamBuilder I loved using @FauxWoodBeams pic.twitter.com/dQIhTogTmt

— Vanessa DeLeon (@VDADesigns) April 3, 2014