Wainscoting is a popular choice for homeowners who are looking for a charming, easy-to-create interior wall design. It's also a striking option for home or business owners who want to elevate their exteriors. And while you may think that you'll need a professional team to install it, wainscoting is actually a very easy DIY project when you use faux stone, wood or brick panels from Barron Designs.
The History of Wainscoting
Originating from the medieval German word wagenschot, meaning "wall board," wainscoting was originally installed to fend off cold and dampness. Traditionally, it was made from riven oak. This type of wood — derived from large, slow-growth trees — provided durable boards that were lightweight, free of knots and very easy to work with because they were not as apt to warp as other wood.
Today, wainscotting refers to any partial paneling on an interior or exterior wall. It doesn't need to be made of riven oak — or any kind of wood. There are a wide variety of wainscoting materials available. Its purpose has also changed. Wainscoting can still be installed to control moisture, but today, it's usually decorative rather than functional.
Wainscoting is a simple, effective way to complement your home's style. The material you choose — whether faux wood, brick or stone veneer — can bring your aesthetic to life. Brick paneling is a great choice if you want industrial flair, for example, while reclaimed wood paneling is perfect for a farmhouse look. Outside, options like Barron Designs' river rock wall panels can be used to create exterior wainscoting that looks incredibly realistic, without the cost and inconvenience of masonry.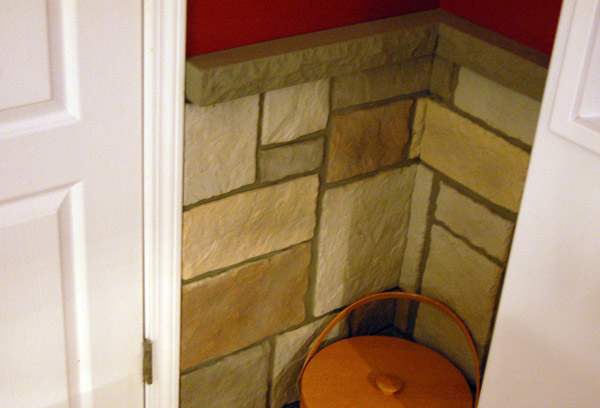 A Customizable Design Choice
It's easy to customize the look of the wainscoting in your home. While there are some general rules regarding the "right" height for wainscoting panels, you can make them shorter or taller, depending on your preference. Wainscoting can help make small rooms look bigger, or add coziness to large rooms. It creates a sense of depth that pleases the eye. If you want to bring creativity and dynamism to your home without a lot of hassle, wainscoting is the ideal choice.
Barron Designs' faux panels are also durable and easy to install. You can cut them with a regular saw — no need for expensive equipment rentals or professional installation. Weatherproof and resistant to mold and rot, our panels can be used as a maintenance-free interior or exterior accent. Inside, they transform any room into a more stylish, eye-catching space. Outside, they add curb appeal and sophistication. Because they are available in a variety of textures, colors and styles, they can fit in with almost any design.
Elevate Your Home's Exterior
Our wide range of faux stone panels are perfect for elevating your home's exterior. The stacked stone patterns have the texture and variety of real stone, but they're a fraction of the weight. Stone wainscoting provides a classic look that will add timeless elegance to your home. Using faux stone means you'll never have to worry about replacing it, and its lightweight nature and easy installation means you won't need any complicated masonry work. Anyone with an interest in DIY projects can have the panels quickly and easily installed. Your home will be the talk of the neighborhood in as little as one weekend!
The Barron Designs Promise
With Barron Designs, creating this fresh look has never been easier. Because our panels are all crafted from molds made of actual stone, brick and wood, they are highly realistic in both touch and appearance. Their polyurethane composition makes it almost impossible to tell the difference between our faux panels and the real thing, and you won't have to deal with the hassle of a complicated and expensive real-stone installation.
If you have questions about our panels or the installation process, or if you need help deciding on the right products for your project, we are here to help. Simply give us a call at (800) 651-4223. We'll be with you every step of the way.
Our customers have sent us photos of wainscoting projects that use our panels. To see their impressive results, take a look at our photo gallery.
About Barron Designs
Barron Designs has been part of the business remodeling and home improvement industry since 1972. We strive to provide the most innovative, cost-effective, high-quality faux building materials in the market today. We've been featured over the years on well-known home design shows including Extreme Makeover: Home Edition, Money Hunters, Brother vs. Brother, and Curb Appeal.
We offer a variety of products — from brick and stone veneer wall panels to faux wood beams — that will beautify, enhance and improve storefronts, trade show displays, home interiors and exteriors, ceilings, offices and more. Whether you're a designer, architect, builder, homeowner, remodeler or business owner, you're sure to find everything you need at barrondesigns.com.