A California custom apparel designer gets a unique and stylish look for their storefront.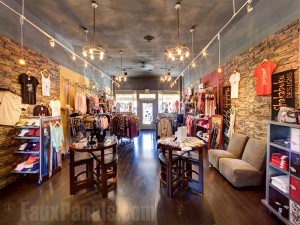 Shakabuku Designs, in Livermore, Ca., used Wellington Drystack on the walls to showcase their unique custom apparel.
Unique Style with Drystack at Shakabuku Designs Store
Everything at custom clothier Shakabuku Designs is "one of a kind" - because they're a printing and embroidery company that specializes in letting people create truly unique shirts, tops, sweaters, blankets and towels.
You go in with your design, choose your pattern and then watch it get brought to life right before your eyes.
And to keep with the "one of a kind" concept, Shakabuku's Livermore, CA storefront is equally unique - vividly styled using our Wellington Dry Stack panels.
The accent walls helped ensure the decor didn't overwhelm the merchandise.
In order to keep a contemporary look - and to make sure the stylish decor doesn't overwhelm the merchandise - the designers at Shakabku finished their look by using our panels on intermittent accent walls.
These provide a custom look and stylish design element, but leave wall space open for adding shelves, mirrors and other fixtures and fittings.
But the great thing about our panels is that they offer that same flexibility after installation.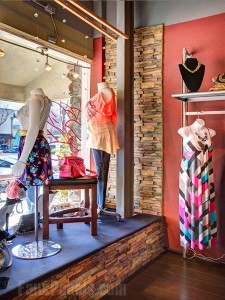 The panels can be cut to size around existing fittings with a regular wood saw.
Made from tough and durable polyurethane foam, the panels can be cut to size with a regular wood saw, and attached to the wall with nothing more complicated than regular construction adhesive and screws.
As a result, fixtures like shelves, mirrors and even wiring and light switches can be installed right on top. Simply drill the installation holes through them with a power drill, and make sure to attach any load-bearing screws through the panel and into the wall behind.
We think the finished product looks fantastic; and showcases Shakabuku's range of products. What do you think?