Creating Accent Walls Using Little Stone or Brick Texture
We've published hundreds of photos that show our panels being used to create unique accent walls in both private homes and at places of business. But what's the benefit of an accent wall? And why would you use faux panels make them?
An 'accent wall' is an innovative design trick in which one or more walls in a room are decorated in a different style to the others.
It can be bold - like one wall entirely covered with stone - or extremely subtle, such as painting two adjoining walls a slightly darker shade than the opposite walls, to give an artificial sense of shadow and depth.
But many people wonder what the point of accent wall is at all - and how it can impact your room design.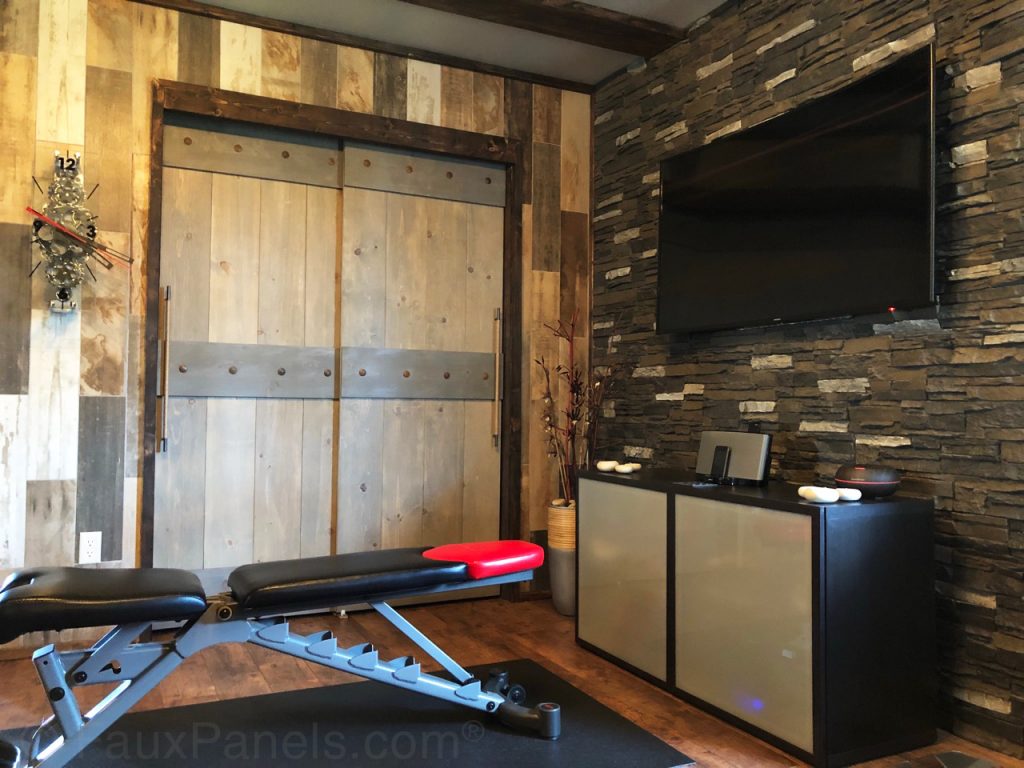 Home gym with accent wall created with Norwich Stacked Stone panels in Iced Coffee color.
Inventing the Accent
Like all good design features, accent walls have their origins in practicality.
One reason they became popular in the 1980s and 90s was because people started to want bold color in their rooms, but didn't want to overwhelm the senses by painting every wall that color (or pick up the cost for expensive paint.)
That's when people started painting just one wall an unusual color.
People soon started to realize that this subtle design trick could change the way people perceived rooms; adding the illusion of additional space or depth.
That's where tricks like painting two walls slightly darker originated. In a room with less than ideal lighting, it's a great way to give the illusion of better natural lighting.
The blue paint surrounding this fireplace was replaced with Norwich Stacked Stone panels in Sierra Brown
Using Faux Stone for Accent Walls
The popularity of accent walls progressed to people using accents to highlight previously invisible design features. This is where faux stone panels really came into their own.
For example, the panels quickly became a popular way to add the appearance of a stone fireplace chimney where previously there was just a plain wall.
The panels also offer something differently colored paint doesn't - texture. Covering an accent wall with a stone or brick texture provides a high-end look you'd normally only see in a luxurious hotel or celebrity penthouse.
The advantage is that those 5-star accommodations typically use real stone or brick to create the look.
Our panels, in contrast, are made from affordable and lightweight polyurethane foam; and are practically indistinguishable from the real thing once installed.
That means you can get the high-class look without the high-rate cost; and the panels can be installed in a matter of ours using regular construction adhesive and screws.
This recessed space of this home office wall was covered in Old Chicago Brick panels in Cream Caramel color.
Speaking with an Accent
What do you make of these accent walls? If you've used our products to create one, send a picture to info@fauxpanels.com. We'd love to see them; and possibly feature your handiwork here!