Use Accent Walls to Make Your Rooms Interesting
It's not always easy to impart your personality in a home office - but this homeowner achieved it by adding accent walls made from Old Chicago Brick panels.
Last week we wrote about the infamous 'man cave' - a very early 21st century cultural phenomenon for which our stone, brick and wood panels are perfect. However, there's another chamber in the home which reinforces the saying that 'a man's home is his castle' - and that's the home office, or study.
Ironically, the majority of home offices are now occupied by women, as more and more professional women take advantage of flex-time and a work-from-home culture in corporate America - but the example we're going to show you today is unabashedly masculine.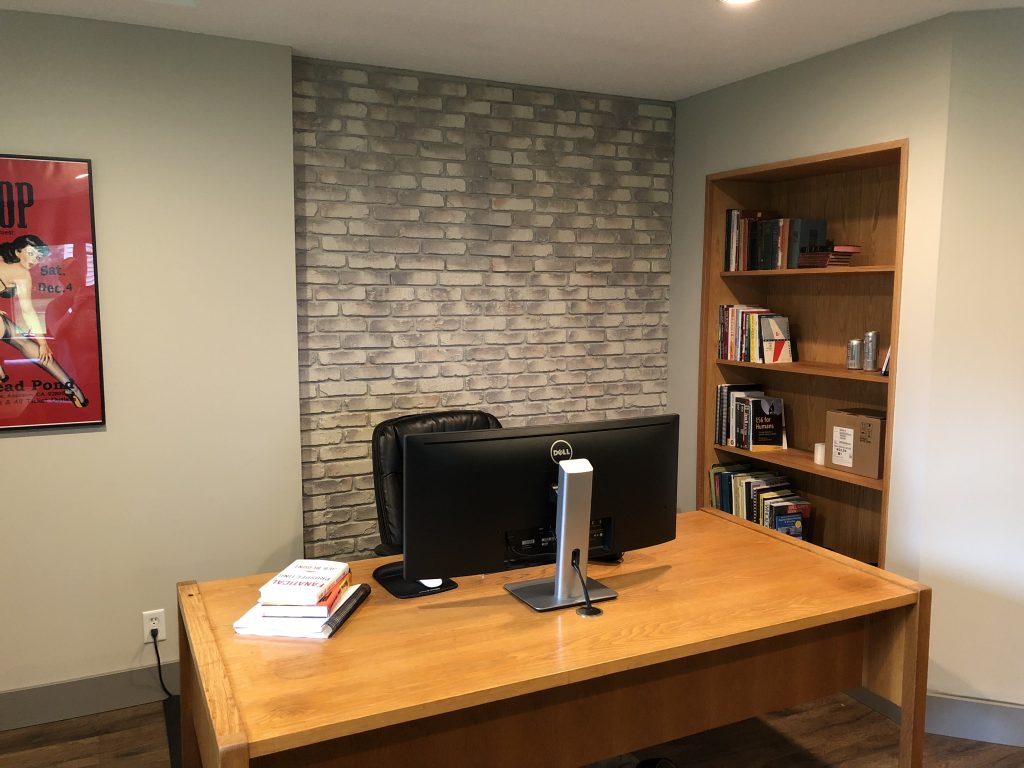 Stylish home office accent wall made with Old Chicago Brick panels in Cream Caramel color.
The 'home office' straddles a curious divide in terms of decor. A man cave typically has design cues that wouldn't look out of place in a casual dining restaurant. It's a space designed for socializing and relaxing, and the decor can be as eclectic as imaginable because of that.
A home office, however, is a different creature. Even though it's a room in the home, it has to have a certain professional air to it - because whether it's an office for a work-from-home corporate champion, or a hard-nosed entrepreneur or small business owner, it's a space in which work is done.
This home office project manages to perfectly balance cool professionalism with individuality and charm. As you can see from the photos, this is a warm and welcoming space that still retains some professional detachment - and the elements that helps achieve that is two brick-style accent walls.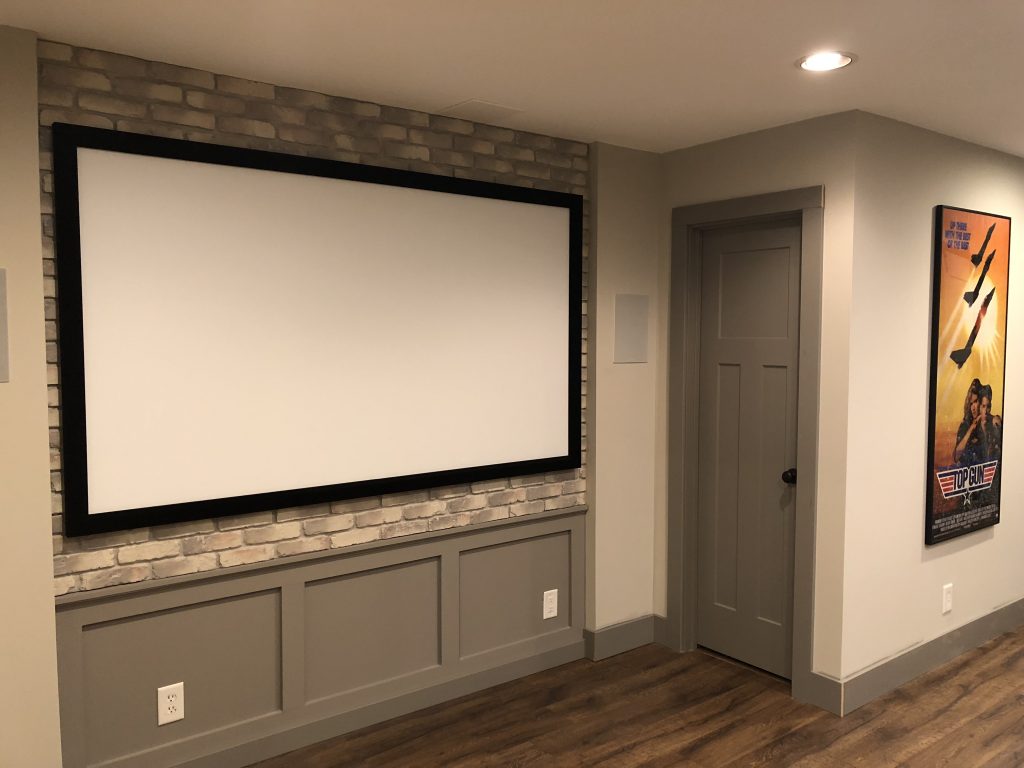 Grey wainscoting and baseboards contrast with taupe walls, and balance the Cream Caramel brick perfectly.
The space itself is decorated with understated charm. Hardwood floors add warmth and character, while cool taupe walls and grey accents on the baseboards and wainscoting contrast beautifully. A large pine desk and recessed bookcase add utilitarian style, while classic movie and band posters provide a bit of personality without the ruckus you'd find in a man cave.
But all of those elements wouldn't come together it if wasn't for the final touch - two subtle design cues that really add personality and character in an understated way.
Behind the pine desk is an accent wall, entirely filling in a small alcove with a vividly realistic brick texture. This isn't real brick - although you'd have to reach out and touch it to be sure. The accent wall is made from Old Chicago Brick. The panels were easily cut to fit the space, attached directly to the drywall with construction adhesive and screws, and almost instantly transformed the character of the room.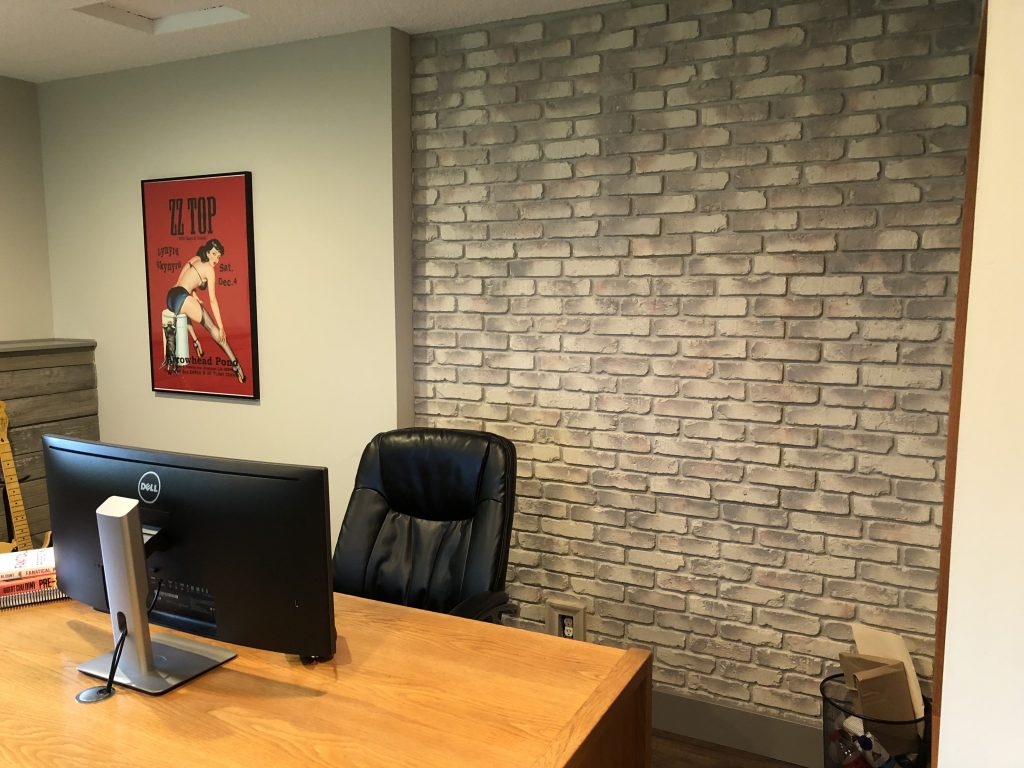 The accent wall behind the desk is subtle, but adds a ton of character and charm.
Another accent wall adorns the space opposite, where a whiteboard is installed in another recessed alcove. The panels are attached directly to the drywall behind the white board, and because our panels are made from a lightweight polyurethane foam, the white board can actually be drilled and installed right through the panels into the studs beneath.
The homeowner wisely chose panels in the Cream Caramel color, an understated grey that perfectly balances against the grey wainscoting and baseboards. It's a choice which walks the tightrope between professionalism and personality; and gets the balance just right.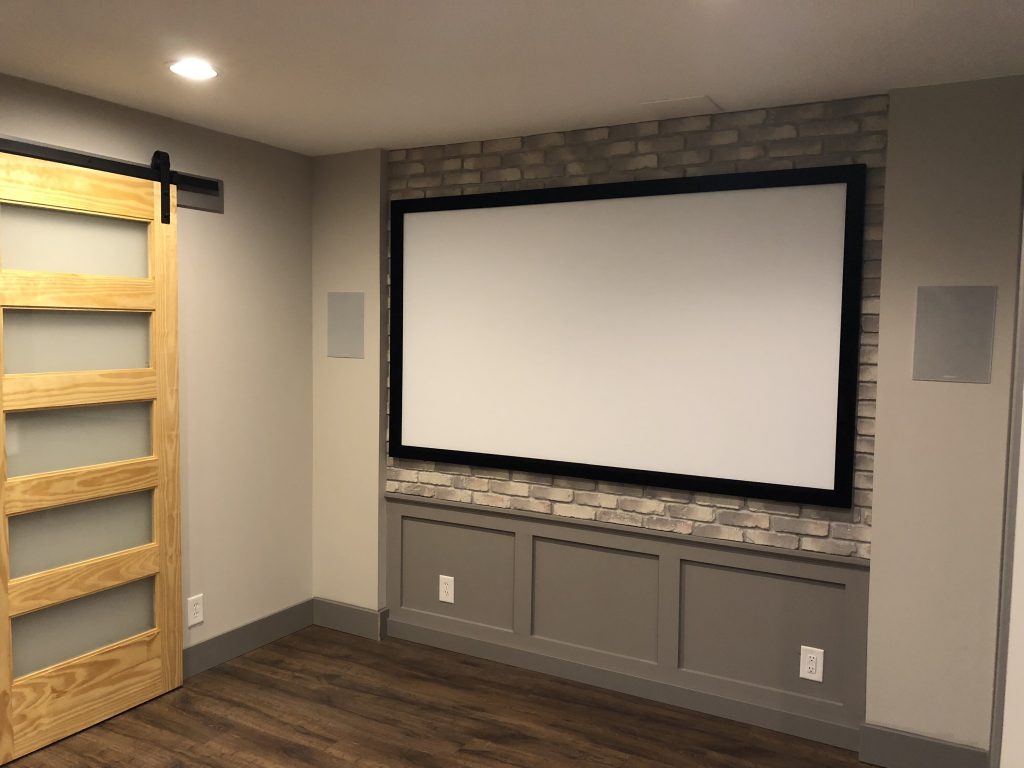 The whiteboard is mounted on the second accent wall.
With those two accent walls, the entire decor of the room comes together. The homeowner has created a cool professional working space that still has plenty of character and individuality, and looks fantastic. We're incredibly impressed - and more than a little envious. I don't think there's anybody out there who wouldn't like to work in such a stylish space!