Line the Artwork with a Rustic Beam Shelf
An elegantly rustic beam shelf serves as the perfect underlining accent to a living room's artwork.
If you've ever gone to a modern art museum and stared at a fire extinguisher for thirty minutes - before realizing it's not actually an exhibit - you'll know that art is subjective.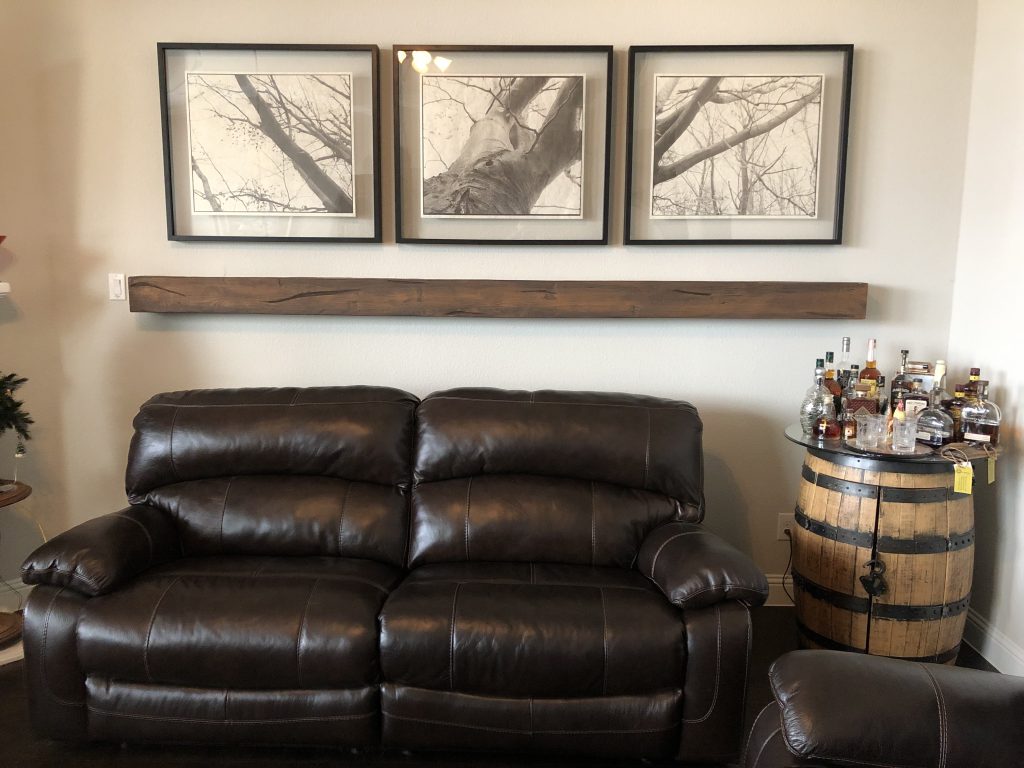 So is style - but these project photos sent in by a FauxWoodBeams.com customer prove that Justice Potter Stewart was right when he said "I'll know it when I see it" - because both the artwork and the shelf added below it are unquestionably sophisticated.
The homeowner in question hung three beautiful photos on their living room wall, - but felt as if the pictures on their own lacked a certain foundation that would really help them pop.
Part of the issue was that the rest of the room featured some dark and stable elements, like the dark leather couch and the awesome bourbon-barrel drinks cabinet in the corner.
The customer's solution was to add a shelf - but they wanted something beefy and broad, rather than a thin wooden element supported by a bracket. The challenge here was that real wood of the length and width they wanted would be prodigiously heavy; and not easy to safely or securely mount to the wall studs through the existing drywall.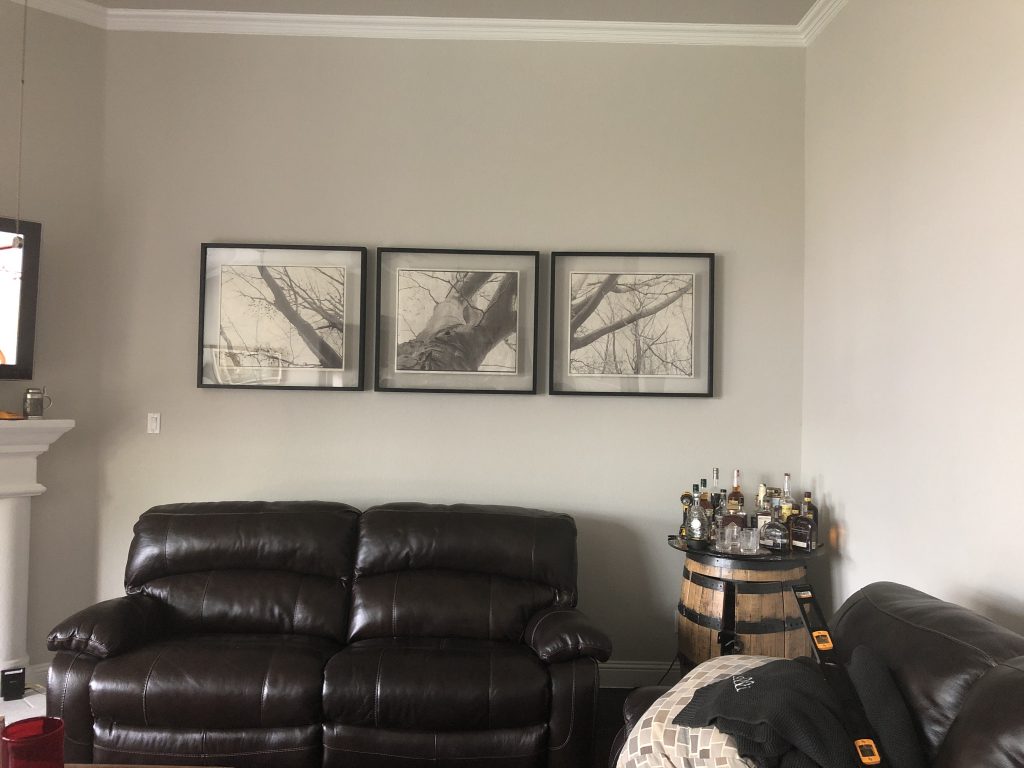 That's where FauxWoodBeams.com comes in - doing what we do best by offering a practical alternative that delivers on the ease-of-installation without compromising on the look.
The customers ordered a Custom Hand Hewn Beam in Rich Walnut color, and installed that as a decorative shelf beneath the framed photos. The AFTER picture they sent demonstrates what a dramatic difference it made.
But the picture - like all artwork - only tells part of the story at first glance. The benefit of the beam was that they could install it directly onto the wall studs with mounting blocks. Our beams are made from a lightweight and durable polyurethane material. After drilling wooden blocks into the wall studs, the three-sided beam 'slot' over the blocks and are secured with screws - no additional support needed.
The customer ordered the beams with end caps - which feature vividly realistic ring and grain textures - and as a result the illusion of a real length of wood is artwork in itself. The beam is made from a mold of authentic hand hewn wood. Add in our innovative and industry-leading four-color painting technique and it's practically impossible to tell that the shelf isn't real wood. It will even support appropriately-weighted objects like lightly-framed pictures.
We love this simple, elegant project and are hugely excited to be able to feature it here. What do you think of the addition? Let us know in the comments section below.