Brenda, from Long Island NY, transformed her living room by building a ledgestone fireplace surround with veneer panels from the Versetta line.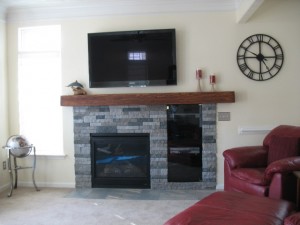 From So-So to Stunning: Building a Ledgestone Fireplace with Veneer
Brenda's fireplace gets a huge facelift with the Versetta ledgestone panels and a fake wood mantel.
Most of us are putting away our winter coats now - and for homeowners, that means their fireplaces are probably remaining unlit for the first time in months. As such, it's the perfect time to give them a face-lift.
One fireplace that recently got renovated belonged to FauxPanels.com customer Brenda Thomas, from Long Island, New York.
She transformed her dated, wood-panel fireplace with Versetta paneling - a vividly realistic ledgestone veneer made from a cement aggregate. As such, it delivers the look and feel of real stone, but at a fraction of the price..
"I cannot tell you how pleased I am!" Brenda writes. "My fireplace went from boring to WOW!"
As you can tell by comparing the "before" and "after" pictures, there were two stages to Brenda's project. The first was to strip the old wooden framing from the fireplace and replace it with the paneling. Although made from real, manufactured stone, these panels are incredibly easy to install - and can be attached directly to existing drywall or brick.
To complete the project, Brenda then visited our sister sight, FauxWoodBeams.com, and ordered a full-length, fake wood mantel to go on top of the fireplace.
BEFORE: Dated and drab, the original fireplace was in dire need of a new look.
Rendered in beautiful walnut brown, this mantel looks exactly like a real length of sandblasted timber - except its made from high density, polyurethane foam instead of real wood. As a result, it costs a fraction of the price of real timber.
Combined, the stone and wood elements make the fireplace look terrific - and it was a project that was incredibly easy to complete.
"It was simple to install," Brenda writes, "and I got to help. What a transformation, as you can see! Your products are fantastic and within a reasonable budget."
We think Brenda's remodeled fireplace looks amazing - what do you think? Let us know in the comments section below.