Why do mobile homeowners love our panels as trailer skirting?
Trailer Skirting Weathers Hurricane Sandy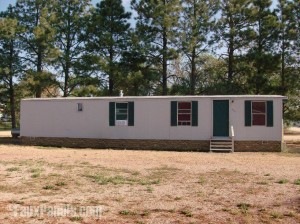 "In Japan, they used to build houses out of light wood and paper," explains Sandy Hoffman - a resident of a trailer park community in Middlesex County, New Jersey, and a recent survivor of the devastating Hurricane Sandy. "They had so many typhoons and hurricanes that they built homes that could be quickly and easily rebuilt; and be safe during a storm."
For the millions of Americans living in mobile homes - especially in the infamous "tornado valley" in the Midwest - this is a philosophy many can understand.
Mobile homes offer an affordable and comfortable way to live; but storms can often damage or even destroy a trailer - and the debris that results can be lethal.
"When you choose to live in a mobile home, you're making the choice to live differently to how you would in a real house," Sandy continues. "You are going to be very vulnerable to extreme weather, and you have to take that into consideration when you're decorating your home."
But that consideration doesn't necessarily equal compromise.
"Understanding what I do about living in a mobile home," Sandy says, "is why my husband and I chose to use your faux stone panels when we decorated the outside of our new trailer."
Sandy and her husband purchased Windsor Random Rock Panels to skirt the exterior.
"The panels look great," Sandy explains, "and they were really easy to install. My husband could attach them right to the framing, and it took him just one weekend to finish."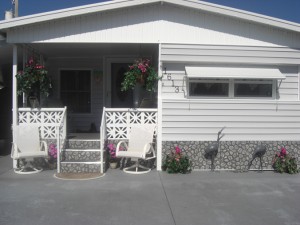 The panels are easy to install, and can be cut to size with a regular wood saw.
Molded from real rock, and intricately detailing every seam and imperfection of the real thing, the installed panels are practically indistinguishable from the real thing; and give Sandy's home the appearance of a solid rock foundation.
But they also serve as a smart choice for extreme weather.
"When you get a storm, wind can tear features straight off your home," she explains. "Shingles, fly screens, or even decorative shutters."
"But your panels are the perfect combination of lightness and durability."
That's an advantage in stormy weather, she explains: "You install the panels with construction adhesive and screws, directly to your existing skirting or bricks. Because they're lightweight, the bond is super-strong; and they're simply not going to fly off no matter how strong the winds get."
And that's a serious safety benefit - because one of the most dangerous aspects of a hurricane is the debris that gets picked up by the wind and sent flying around at dangerous speeds. For Sandy - who had a 2"x4" slam through the windshield of her car during a hurricane in the 1990s - that's the best reason to "go faux" that she can think of.