When most people think of manufactured stone panels, they imagine them being used for impressive home improvement projects - exterior siding, wainscoting or on interior walls.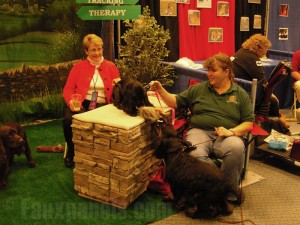 Karen recreated rural England with the help of our manufactured stone
But more and more people are coming up with truly innovative uses for faux wood and manufactured stone panels and columns – utilizing their lightweight and sturdy construction.
Trade Show Displays: Panels on the Move
One example is at trade shows and events. We've had a couple of customers write to tell us how they've used manufactured stone columns to create amazing looking showpieces for their trade show display or booth.
Karen, from Long Beach, used Regency Stacked Stone Potomac Panels to create an 'English Countryside' display for a national dog show, which attracted plenty of compliments.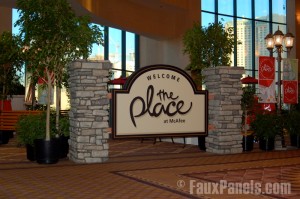 Tim used our manufactured stone columns as the foundation for an impressive trade show sign
Similarly, Tim from Sacramento used two of our Wellington Dry Stack Columns to build a sign for a conference at the MGM Grand, in Las Vegas. In amongst the towering Las Vegas architecture, the sign looked like it was a permanent fixture – not something that could be packed up and taken home after the show.
With many of our columns weighing less than 10 lbs, they're ideal for this sort of event. Their hardy polyurethane construction withstands the rigors of travel, and they're waterproof and weatherproof – for use inside and out. They can be cut and drilled easily, with tools almost anybody has in their garage, and that opens up a world of possibilities when creating signs and trade show displays.
But perhaps best of all, they look incredible. From brickwork, to stacked stone or aged wood, the manufactured panels are molded from the 'real thing' and intricately detailed to mimic the look of wood or stone perfectly.
As one of our customers, Dean, told us regarding his home project: "Most people don't realize that it is NOT real stone until they touch it themselves."