10 Advantages of Fake Wood Beams
They're affordable: Real timber beams, especially aged or distressed ones, can be monumentally expensive. Fake wood ceiling beams give you the same look at a fraction of the price.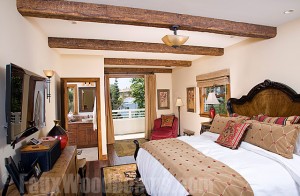 Faux Wood Beams Can Transform a Room
2. They're stylish: From ceiling logs to aged Yosemite timber, there are fake wood beams to suit any style of construction project. One of the best features of our polyurethane wood beams is that you can buy them unfinished, and stain or paint them all to match perfectly – which can be tricky when using real wooden beams.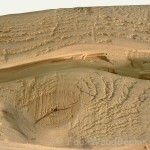 3. They're authentic: Our fake wood beams are molded from real timber, complete with real tooling marks, which means they look absolutely authentic. Once installed and stained (if you didn't buy the pre-finished) most customers agree that the only way to know they're not the 'real' thing is to reach up and touch them.
4. They're easy-to-install: A solid timber beam needs bracing to install safely. Our fake ceiling beams, or reclaimed wood beams, can generally be installed with just construction glue and screws.
5. They're lightweight: A solid timber beam can weigh hundreds of pounds, and requires a number of people and some specialist equipment to install safely. In contrast, faux wood beams are light enough that two people can safely install them.
6. They're versatile: Creating a cathedral roof? Trying to get the look of exposed wooden beams where none exist? Creating an arbor? Adding a mantel? Faux wood beams are only really limited by your imagination. Check out our photo gallery and testimonials to see some of the amazing design projects people have completed using faux wood beams.
7. They're weatherproof: Our fake wood beams are 100% polyurethane, which means they're waterproof and can resist the elements in a way real timber just can't. If you're installing our beams, or accessories like corbels or planks, on the exterior of your home, an application of high quality clear coat exterior polyurethane with a UV inhibitor will keep the color from fading for years to come.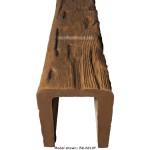 8. They're insect-proof: Just ask anybody who works with real timber beams and you'll hear horror stories about termites, woodworm or hornet's nests buried in wooden beams. By contrast, our fake beams are made from tough polyurethane and the hollow design protects against insect infestation.
9. They're hollow: You can do things with fake wood beams that would be impossible with solid wooden beams – like use them to run hidden ducting or electrical wires, or for installing recessed lighting.
10. They're 'green': If you care about the environment, our faux wood beams are a perfect alternative to cutting down trees. We also make our faux wood beams from polyurethane, not Styrofoam, so our manufacturing process is a lot better for the environment. We don't use CFCs or formaldehyde during production, and all our stains and finishes are 100% water-based.