Stone has multiple personalities, but not in a freaky, movie of the week type of way.

We mean that statement in the best sense in that the look of stone can virtually be used in any room, on any exterior in any application with amazing results. If you've got the design imagination (and we're confident you do), then stone veneer is ready to carry your plans to fruition for a lot less than using the real thing.
If that imagination of yours just needs a teeny-tiny bit of a jump start, here's just a few places where you can put it to good design use.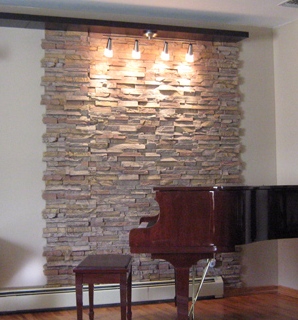 The Many Faces of Stone Panels

When you hear about accent walls in interior design circles, they're often referring to using paint to emphasize a single wall of a room to create visual interest. While this is a solid idea, let's get a little more exciting, shall we? Stone is a great alternative to paint in that you're adding bold texture in addition to color, and even better, veneer never needs a re-coat.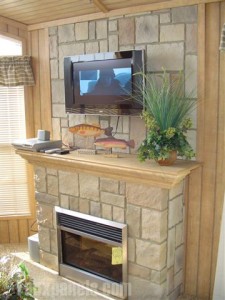 Over at our sister blog, Faux Wood Workshop, we recently talked about using mantels to improve the look of a fireplace. You can take the design even further by using stone panels for a fireplace border, as a decorative backing to a wood stove or laying it in all the way up the chimney. Many of our customers chose these panels because the installation is much easier than building from scratch with the real thing.
Kitchens and Bathrooms
The panels' polyurethane composition is impervious to moisture - making them the perfect option for those high-moisture areas of your home. You can create backsplashes, surround an above-floor bath, kitchen island or cover every wall in the room - pretty much anything goes.
Stone veneer's other claim to fame is its ability to withstand extreme weather and climate conditions without failure, making it a great choice for creating exterior columns - for driveways, fences, porches, mailboxes and more.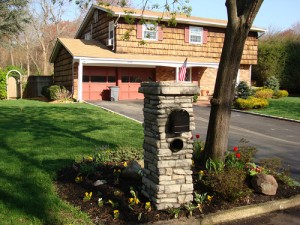 These were just a small sampling of ideas of what you can accomplish with the look of stone - you can find more here by browsing through our photo gallery. Or you may come up with your own that we've never seen before. (We LOVE when that happens). If you've got a finished project, send in the photos! We're always looking to see what our customers come up with next.