TLC's upcoming hit show Bakery Boss has launched its pilot episode - and our synthetic wood beams are center stage!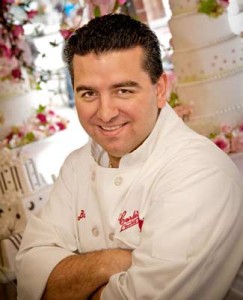 "Cake Boss" Buddy Valastro will be helping save struggling bakeries in his new show on TLC.
Friendly Bake Shop Gets a Faux Wood Beam Update
Buddy Valastro, the star of TLC's hit reality show, Cake Boss, is taking on a new challenge - and FauxWoodBeams.com are excited to be part of it.
In TLC's upcoming new spinoff, Bakery Boss, Buddy will be helping turn around struggling bakeries from all over the United States; guiding the families that run them on the same path to success that turned his Hoboken, NJ bake shop, Carlo's Bakery, into a world-famous icon.
The pilot episode chronicles Buddy's visit to The Friendly Bake Shop, in Frankfort NY - where the Viti family are struggling to keep their family-run bakery afloat.
Buddy's plan to help the Vitis included giving their crumbling store a complete makeover - and FauxWoodBeams.com was very happy to help out. Our synthetic timber beams provided the illusion of real wooden beams in the made-over storefront, but came at a fraction of the price and were breathtakingly easy to install.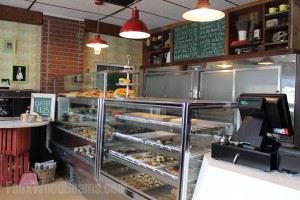 Faux timber beams add a beautiful touch to the completed design.
Molded from real timber, but made from tough and lightweight polyurethane, our false beams were perfect for the makeover because they fit into the Bakery Boss's tight deadline and limited budget; and yet still manage to wow visitors to the store with their vividly realistic color and texture.
When you hit the 2:22 mark in the video below, you'll see how our beams provide an old-time look and feel perfect for this authentic Italian Bakery - and how they played an important role in helping The Friendly Bake Shop get back on its feet.
Check out our sister site FauxPanels.com's contribution to Bakery Boss on their blog at
//www.fauxpanels.com/blog/bringing-back-bakery-faux-brick