As we recently reported, ABC's brilliant Extreme Makeover: Home Edition recently went out with a bang; ending the run of the hit series by designing seven homes in seven days for the beleaguered residents of tornado-stricken Joplin, Missouri.
Spiderman Bedroom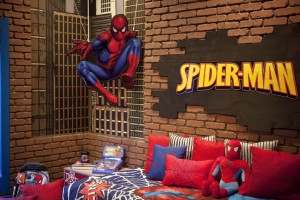 The famous Manhattan wall-crawler would feel right at home in this stunning kid's bedroom
FauxPanels.com™ was proud to be able to donate numerous panels and other products once again – sadly for the last time.
In one of the homes, the crew created this "Amazing" Spiderman bedroom for one little boy; bringing to life the locale of New York's friendly, neighborhood webslinger.
Our Chicago Brick style panels were used to cover the entire wall of the room; interconnecting seamlessly and providing a look that wouldn't be out of place on a Greenwich Village brownstone. Paired with some heavy-duty industrial accessories and some beautiful high-rise murals, it's hard to believe this little bedroom is deep in America's heartland, and not right in the center of the Five Boroughs.
This sort of imaginative theme is where our products outshine the competition.
Using real brick would be outside the budget of almost any regular home decorator; and that's if you wanted to invest the time and effort to build a non-functional structural wall right in your kid's bedroom!
Our panels, on the other hand, perfectly recreate the look of reclaimed brick but can be installed in just hours; with nothing more sophisticated than construction adhesive, screws and a regular wood saw.
It's that flexibility which helped Ty Pennington and the rest of the EM:HE crew create such a stunning room in just days.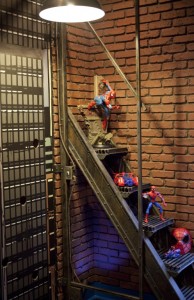 Murals of New York skyscrapers and accessories modeled after a tenement fire escape complete the NYC look.
But although the Spider-Man theme is great, what really makes this project heartwarming for us is simply how deserving the room's new occupant is.
Some truly heartbreaking tragedies occurred the day the tornado hit Joplin; and Spider-man's superpowers pale in comparison to the brave families who, right now, are struggling to rebuild their lives no matter what fate throws in their path.
We were humbled and honored to be able to contribute to the finale of EM:HE and help bring some comfort to the families hit by the tornado tragedy. Thanks ABC!
Photos courtesy of Love Tree Studios