2018 Best Remodel Projects
It's hard to believe 2018 is over already - but it's been an incredible year. On this blog we've featured some truly incredible remodeling projects, and we begin 2019 by reflecting on the highlights from each month.
The truth be told, it's hard to choose our favorites - as we think every project we featured is a show-stopper. Yet after a lot of careful consideration and debate, here are winners!
January - Medieval Style Accent Wall Designs
Homeowner Mike wanted to recreate a castle in his modern, Texas home - and achieved the impossible with our Carlton Cobblestone Panels in Limestone color. He balanced subtlety and style to add faux panel accents to key parts of his home; and created a stunning medieval look.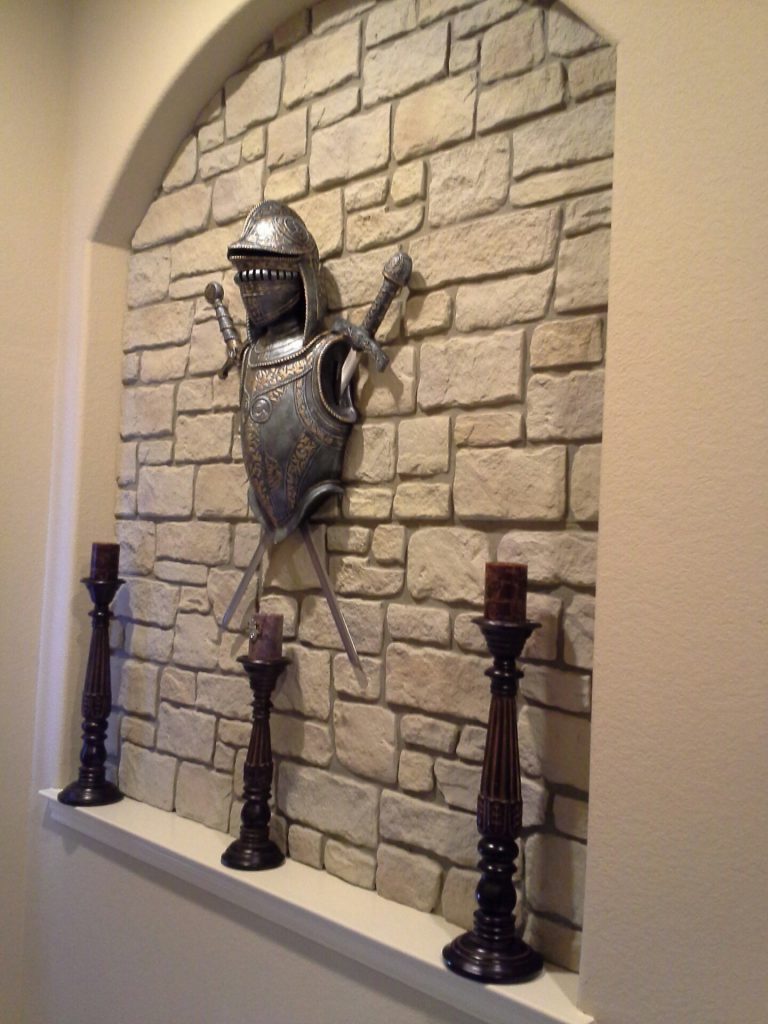 February - Basement Transformation: French-Style Underground Tavern
History came to life in February as well, when homeowner Kimberly used our Carlton Cobblestone panels in Summer Tan color to create an incredible French-style tavern beneath her home; complete with wood-panel furniture and a Bordeaux wine barrel. Fantastique!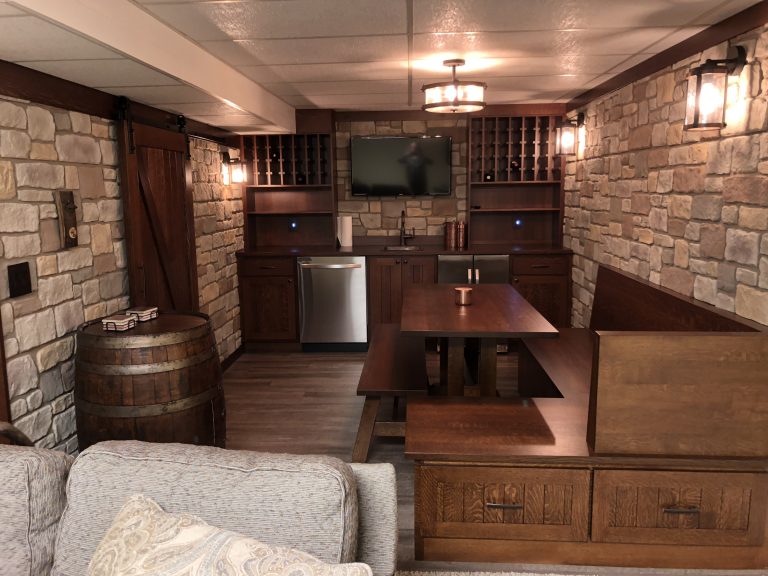 March - Corner Fireplace Surround Done Right, The Second Time Around
Customer Erik got a second chance to make a first impression this March, when he shared photos of his fireplace project. Erik had used an inferior faux stone material the first time around -- and the results were disappointing. The second time he teamed up with us and chose our
Norwich Stone Wall panels in Earth color. The result was incredible; and proved that Erik's design style and our products beat the competition.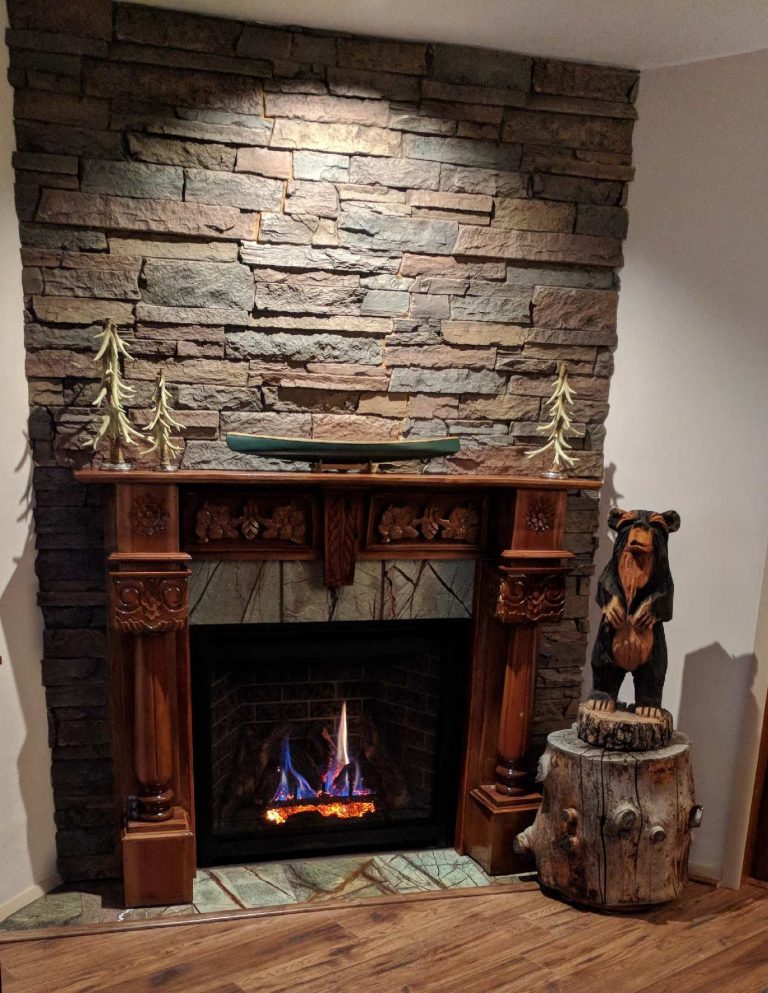 April - DIY Wood Accent Wall in the Bedroom
In April we featured a bedroom project created by homeowner Erin, who used our Wellington Reclaimed Barn Board Shiplap panels to create a beautiful accent wall. She chose to 'go faux' because our synthetic products look just as good as the real thing; without any of the inherent disadvantages or concerns of using reclaimed wood.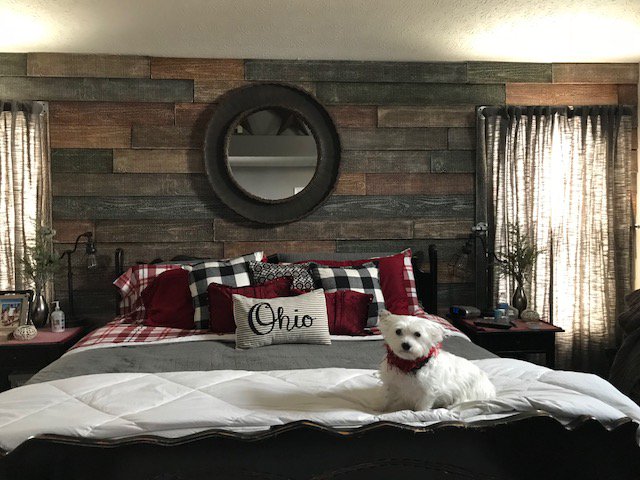 May - Kitchen Island Makeover with Cobblestone
Homeowner Brian wanted a subtle way to spruce up his kitchen island, and turned to our Carlton Cobblestone panels in the sleek and subtle Smoke color to get the job done. The end result looks fantastic - but doesn't scream 'look at me' which is why the addition looks go good in his already stylish kitchen.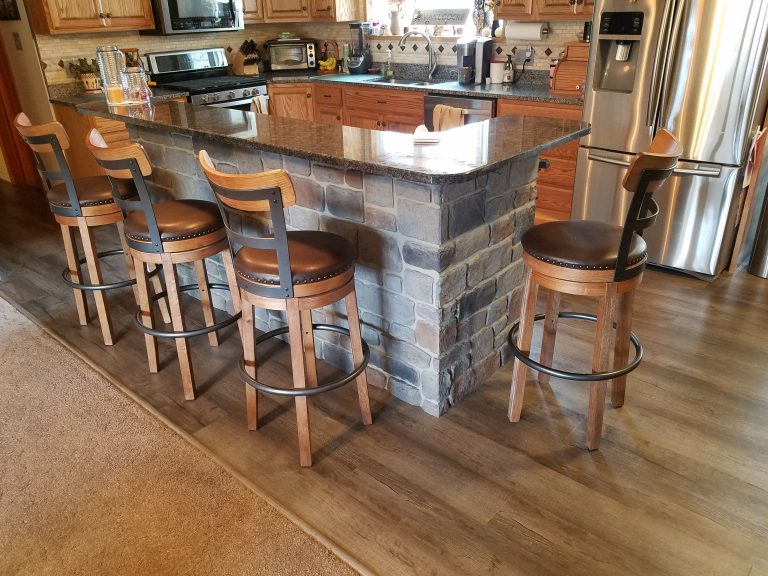 June - Storefront Remodel for a Landmark Family Business
One of my personal favorite projects of the year was sent in by the Codori family, of Gettyburg, PA. They set out to achieve the impossible and give a stylish yet appropriate makeover to the building that had housed their family business for generations. Our Colorado Stacked Stone panels in the Misty Morning color ended up getting the job done; and now their business remains one of the township's most memorable and respected landmarks.
July - Take the Weight Off: Building a Grill Island on an Elevated Deck
Customer Michael Nidoh made our summer when he sent in photos of a stunning elevated grill island he'd created using our Norwich Stacked Stone panels in Taffy Beige. This was one of those examples of how 'going faux' can net you results that are better than the 'real thing' because Michael's awesome entertaining space was 10-feet from the ground; and the weight associated with using real stone would have made the project difficult, if not impossible.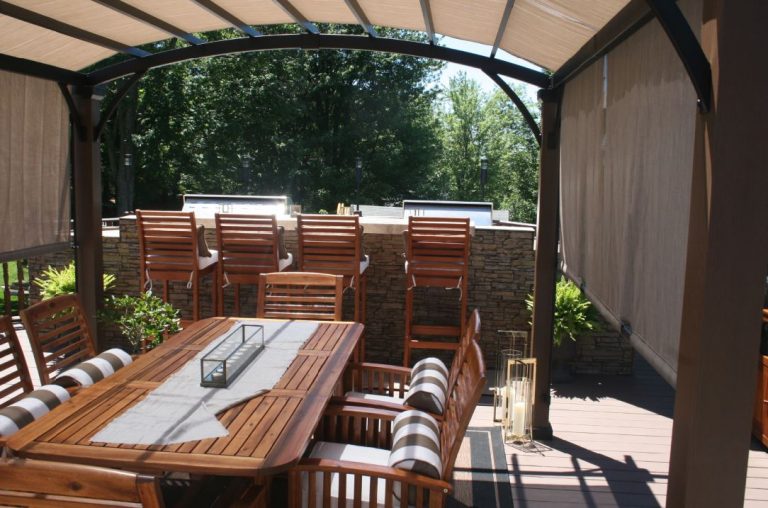 August - Total Home Makeover with Fabulous Faux Panels
August is probably in the running for featuring our 'project of the year' - so much so that we split it into four different posts. The project centers around the complete redesign of a stunning house that used products from our sister site, FauxWoodBeams.com, plus two versions of our Norwich Colorado Stacked Stone style panels to create a 'look' worthy of a luxury hotel.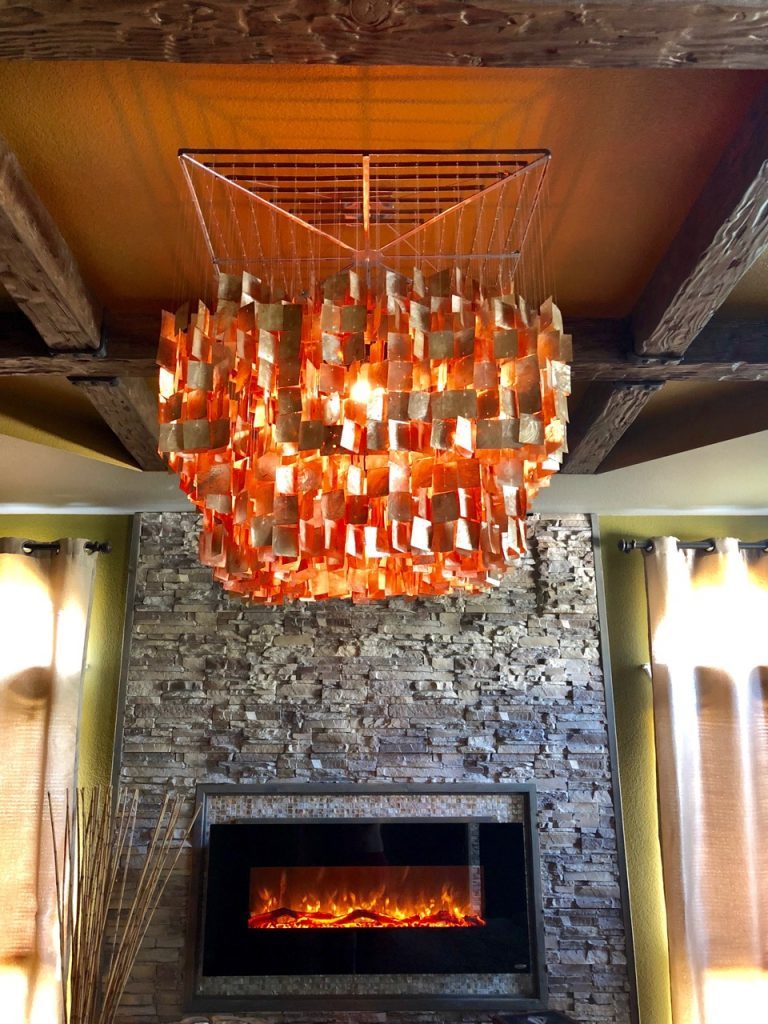 September - Lake House Siding Design with Fieldstone
September contrasted with the previous month by featuring a project that was defined by understatement. Homeowner Steve wanted to add a stone-look to his beautiful lakeside home, but needed the faux materials to remain in keeping with the real stone and wood used throughout his house. Our Carlton Fieldstone panels in the Summer Tan color seemed to be the perfect match; and blended seamlessly with the home's exterior.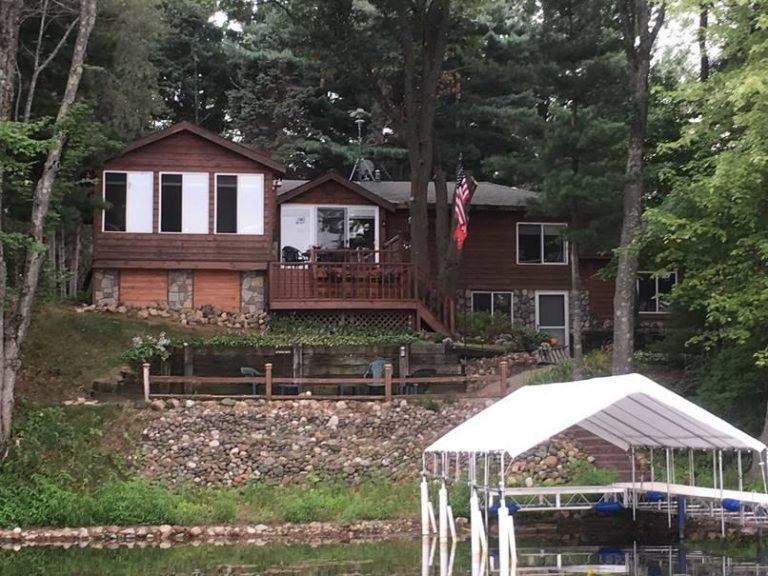 October - DIY With a Twist: TV Armoire Turned Bar Cabinet
October served up another of my favorite projects - a brilliant bit of redesign that saw customer Connie turn a regular old armoire into a show-stopping drinks cabinet with our Norwich Stacked Stone panels. This was a really interesting and unique project that filled us with ideas.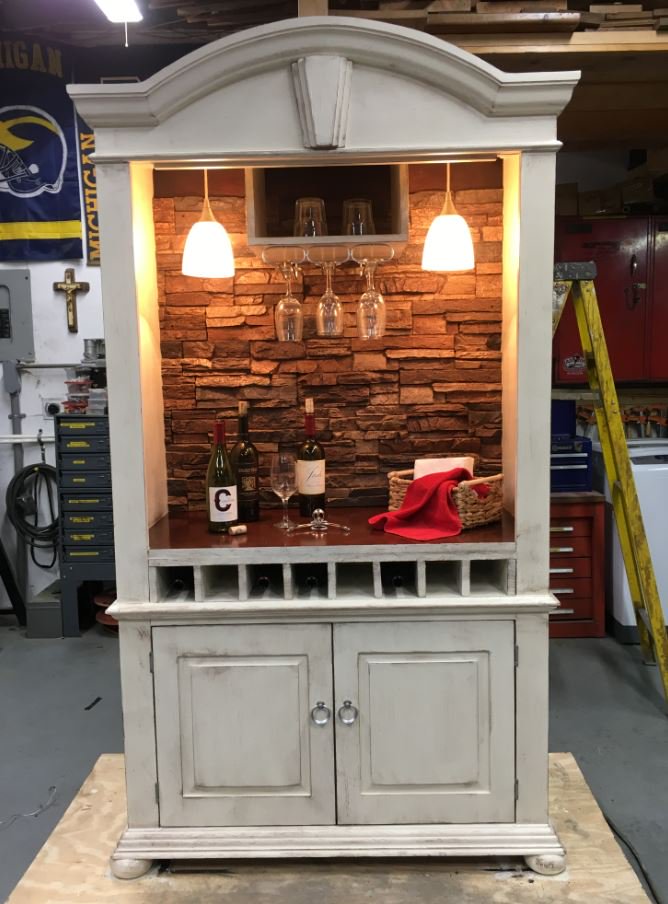 November - Creating a Stone Look Fireplace with Panels and Plywood
As the weather cooled down, fireplaces heated up; and that's why we selected this simple-but-stylish fireplace project for the month. It's practically a how-to in using our Norwich Colorado Stacked Stone panels to resurface a modern fireplace; and the end result looks phenomenal.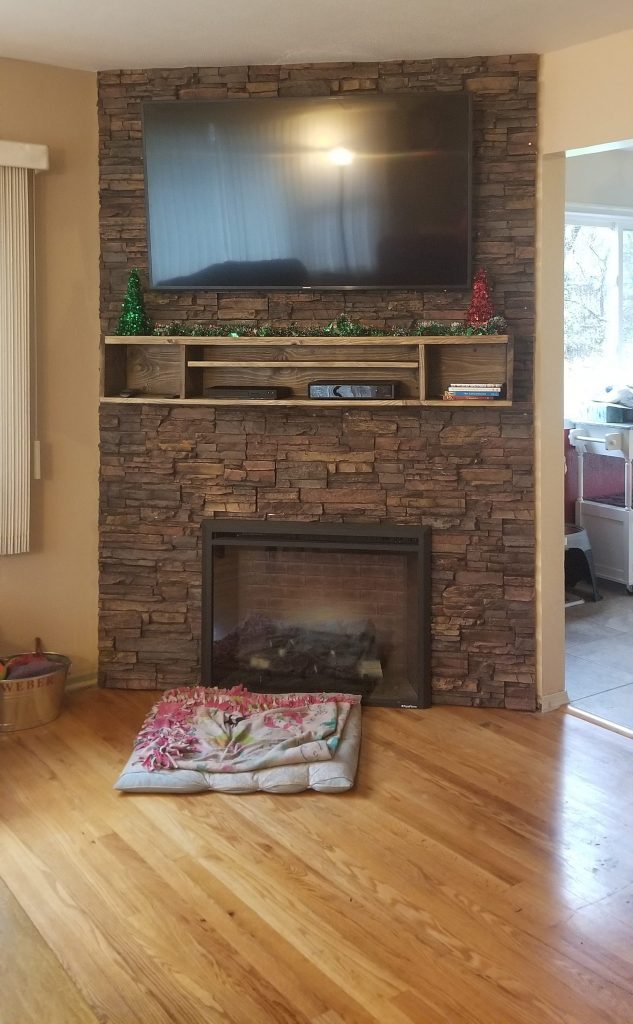 December - Fairy Tales Do Come True! DIY Princess Castle Bed
I think we technically posted this on the last day of November, but to me there's nothing more worthy of the holiday season than this stunning children's bed made using a few Wellington Dry Stack panels in London Gray and a lot of ingenuity and design. Super-dad Eric blew us away with this project; and also recorded the step-by-step of how he created it.