Tips to decorate with Textured Wall Panels
Textured wall panels can be a wonderful way to create gorgeous interior designs, as well as exterior ones. There are also many ways you can maximize the comforting effect of these panels, just by adding some creativity and a few simple elements. With a bit of imagination, you'll be surprised how easy it is to create truly unique designs with these panels and a few accompanying elements. The amount of visual interest and character you'll be able to add to a space is remarkable.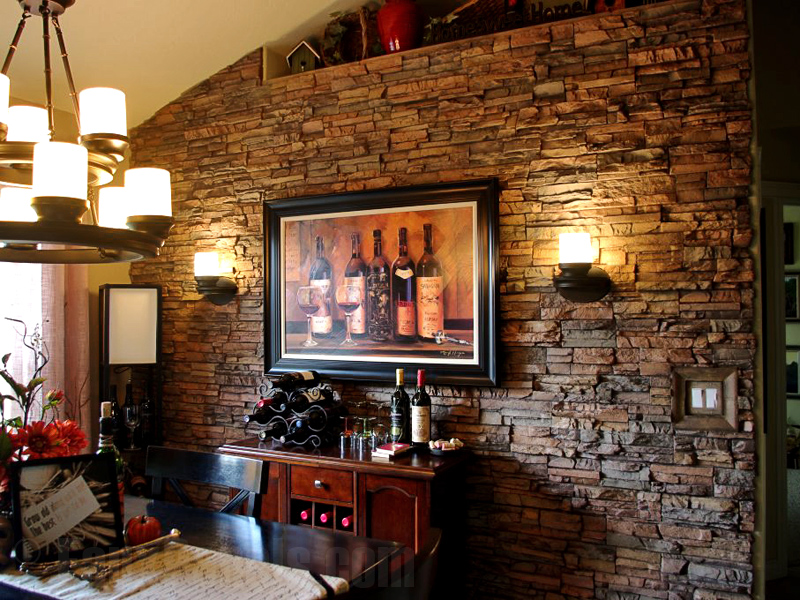 Regency Stacked Stone panels add rich character to this dining area.
There are different types of textured wall paneling available, including those made from medium-density fibreboard, natural plant fibers and fibre-reinforced plastic. Below, we'll first take a look at the benefits of choosing faux stone for your panels. Then, we'll see some ways you can boost the visual appeal of spaces where you've installed them.
Soft elements like pillows, rugs and couches provide a nice contrast to the wall's stone texture.
1) BENEFITS
In addition to looking exactly like the real thing, faux stone has the following advantages that will ensure you have an outstanding design in any room:
Cost-effective and can fit any budget
Indistinguishable from the look and texture of real stone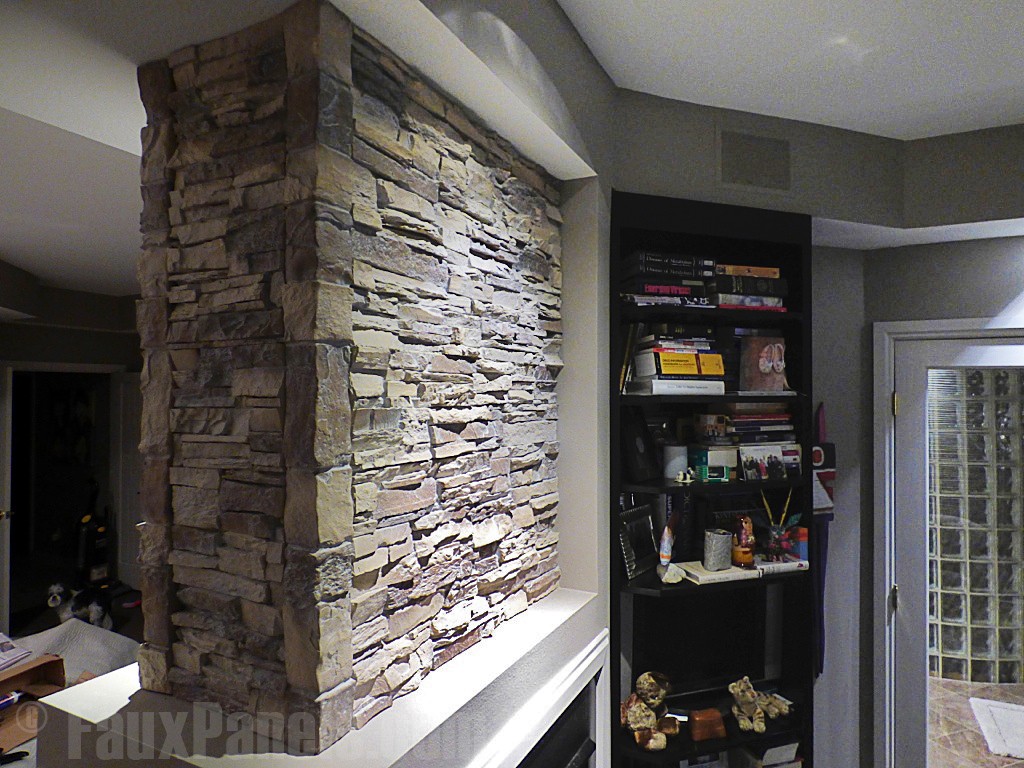 Stacked stone panels in Toasted Vanilla divides these rooms with style
Constructed of high-density polyurethane, which protects against moisture and will not rot
Resistant to mold and fungus
Will not warp, crack, or chip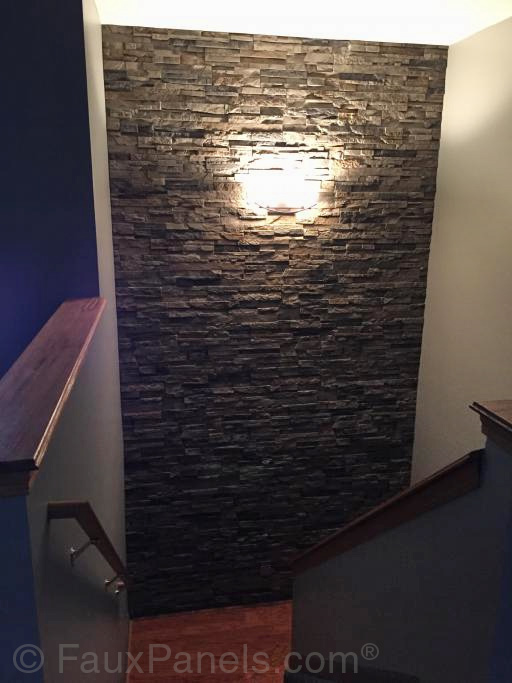 Stone textured wall panels create a bold accent wall.
Provide excellent sound insulation
Most of our panels are available with a Class A Fire rated option.
Can be used with water based finishes and stains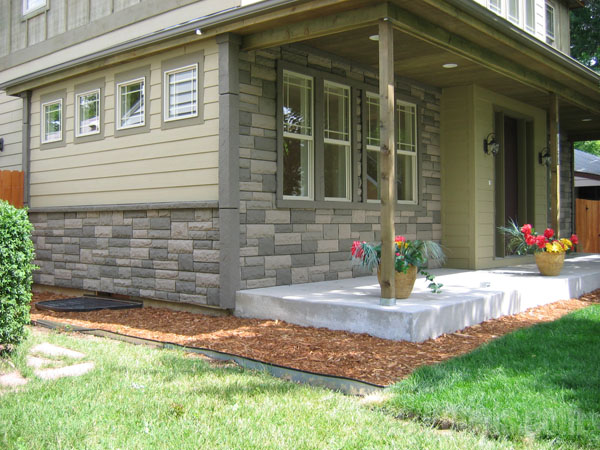 Random Rock panels in Tri-Gray give this home's exterior eye-catching texture and appeal.
3) DESIGN TIPS
The design advice below will allow you to achieve the greatest effect with your textured wall:
The right kind of lighting will bring out the lifelike texture of the panels, as you can see below. This tip shouldn't be left out of your design.
Soft lighting highlight the texture of Wellington Dry Stack panels
Bring in some elements and accessories that add warmth. These can be things like knitted throws over a cozy couch, pillows, bean bags, rugs, tufted ottomans, and similar items.
It's a good idea to add accents with warm colors, like reds, yellows, and oranges. These things always help a room feel inviting and cheerful.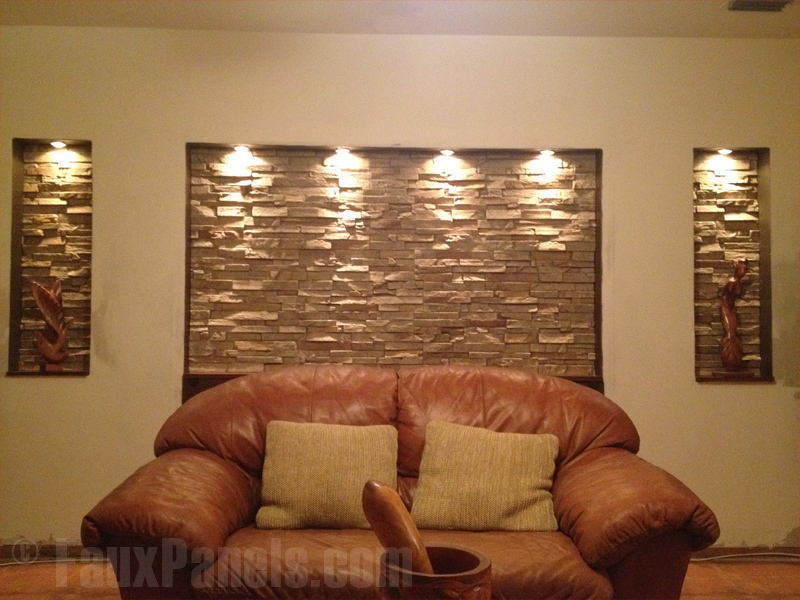 Stone look accent walls are a great way to add vitality to small rooms.
In smaller rooms, such as a back den, it's not a bad idea to cover just a portion of the wall with the panels. With every wall covered with stone veneer, the effect may be too overwhelming. Covering a small part of the wall will have a great effect, and also save you on costs.
For a more interesting look, you can cut the panels into customized shapes, and cover parts of the wall with your creation. Like in the image below, the result will be a space unlike any other, which you can call your own.
Cutting the panels into customized shapes can add unique flair to your room
Faux stone can be installed in just about any room, but they can also be used on walls outdoors. Like in the image below, you can see how natural it looks; particularly when it's surrounded by stone exterior accents.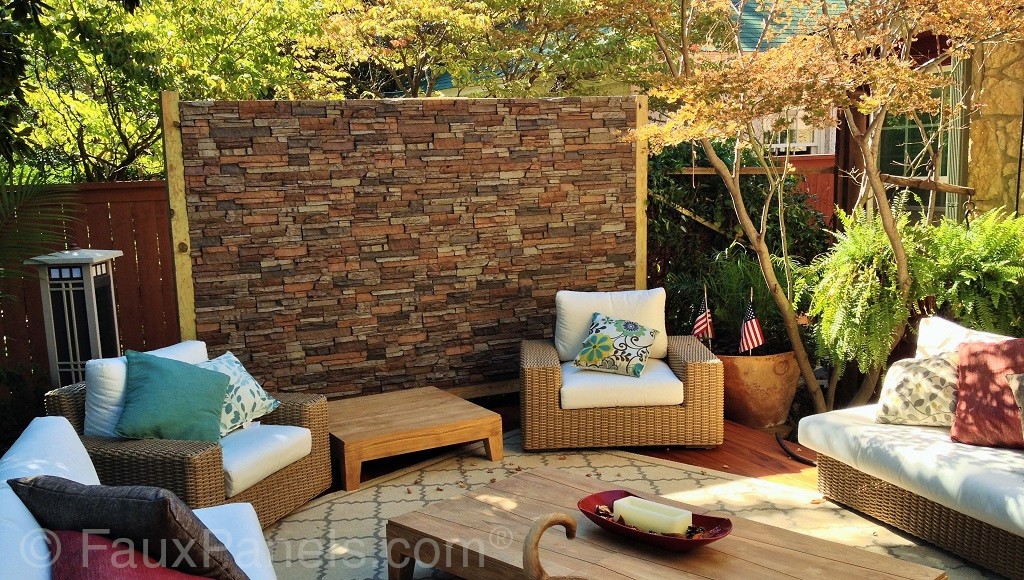 Fake stone pairs perfectly with surrounding greenery in outdoor designs
Since stone is naturally united with vegetation in nature, plants always create a balanced and refreshing look when paired with the panels.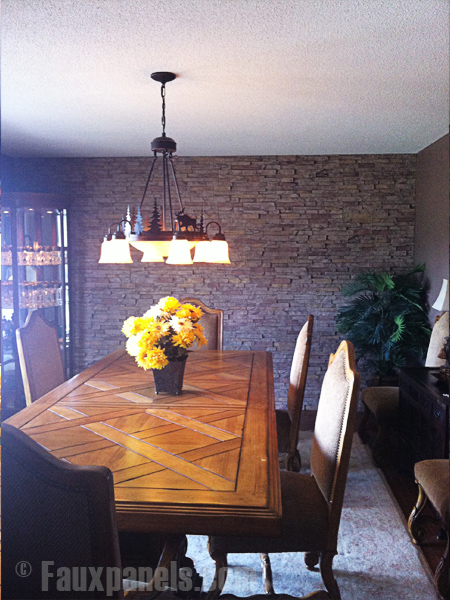 Placing plants near your stone paneled wall adds a finishing touch to a room's decor.
What do you think? Can you add any other tips that would enhance the look of these panels?