Back in February, we blogged about how companies were able to create a truly incredible - and portable - trade show display using our stone veneer panels. Today, we'll check out one Midwest wholesale company that's taken that concept to a whole new level.
Taking Trade Show Displays to the Next Level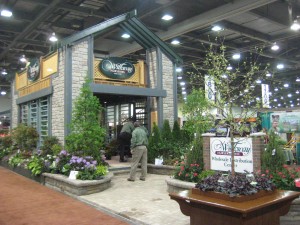 Willoway Nurseries have created a portable nursery garden as their trade show display
Willoway Nurseries are an Ohio based wholesale nursery that carry over 2,000 different plant varieties; all offered within an easy day's drive of half the U.S. population.
For over half a century, they've provided some of the country's most beautiful plants and shrubs to florists and stores across the country; and continue to seek out new business by attending trade shows across America.
Yet wherever the Willoway trade show team goes, they've found a way to make sure they bring a little piece of home with them. Their stunning portable trade show display looks as impressive and permanent as any garden center gateway; with sturdy brick columns and rustic cobblestone walls.
Willoway managed to achieve this with two types of our faux stone panels. For the cobblestone walls and flowerbeds, they used Carleton Cobblestone faux stone panels in beautiful Summer Tan.
For the towering columns that create the structure of their display, they used matching Carlton Brick Columns.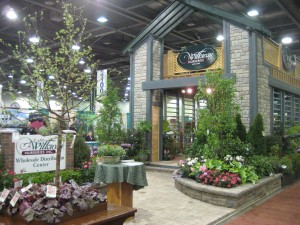 Stone veneer panels and columns have enabled them to create a stunning display that's entirely portable
The result, as you can see from these pictures, is impressive. Even more so is the fact that this sturdy structure can be dismantled quickly and easily and taken from one trade show to the next; something that would be impossible with real stone materials.
Check out our gallery of other trade show displays to see how other companies have used our products to create conversation-worthy showpieces – and if you're a business owner yourself, make sure to send in photos of your faux panel trade show displays to info@fauxpanels.com. We'd love to feature them here.