Show Jumping is as much about the stage as the sport - which is why our faux panels fit right in.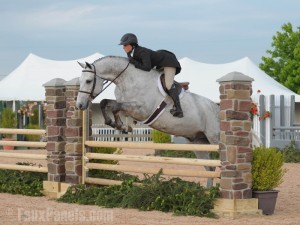 Our faux columns look great, and are incredibly practical to use for show jumps.
Synthetic Panels and Columns for Show Jumps
One of the most elegant equestrian sports is Show Jumping - in which riders navigate a tightly-assembled circuit of jumps hoping for an all important "clear round" (in which they have no refusals, and don't knock any jumps down.)
Show Jumping has become such an art, in fact, that the circuits are often as impressive as the competition themselves. In major events, companies will actually sponsor jumps.
In smaller events, each jump is still designed to look like a work of art; yet remain practical and safe.
This is one of the reasons why our faux stone and faux brick columns are becoming so popular with show organizers.
Made from tough and lightweight polyurethane foam, our faux columns offer the distinctive and dramatic look of stone or brick but offer a number of benefits that would make using REAL stone or brick impossible.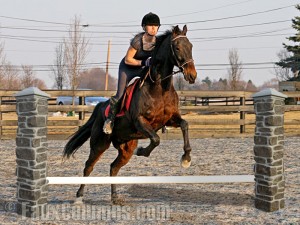 Show jumps need to be customizable, so they can be adjusted to size depending on the needs of the rider.
The first is in being lightweight.
Show jumps need to be picked up and moved on a regular basis - as the circuit changes between competitions and as jumps get moved from one event to the next. Obviously, that makes using real stone or brick impossible.
The second issue is safety.
Show jumps are specially designed to come apart on contact, so if a horse catches its leg on the jump, the hose won't be injured and can catch itself instead of falling (potentially breaking a limb or crushing its rider.)
A jump made with faux columns can come apart fairly easily. A real brick or stone column could snap a horse's leg or cause a serious injury.
The third benefit is customization.
Show jumps need to be able to be taken apart and put back together in a variety of configurations - altering the size and length of the jump.
Check out the adjustable rails screwed into the side of the columns. They allow the jump to be adjusted depending on the needs of the competition, and help it come apart easily for safety reasons.
This is normally done with brackets that a showjumping pole can easily be rested on (and knocked out of, if the horse hits the jump.)
Because our faux columns are made with material that can be cut and drilled with regular carpentry tools, the only limit in how much they can be customized is the designer's imagination!
Finally, when installed properly our panels and columns are completely weatherproof - which is important considering that they'll face the elements when out in the middle of a show jumping circuit!
Given all these advantages, it's perhaps no surprise why our faux columns are becoming so popular with show jumpers. As more and more Show Jumping venues adopt them, we'll be sure to share the pictures here.