Versatility is one of the defining characteristics of our products - and this suspended beam design demonstrates how that attribute can help designers achieve things they'd never be able to accomplish using real wood. 
Our faux wood products are a favorite with architects and commercial designers, as there are a host of reasons why 'going faux' beats using real wood in storefronts and other commercial spaces. We received this project picture from 
LK Architecture, Inc.
of Wichita, KS, who designed the gorgeous Archer Hotel in Florham Park, NJ. This boutique hotel's entire style theme is industrial chic, and as you can see from this picture - one of the defining features of this lounge area was a suspended beam structure, hanging from the ceiling on brass chains. Narrow lengths of our
Custom Hand Hewn Beams
were suspended from the room like wooden planks - and it made a stylish and congruent addition to the decor.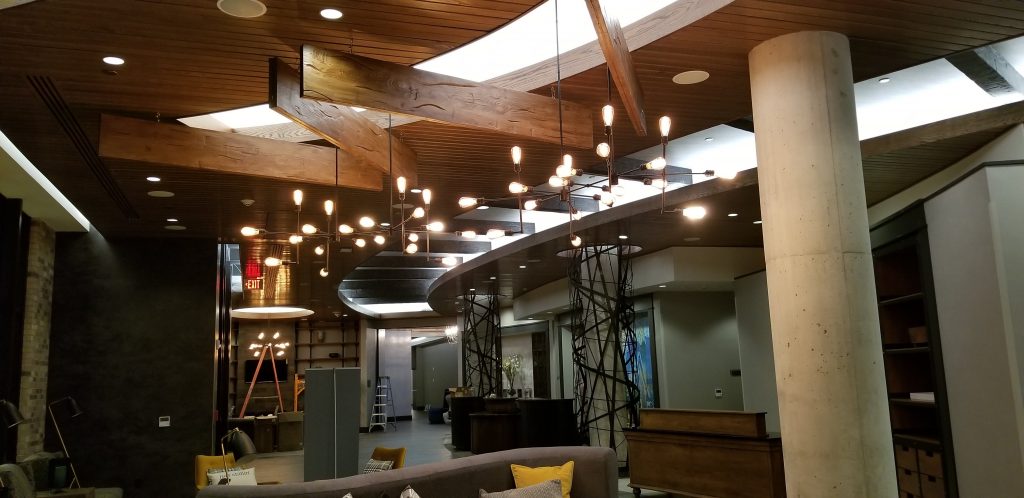 These suspended beams look vividly realistic, but weigh a fraction of what real wood does. Theoretically, the designers could have used real wooden planks for this ceiling design - but there are a host of reasons why 'going faux' was a much better idea. One of the major ones was safety. Any form of suspension project carries with it a remote, but real risk that the chain or attachment might snap and whatever is hanging from it could plummet to the ground beneath. The heavier the object being suspended, the more likely this possibility becomes - and, in addition, the heavier the object the more
dangerous
the idea of it falling is. A solid wooden plank, for example, could cause serious injury or even death if it fell from a height of ten or twelve feet. This isn't a
likely
possibility - after all, places like the National Air and Space Museum in Washington DC have entire
aircraft
suspended from the ceiling - but it's a possibility and a danger that can be mitigated by replacing that real wooden plank with a lighter alternative.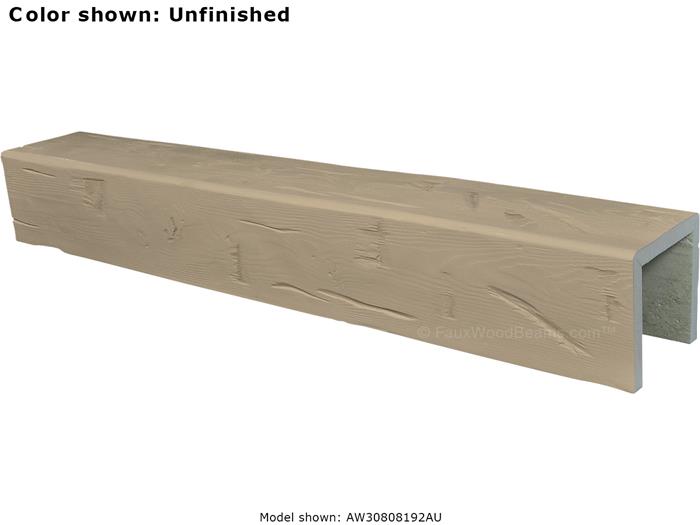 The beams were ordered 'unfinished' and stained on-site for a perfect match with the other wood features. And, in the case of this project, that's exactly what the designers did. The weight of our beams is less than a quarter of what it would have been using real wood, unlikely to cause injury. In addition, the lightweight polyurethane foam of our beams made suspending them from the ceiling much easier as well - with substantially less support needed. The third benefit was in 
look.
Because our faux products are manufactured in molds taken from
real
timber, their three-dimensional texture is incredibly realistic. In the case of this project, the designers ordered the beams Unfinished - and stained them to match the color of the wood-look ceiling they were hung from.
This close-up demonstrates the beam's vividly-realistic texture. Factor in cost, looks and ease, and there are a plethora of reasons why faux was a much smarter idea than using real wood. The results speak for themselves - and perhaps the best thing about this project is the fact that to the naked eye, it's impossible to tell that these suspended beams 
aren't
real wood.