Earn your money back by Submitting your project Photos
Send in photos of your projects using our products and you can earn back up to $75 on your order - but before you do, here are some tips on getting your photographs just right.
As you can see from this blog, we love sharing photos of our products in people's homes and businesses. Each time we receive photos, they serve as fantastic inspiration for new potential customers - and even we sometimes learn some great new tips and techniques about how to install our beams, mantels, planks and more.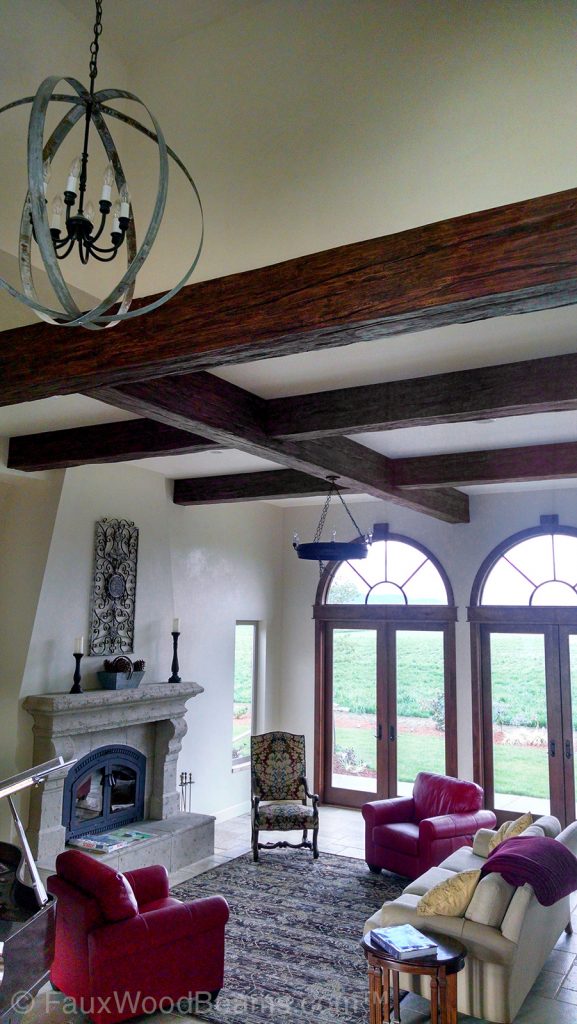 An example of a well-done project picture - with good lighting, a clean room and the beams perfectly in shot.
We love photos so much that we actually have an offer to all FauxWoodBeams.com customers - send in pictures of your faux wood projects and you can earn $50 back. Send in before and after pictures, and you can earn $75 back!
It seems straightforward enough - but we did want to point out that there's a catch. We need the pictures to be good. Not to the point of having to hire a professional photographer, but of high enough quality that they're worth sharing with our other customers and readers.
To that end, we reached out to social media guru Alix Melin, who had some great tips on how to showcase your design. Here are his tips:
Use a real camera - While phones have come a long way since the Nokia bricks, try and use a real camera as often as possible. Sure, you can just pull a phone out of your pocket and snap away; but you'll get a better photo without too much more effort if you use a proper camera.
Use as much natural light as possible - Shoot your new beams during the brightest point of the day. Open the blinds or curtains, move anything that might obstruct light, and switch on lights if you need to. If you do need to use artificial lighting, we recommend using a table or floor lamp out-of-frame as the light it emits will look a lot better than overhead lighting.
Clean up - This seems like a no-brainer but give the shelves and tables a quick wipe down, clean up any construction tools if you are photographing an "in progress" installation shot.
Use a tripod if possible - Interior photography is often done with less than ideal light conditions, which means that camera shutter will have to stay open longer to catch your decor's great details. Even if shooting with a phone, the tiniest shake of the hand - even just breathing - can add a blur to your photo that will detract from details. That's why we recommend to use a tripod whenever possible to get the steadiest shot.
Shoot straight on - It's tempting to try and catch some cool angles when shooting design elements, especially beams stretching all the way across an expansive ceiling. However, shooting straight-on is the best choice 99% of the time. Use your camera or phone's built-in overgrid and try to line up all the elements you are shooting within that grid. It will produce a clearer composition, and won't distort the perspective.
Get the whole room in shot - It's tempting to shoot just the product used; but you're missing a trick if you do that. Try and get as much of the room in the shot as possible and it will help demonstrate not just the quality of the beams themselves, but also how well they fit into the overall decor of the room.
Furnish the room if possible - You've seen all those design shows on HGTV. You know that interior design elements look better in a furnished room. It helps give perspective, add interest to the shot and shows how all the elements work together. You don't have to go crazy and fully decorate, but a few well-placed pieces of furniture will transform your picture. On the same token, if there are any unsightly things you don't want in your shot (like power cords, electrical outlets, small furnishings) we recommend finding a creative way to hide them, or just move them out of the shot temporarily.
Don't digitally edit - Finally, don't worry too much about image clean-up. If we use your submission, we'll give it a good once-over to adjust for any small flaws and cropping.
Those are some great pieces of advice - thanks, Alix!
With that in mind, don't be shy about sending in pictures of your project. We'd love to see them, and share them with our readers! Forward them to info@fauxwoodbeams.com.