Our newest stone veneer panel is molded from real slate stone walling - one of the most beautiful and timeless building materials of all time.
Introducing a brand new faux panel product: Slatestone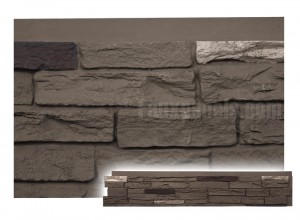 Slatestone is a beautifully textured building material, and our stone veneer panels capture the texture perfectly.
For thousands of years, slate has been a favored building material. A fine-grained, metamorphic rock, it splits easily into uniform sheets and bricks and that makes it incredibly easy to use for both building and roofing. Some of the most iconic buildings in the northeastern United States are made using slate - including the roof of St. Patrick's cathedral in New York City.
But while slate looks amazing, it's not the easiest or most affordable building material to use. That's why home designers and decorators will be excited to learn about our new Windsor Slatestone panels.
Molded from real slate walls - perfectly capturing every imperfection, chip, crevice and line in tough and durable polyurethane foam - our Slatestone panels are breathtakingly light and easy to install; and are available in a variety of intricately detailed colors designed to seamlessly blend with the decor of any room or home.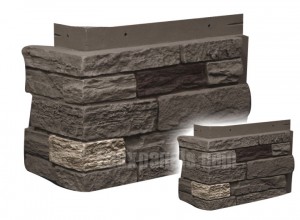 Slatestone corners are a useful way to seamlessly wrap edges.
Each panel is 8.5" inches high, which makes them perfect to use as skirting or an interior accent. Alternatively, each panel interconnects perfectly to create a continuous pattern that can be used to cover an entire wall or building.
Installation is a breeze. Inside the home, the panels can be attached to any wall with regular construction adhesive, with screws at the corners and along the edge to secure them. On the exterior of the home, building code requires the use of drainage mats - which help reduce a build-up of moisture behind our waterproof, weatherproof panels.
Finally, our slatestone products are available with a full range of matching accessories - most important Outside Corners which can be used to seamlessly cover a 90 degree angle without the need to miter the existing panels.